After the initial launch of NBA 2K20 in September last year, a number of gamers reported coming across the error codes 4B538E50 or EFEAB30C. When the servers were opened up for players, several people began facing problems while trying to connect to the same. The most common error code encountered is 4B538E50, but some players have also reported coming across EFEAB30C when trying to join a server.
Both these errors are related to the game's data download system, to ensure that you are running the latest version of the game. You will not be able to play until you have downloaded and installed the most recent update for the game. The developers themselves revealed certain fixes for these error messages, and the gaming community came up with a few more as well.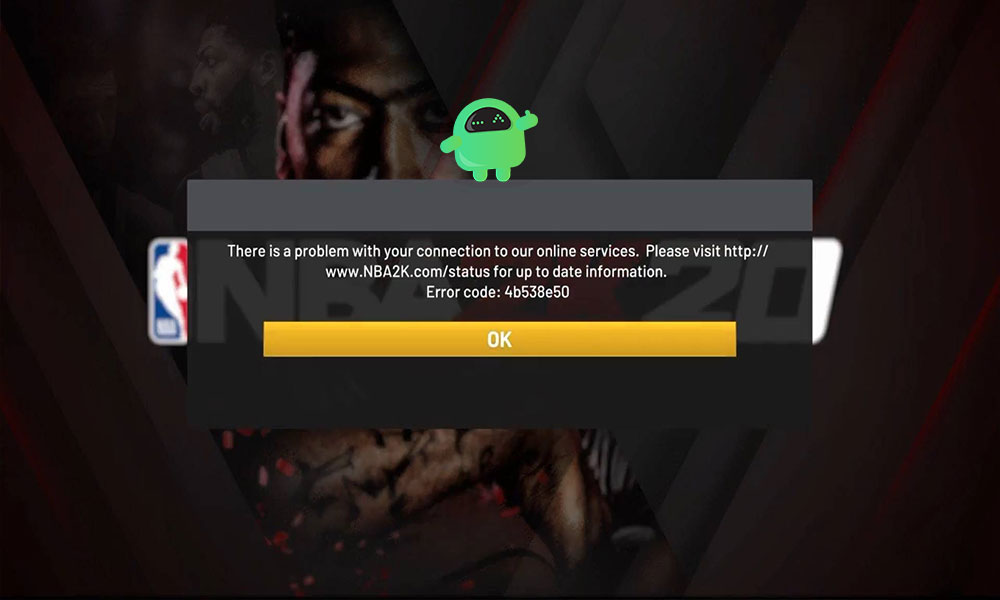 Fixing the error codes 4B538E50 and EFEAB30C in NBA 2K20
Here we have listed all the important solutions that will help you resolve the 4B538E50 and EFEAB30C error codes in NBA 2K20. So going through all of them will make better sense and hence provide better fixing of the issue.
Make sure that your game is up to date
First of all, check whether there are any updates available to download for the game. This is the commonest reason for these error messages and is quite easy to fix. If there is, then wait for the update to be downloaded. Usually, playing a few games in the Play Now mode should be sufficient to start the download.
After that, you will receive a message telling you to go back to the main menu so that the freshly downloaded update can be applied. When you do so, you will see a loading screen while the update is installed. After the process is completed, you will be taken to the main menu. You should be able to play the game without any issues henceforth.
In case this method fails to rectify the 4B538E50 and EFEAB30C error codes for you, continue reading below for more potential solutions.
Email Confirmation
In case your MyPlayer account has not been successfully verified yet, you must complete the verification process in order to access some functions on the server. You can do this by following the steps given below:
Go to the official NBA 2K website
Click on "Sign In" in the top right corner of your screen.
Log in using your MyPlayer account name and password.
After you login successfully, your account should be automatically verified.
If this does not work, it could be because you have exceeded the number of NBA 2K accounts allowed on your console.
NBA 2K allows for a maximum of five accounts to be created on a single console. If you create more than five accounts, then a certain security protocol will be triggered, which will block server access to all of the NBA 2K accounts except the first five created on that particular console. As of now, there is no known method to bypass this system. You will only be able to use one of your original five NBA 2K accounts to play online in the game.
Software Blocking Issues
If you are trying to play the game on your PC, it is possible that there is some software blocking your connection to the game's servers. In that situation, you need to try a PathPing or a TraceRoute to check for any possible interference. You can do that by following the instructions given below:
First of all, make sure that your PC is connected to the router you are using presently.
Bring up the Windows menu, type in CMD, and hit the Enter key.
The command prompt will display some statistics after a few moments. Copy this output by right-clicking inside the window, clicking Select All, right-clicking again, and choosing Copy.
Open up Notepad and paste the copied content into it by pressing Ctrl + V.
Go back to the command prompt and type "tracert 104.255.107.131" and hit the Enter key. Wait until the window says "Trace Complete," and then copy and paste that information in a second Notepad file as well. Mail them both of these files as attachments.
It is very important to remember not to delete the space reserved for the game on your hard drive. This space is allocated for patches and updates, and games like NBA 2K and WWE 2K use it regularly. If you delete this space, the game will create it again on being launched. If this process is interrupted, it can lead to issues like the EFEAB30C error code in NBA 2K20.
Issues with syncing of your data
Sometimes, files will seem to be missing because the data has not been synced properly. This has been known to occur if you delete your game's reserve space as well. If it happens, choose the Play Now option and wait patiently. It could take the game up to an hour to scan for data. Eventually, an update message will come up and ask you to return to the main menu. You will then come across a loading screen which will apply the update. Following that, you will automatically be taken to the main menu.
For Nintendo Switch
If you are a Nintendo Switch user, you will need to handle this issue a bit differently. Just follow the steps given below:
First of all, hold down the power button that you see beside the volume controls on your console.
After you have done this, a menu will come up. Choose Power Options in there.
Choose Power Off to shut down your console.
Now proceed to hold down the power button once again. This will restart your console.
Launch NBA 2K20, and you will either start downloading the update or find the error code resolved.
After doing this, if you get a message informing that your MyPlayer account is expired, follow the instructions given below:
Go to the official website of NBA 2K.
Click on "Sign In" at the top right of your screen, and select the online service you are using to play (Nintendo, PSN, Steam or Xbox Live).
Enter the email address and password you use in those services.
After you have successfully logged in, it will count as verification for a new account. Proceed to restart your console, and then boot up NBA 2K once again. You will be able to play without any trouble now.
We hope our guide helps you resolve the error codes 4B538E50 and EFEAB30C in NBA 2K20. If you liked this, do remember to check our other Windows Guides, Gaming Guides, Social Media, iPhone Guides, and Android Guides to read more. If you have any questions or feedback, comment down with your name along with the email ID, and we will reply shortly. Also, subscribe to our YouTube Channel for awesome videos related to Android and Gaming. Thank you.