Final Fantasy VII Remake is an action role-playing real-time video game developed and published by Square Enix. This is basically the remake version of the famous title Final Fantasy VII from 1997 for PlayStation. Square Enix has the game under development and is set for release as a multi-part series. The first entry of the game has its release date of 10 April 2020 for PlayStation 4, while the release for other platforms is set for the coming years.
Players often misunderstand the game. Let that be with the battles or anything in-game, without a keen eye to observe, the game will most probably fool you around. That takes us down to all the possible outfits in Resident Evil 7 remake. As far as we are aware, there are a total of nine dresses, with 3 for each character – Cloud, Tifa, and Aerith. With that said, we today present you this guide to help you acquire all 9 dresses for your characters. So before we divert much, let's see how to get all nine outfits for Cloud, Tifa, and Erith in Final Fantasy 7 Remake.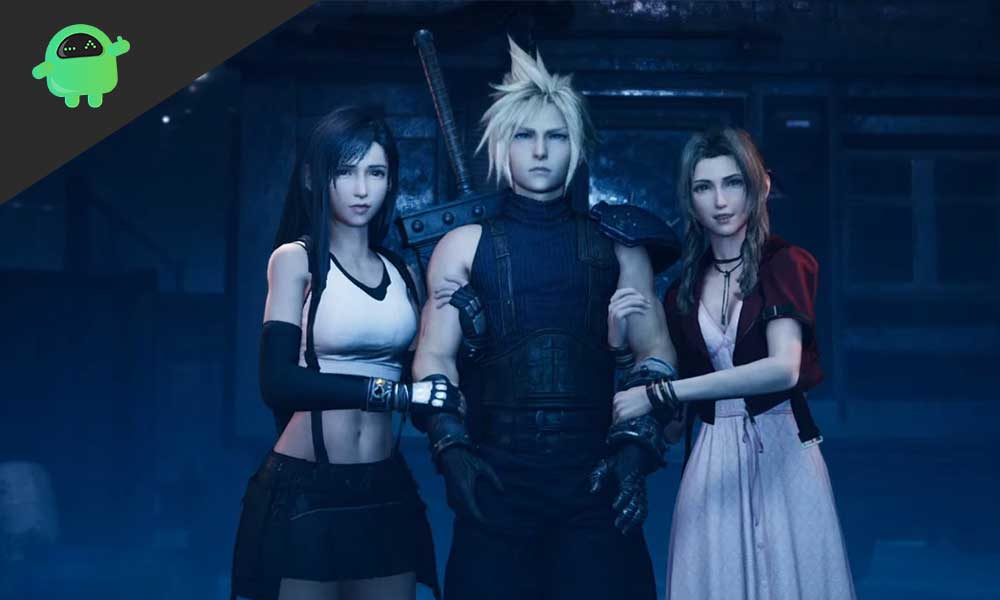 How to Get All Nine Outfits for Cloud, Tifa, and Erith
If you want to get all the outfit in the game, you'll have to play the game over and over again. That means if you need to get all the three outfits for each character, you'll have to play the game three times over and over.
Cloud's Dress
1. Black and Grey dress
Acquiring this dress for Cloud is pretty easy. You only have to progress through chapter 9 as the story in chapter 9 drives you to meet the Trio and Chocobo Sam. After all the journey through there, you'll finally end up with Madam M for a massage. From there, you'll get to go and fight in the Colosseum. After this fight, return immediately to Madam M. Make sure to return to her before you complete any side quests after the Colosseum fight.
2. Purple and White dress
At the start of Chapter 9, say no and ignore Johnny as you encounter him
Go past all the trio, ignoring them. Then when you're asked to call on Chocobo Sam's coin toss again, tell him you're not interested and leave
From there, go to Madam M for the massage and then take up the Luxury Massage from her
This unlocks to you some side quests from Madam M
Complete these side quests and return to Madam M, and you'll get the purple and white dress.
3. Blue and Black dress
When chapter 9 starts off, say yes to Johnny, follow him and complete the side quests
Then, find the trio and then call to Chocobo Sam's coin toss
From there, when you get to Madam M, choose the Poor Man's massage from her
This takes you to the Colosseum battles. Fight and complete through it. Then, complete the side quests you get from Chocobo Sam and you'll receive the Blue and Black dress for Cloud
Tifa's Dress
After you reach chapter 3, play through the beginning parts of the chapter. As you play through this chapter, Tifa will suggest you make a name for yourself as a merc. After this, you'll get six side quests. Watch out, because you will initially get only three of these side quests. In order to choose the dress for Tifa, you must complete all the six quests. If you fail to complete them all, she'll get the default Mature dress.
After you successfully complete the six side quests, Tifa will lead you back to her room. From there, she'll ask which dress suits her the best. Here, you will get three choices that Mature, Sporty, and Exotic. Choose to your desire and that's all about getting the three dresses for Tifa.
Aerith's Dress
In chapter 8, you come across a mission where you have to rescue a bunch of kids. After you rescue them, you'll escort them back to Oates at the hideout. Once that is done, you'll get six side quests. Here, just like Tifa's, only three of them will be available for you initially and the rest will show up as you complete through. But unlike Tifa, your progression on these side quests has the power to influence which dress covers up Aerith:
Meaning that when you complete none of these side quests, Aerith will wear a plain dress
Aerith will get a pink dress with long and frizzy extensions if you complete three of these quests
And finally, completing all six quests will gain Aerith a gorgeous red dress with a low cut corset, feathered off at the top and ruffled from her knees down. If you want the nostalgic feel like playing the original 1997 version of Final Fantasy 7, then this is the dress to go for. This dress resembles most with the 1997 title.
Summing up our guide, you'll have to play the game three times over and over in order to acquire all the three outfits for each character each. Among them, finding outfits for Cloud can be a little tricky but of course, it is worth the try. If you have any further queries, please let us know by commenting down below. Happy gaming! Also, check out our iPhone Tips and Tricks, PC tips and tricks, and Android Tips and Tricks if you've got queries for it or want help. Thank you!