OnePlus Nord N10 and OnePlus N100 are about to be launch in November. Due to their features and price, these two smartphones are considered to be the most affordable budget smartphones. Also, there is a rumor that the new OnePlus Nord N10 and N100 are waterproof smartphones. So is it true?
Well, OnePlus smartphones are known for their exception of good quality and value to its customers. And from the past few years, customers are demanding features such as waterproof and splashproof resistance on their devices. Since our modern lifestyle is getting more busy and busy, we often tend to accidentally spill orange juice on our smartphone device or use it in rainy weather. These activities can harm your smartphone, which may lead to many troubling scenarios. So is the new OnePlus Nord N10 and N100 waterproof devices? Let's find out in our waterproof test.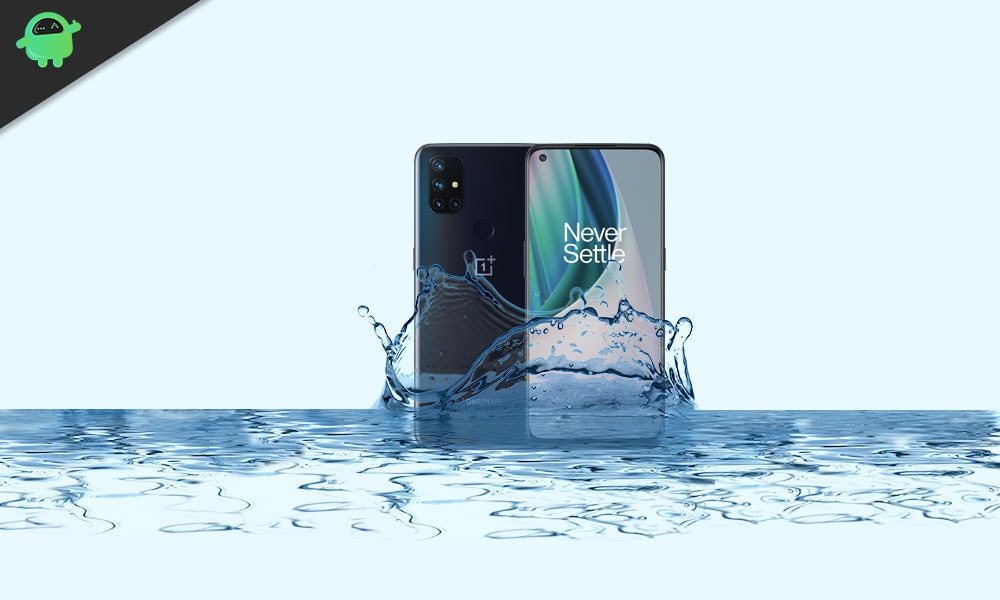 OnePlus Nord N10 and N100 Waterproof Test: Which One Survive?
In our modern era, we are on the way to replacing our laptop PC with convenient smartphones. However, what if you accidentally spill water on your OnePlus Nord smartphone? Poof! your personal data, your contacts, etc., everything is gone! So most people look for waterproof or splashproof resistance features while buying the latest smartphone.
And many companies like Samsung are already selling waterproof smartphones, and OnePlus should do it too. So In this article, we will discuss the specifications of Nord N10 and N100 and also if N10 or N100 is waterproof or not.
OnePlus Nord N100 Device Specifications
N100 is supposed to have a dimension of 164.9 x 75.1 x 8.5 mm and will probably weigh around 188g. the front is built with Glass, and the rest of it is an Aluminium frame. you can use Dual Nano SIM's on N100 along with LTE and other network technologies supports.
Along with the IPS LCD Display of 6.52inches, it is capable of 720x1600pixles of resolutions. Moreover, it is protected by the Corning Gorilla Glass 3. It runs Android 10, Oxygen OS 10.5 using an Octa-core (4×1.8 GHz Kryo 240 & 4×1.6 GHz Kryo 240) CPU and Adreno 610 GPU. The Chipset it uses is Qualcomm SM4250 SnapDrgao 460. It has microSDXC support along with 64GB of internal memory and 4GB of RAM.
N100 has rear three cameras of 13MP, 2MP, and 2MP at the back and one single 8MP at the front, punch-holed. Rather than that at the rear, it has a LED flash, HDR, and panorama support. The Fingerprint sensor is located at the back of the smartphone, and there is a 3.5mm headphone jack support. It comes with a 5000mAh battery, supports fast charging of 18w.
OnePlus Nord N10 Device Specifications
Nord N100 is supposed to have 5G network technology, and its dimension is roughly around 163 x 74.7 x 9 mm. It weighs around 190g, and the smartphone is built similarly to Nord N100. It also has an IPS LCD Display, but it refreshes at 90Hz and has a screen size of 6.49 inches. The screen can display more details because it is capable of 1080 x 2400 pixels and uses Corning Gorilla Glass as protection.
It uses Octa-core (2×2.0 GHz Kryo 560 Gold & 6×1.7 GHz Kryo 560 Silver) processor and Adreno 619L GPU with a Qualcomm SM6350 Snapdragon 690 5G chipset. The OS it runs is Android 10, OxygenOs 10.5. N10 supports a microSDXC card slot and has 128GB of internal storage and 6GB o RAM.
At the rear end, N10 has Quad 64MP,8MP, 5MP, and 2 MP cameras with LED flash, HDR, and panorama support. On the front, it has a single camera of 16MP with HDR. It has a 3.5mm headphone jack support. Even more, the fingerprint is similarly located as to where the N100 fingerprint sensor was, at the back. However, it supports 30W fast charging means it will charge faster than N100.
OnePlus Nord N10 and N100 Waterproof Test: Which one will Survive?
By observing the specifications of Nord N10 and N100, we can easily speculate that N10 has better cameras, internal storage, and RAM. However, N100 has a better battery capacity where else N100 can charge faster.
Both of these smartphones are outstanding, and it is quite hard to tell which one could be waterproof since there is no official IP rating announced for the OnePlus N10 and N100. But here we did a quick waterproof test.
The waterproof & Dustproof results are purely based on individual/team observation. These tests will only give an idea of whether a device is waterproof or not. We recommend users not to try this test at home, as it might damage your device.
| | | |
| --- | --- | --- |
| Test | OnePlus Nord N10 | OnePlus Nord N100 |
| Display/ touchscreen | The display is working fine, however, the touch is nonresponsive after the waterproof test. | The display got water damage, and the touchscreen is also not working. |
| Camera | No issues in camera and its lens | No issues in camera or its lens |
| I/O & speaker | The charging port not working, and the earpiece volume is muffled up. | No issues. |
Therefore, we can't tell which one will survive; clearly, both devices are well built, but both of them are lacking proper official IP68 waterproof ratings. So these are not waterproof devices.
Conclusion
Clearly, OnePlus Nord N10 and N100 are exception smartphones for the future. However, without waterproof or splashproof ratings, the devices are not very reliable. As you will not be able to use these devices in rain or moist weather. So users should keep proper care if they choose to buy any of these smartphone varients.