OnePlus is a well-known Smartphone brand, but for the past couple of years, they are also come up with some great TV series at affordable prices. However, although there are many other brands available in the market, but OnePlus was successfully able to pinpoint its presence.
But, there are many users who still complain that their OnePlus TV remote is not working properly for them. Yes, you heard it right! They claim that the OnePlus TV remote is not working. However, when our team investigates about this, we found some potential reasons why this issue occurs. But, don't worry, as we also have some tricks that can help you resolve the OnePlus TV remote not working issue. So, make sure to read this guide to know those fixes.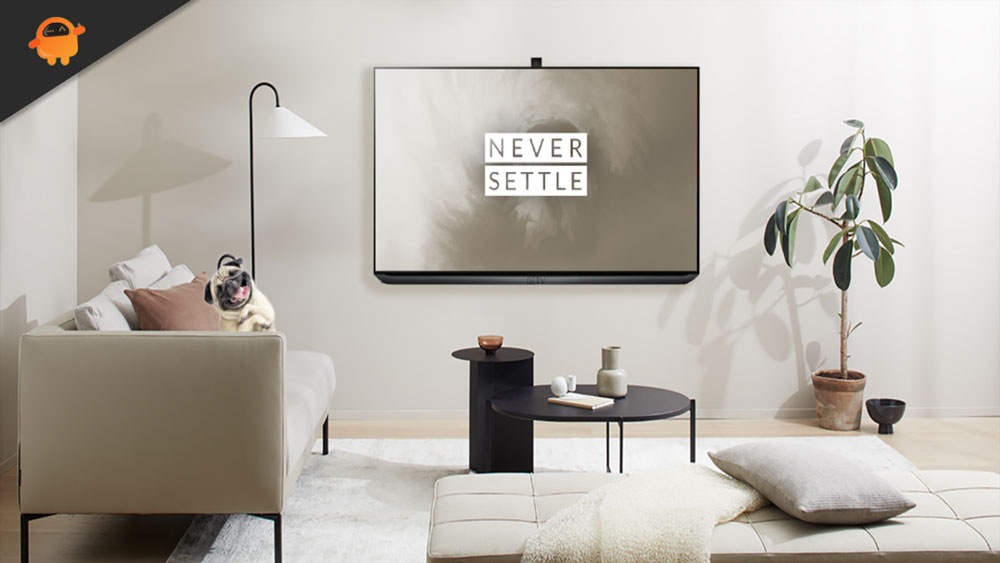 Why Remote Stops Working?
Well, there could be anything behind why your OnePlus TV remote is not working, and if you do not take care of fixing them, you might face any issues with your TV. So, let's take a look at some reasons behind why you are facing this issue and then check if we can resolve it or not.
An Internal Damage to Board

Outdated TV OS

Damaged Batteries

Interruption in Connection

Water Damage
How To Fix OnePlus TV Remote Not Working
If your eyes are seeking some fixes that will help you resolve the OnePlus TV remote not working issue, make sure to perform these fixes as mentioned below:
Fix 1: Reboot Your TV
Initially, to fix the remote not working error, you just need to reboot your TV as there are chances that sometimes, due to some random bugs or glitches, the remote is not able to make a connection with your TV. So, in that case, rebooting is the main weapon that allows you to resolve this kind of error.
However, many users are there reported that after rebooting their OnePlus TV, the remote again starts working automatically. Therefore, we suggest you to give it a try to check whether it really works or not.
Fix 2: Check The Remote Batteries
There is a possibility that the remote batteries are weakening and need to be replaced; that is why you are experiencing the issue. Thus, we recommend replacing the batteries in your remote with new ones.
Next, recheck the OnePlus TV remote issue to see if it has been resolved or not. On the other hand, if the battery was the cause of this problem, the issue would probably resolve itself automatically after changing the batteries.
Fix 3: Make Sure The Connection is Good
To control the OnePlus TV through the remote, you have to ensure that the OnePlus TV and remote path are completely clear. Also, ensure that their distance is no greater than 10m.
Many times, what happens is that we ignore the problem, but some solid objects can interfere and block the beam when trying to control the OnePlus TV. So, always make sure that the connection path between the remote and the OnePlus TV is clear.
Fix 4: Reset The TV Remote Controls
You can try resetting your TV remote if you've tried the methods and they didn't work, since this method has helped many users in the past. It's worth a try.
The TV remote has no hard and fast rule for how it can be reset, but reinstalling the batteries on the remote is considered a good way to do it. Next, remove the back case and batteries of your OnePlus TV remote as suggested (be careful not to damage the springs connecting the batteries).
Then wait at least 20 seconds and place the batteries again. Once the lights start working, you can remove the batteries. Hopefully, this will resolve the issue. However, please follow the rest of the instructions here in this guide if you are still having the same problem.
Fix 5: Reset The TV
There is a high possibility that the problem could be occurring on your TV's end if batteries are not the issue. If your TV is having an issue due to some missing files, you will be able to fix it automatically by resetting it.
So, I suggest you try it out and let me know if it helps you fix your TV remote as well. Resetting a TV does not follow a set rule since the steps differ from model to model. To reset your model, you can check it out on the OnePlus official website and check out how to reset your OnePlus TV model.
Fix 6: Check For Damage
Have you checked your remote for cracks or damage? Usually, this kind of issue arises when we accidentally drop the remote, resulting in damage to its hardware.
Therefore, if your remote is damaged, you have no alternative but to change or replace it. However, once you change your OnePlus TV remote, you will find that the remote not working issue automatically gets resolved.
Fix 7: Power Cycle Your TV
If even after performing these fixes, you are still getting the same error, then we advise you to power cycle your TV as this has the potential to resolve. So, to power cycle your TV, you can simply switch off the power button and then plug out all the cables, including the HDMI cable, and wait for 1-2 minutes before plugging them in. Once done, check if the remote starts working or not.
Fix 8: Check For OnePlus TV OS Update
Do you bear in mind the last time you upgraded your OnePlus TV software? If not, that may be why this error occurred. It is very beneficial to make sure that all the components of the system are functioning correctly by keeping the system software updated.
We ignore this thing, which causes this type of problem. Instead, we recommend that you check your operating system software and, if possible, then update it as soon as possible. If you do so, you will notice that the OnePlus TV remote not working issue has vanished.
Also Read: Fix: OnePlus TV Not Turning On
So, that's how you fix the OnePlus TV remote not working issue. We hope that this guide has helped you resolve the remote issue. Nonetheless, if you have any further questions or doubts, comment below and let us know.