Have you seen any .dat file while browsing through your files and wondered what it could be? Well, a .dat file consists of data that is required for the programs to run properly. For instance, some games may create data files to store user configuration into it. So, later the game can use the file to apply your settings when you open the game.
But the question is, can I manually view or open .dat files in my Windows 10 PC? The answer is you can. There are various programs that can be used to view and edit .dat files. Let's see how to open them on your Windows 10 machine.
Although you cannot view all of them because some of the programs will encode text in a different format or encrypt the files to prevent external tampering, such files are not intended to be viewed or used outside the intended program. Even though editing them may cause damage to the programs and render it broken.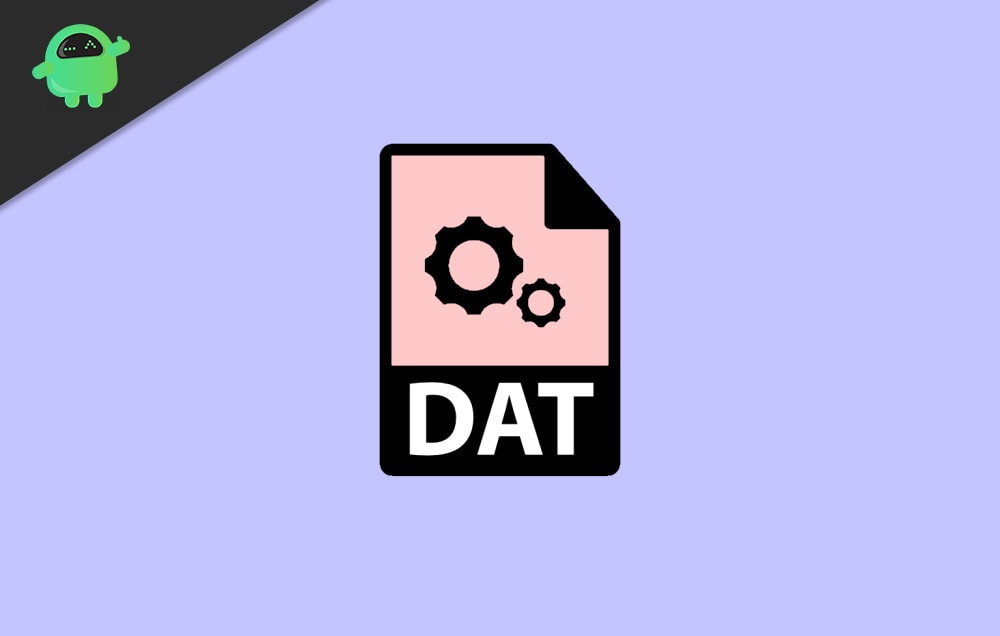 How to open .dat files in Windows 10?
You can use any text editor to open a .dat file in your machine. Fortunately, there is an app already available in Windows. Let's use it.
Step 1: Open the location where the .dat file is located.
Step 2: Right-click on it and select open with.
Step 3: Select on More programs and select Notepad. or Wordpad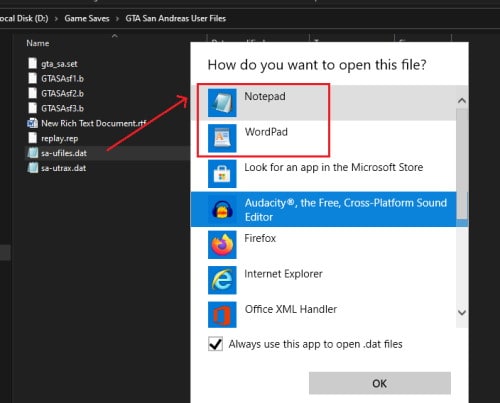 Step 4: This should open the file in notepad or Wordpad.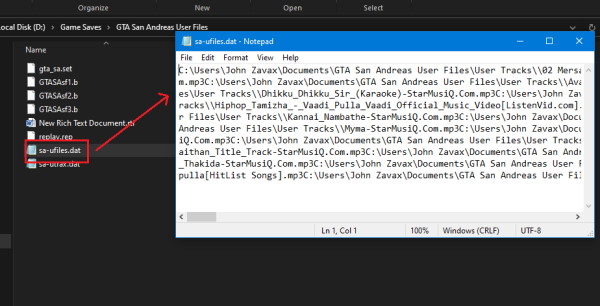 Installing additional programs:
If you don't like the default Notepad program that comes with Windows pre-installed, you can use other programs like the Notepad++ (personal preference).
Step 1: Grab the latest version of Notepad ++ from here.
Step 2: Install it onto your machine like any normal program.
Step 3: Right-click on the .dat file, and select Edit with Notepad ++.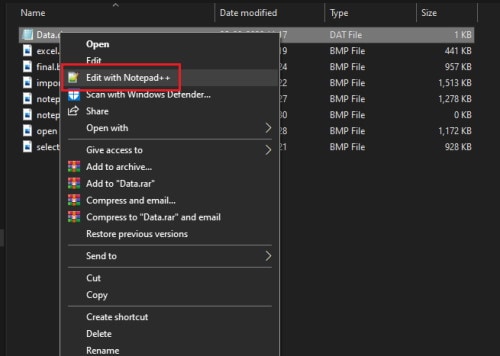 This will open the file on Notepad++ program.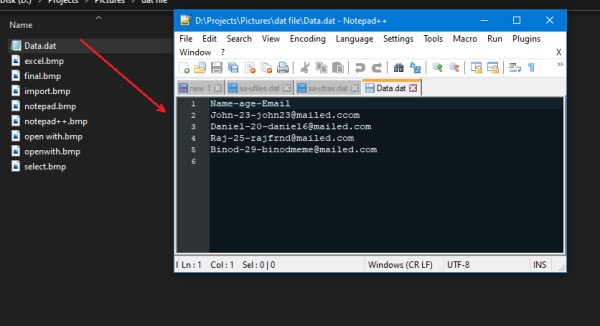 Definitely, Notepad++ has some advanced features over the notepad or Wordpad.
Using .dat files
Of course, you can copy-paste data from a .dat file, but you want to use the data into data processing, you can use your spreadsheet programs like Excel or Libre calc.
Open the target excel file.
Goto Data and select form text.

Now navigate to the file location and select all files in the file type selector.
So select the required .dat file and use it with your functions.

You can specify delimiters to split data in the manner you'd need.

Finally, you can use excel functions on your .dat files.
Conclusion
As you can see, opening .dat files in windows is easy. Because of those built-in tools, you can view and edit them without the need to install any additional programs. Nevertheless, having an advanced tool like Notepad++ will come in handy if you work with similar data files.
Although you should be careful while opening any .dat files. Because these files could be crucial for the working of any programs. If you change something, it could break those programs. Hence it's wise to create a copy an then edit the files.