The Chinese OEM Oppo is one of the popular smartphone brands that offer budget and flagship-grade devices with best in class camera quality. Both Oppo A9 and Oppo A9X was launched in 2019 with MediaTek Helio P70 SoC, Android 9.0 Pie out-of-the-box. Currently, most of the Oppo A9 and Oppo A9X users are talking about the Android 11 update as the upcoming Android OS is a couple of months away. So, the respective device users are getting so much excited about whether their devices are gonna receive the upcoming Android update or not. If you're also one of them, check this article.
Now, talking about the Oppo's custom skin, the ColorOS 7 based on Android 10 is the latest software version. While once the Android 11 will release in September 2020, Oppo will gonna release ColorOS 11 update for its eligible devices based on the Android 11 (R). Currently, the Android 11 Second Beta version has been released for the Pixel devices and Project Treble devices.
However, if you want to use the Android 11 beta right now on your handset then you can check out this guide to flash the Android 11 GSI build. Although the Beta channel may have some bugs or stability issues in order to use it as a daily driver. Therefore, we will recommend you to either wait for the official stable release or take a full backup before doing anything.
What's on Android 11?
Google's Android 11 (R) is the 11th-iteration of Android OS that has been released officially on September 08, 2020. It's the successor version of the last year's Android 10 (Q) which mostly featured privacy & security functionalities. However, things have changed now and this time the Android 11 has arrived with a bunch of additional features, other system improvements, UI changes, and more.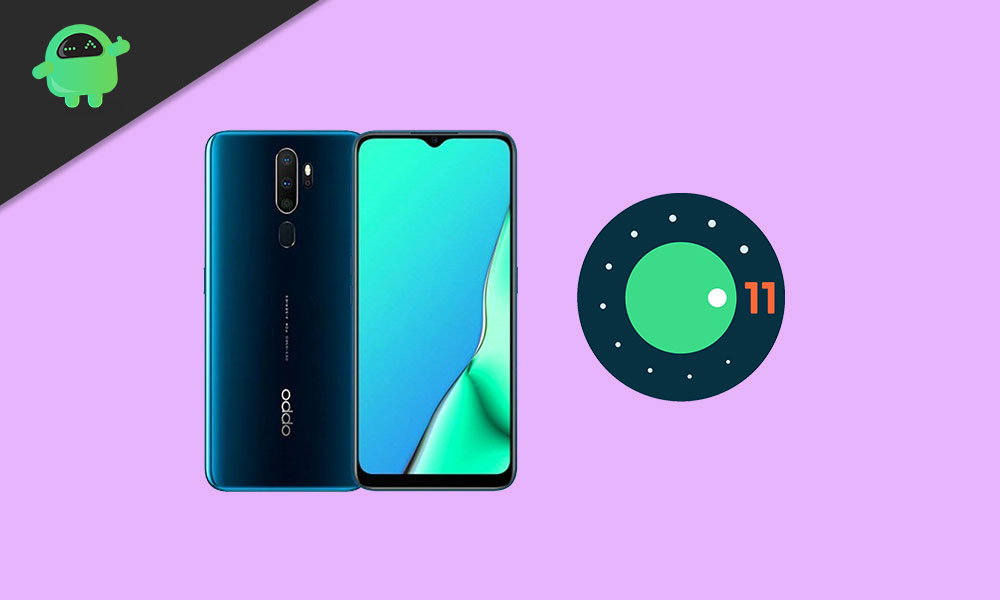 Android R Features:
You can now prioritize your conversations together with your most vital contacts within the new "conversations" section at the highest of your notification shade with a people-forward design and conversation specific actions,

like

opening the conversation as a bubble.
Bubbles, it helps users to stay conversations insight and accessible while multitasking. Messaging and chat apps should use the Bubbles API on notifications to enable this in Android 11.
More improved and modified Voice Controls, for people that control their phone entirely by voice, now includes an on-device visual area that understands screen content and context.
One-time permission lets users give an app access to the device microphone, camera, or location, just that just one occasion.
Customizable DND mode enables you to settle on which apps or people can still notify you once you turn the mode on.
The new Auto-Reset feature that will supposedly remove app permissions that are not infrequent use.
Google Play System Updates, launched last year, lets us expedite updates of core OS components to devices within the Android ecosystem. In Android 11, we quite doubled the amount of updatable modules, and people 12 new modules will help improve privacy, security, and consistency for users and developers.
What's in ColorOS 11?
As the name suggests, ColorOS 11 is the successor version of the ColorOS 7 that can be released in November 2020 most probably. It will be based on Android 11 goodies along with some design changes that will gonna change the look and feel of the new custom skin.
The upcoming ColorOS 11 version will run on all the upcoming and eligible Oppo devices respectively. The all-new skin version will have plenty of improvements and features that we've mentioned below in brief.
ColorOS 11 Expected Features
It's pretty straight-forward that the ColorOS 11 will be based on Android 11 (R) features. So, the native Android 11 features will be there expectedly with some improvements or additional features.
Improved Dark Mode: System-wide Dark Mode is one of the most highlighted features for the users on Android 10 and the ColorOS 11 (Android 11) will also gonna include an improved system-wide dark mode that simply runs on the whole system, apps, etc. Additionally, users will get an option to schedule the dark mode timing on a day/night basis and automatically basis as well.
Improved Battery Backup: The upcoming ColorOS 11 much more improved battery life than the existing ColorOS 7 version.
Double-tap Gesture: The double-tap gesture feature of Android 11 will also arrive on ColorOS 11. In this case, double-tapping on the backside of the phone will turn on the Google Assistant, camera, and other applications.
One-time App Permission: With the ColorOS 11 version, users can easily grant one-time app permission and it will ask for permission every time whenever it requires system user access.
Go Back Gesture: The go back gesture has been improvised after releasing the enhanced swipe gestures navigation. But with ColorOS 11, we can expect to see the sensitivity sliders that will control the go back gesture. There will be two sliders for both left and right sides.
New Screenshot Pop-up: With the Android 11, users can now see a much smaller and compact screenshot pop-up preview or notification after capturing it. Previously the screenshot preview was quite bigger in size and takes a lot of area of the display. Meanwhile, users can simply edit, share, delete that screenshot from the pop-up preview. Therefore, this cool new feature should gonna be added to ColorOS 11.
Notification History: By default, Android 11 will gonna let you check all the notification history very easily and users can also add a shortcut to the notification toggle in order to check it. This particular feature is expected to come in ColorOS 11.
Improved Lock Screen: This feature will basically come in handy for the kids who use smartphones a lot. With the improved lock screen option just like the Parental Control or Digital Wellbeing app, users can set the specific time or parameters in order to double-lock the screen so their children can't access smartphones when the usage limit crossed.
Pin Apps to Share Menu: With the help of Android 11, users can now pin useful apps to the sharing menu which will gonna easier for the users to quickly send to contacts or apps while multitasking or heavy usage. However, users can only set up to four apps to the sharing menu as of now.
Ethernet Tethering: Android 11 also brings the ethernet tethering feature that can be used as a hotspot. This feature will allow people to connect a USB-to-Ethernet adapter to their Android devices in order to connect the LAN cable to the adapter. Then users can simply use their PC internet from smartphones.
Clear Persistent Notifications: Google has included the option to clear persistent notifications on Android 11. Therefore, all the background running notifications can be removed easily that wasn't possible previously.
Oppo A9 and Oppo A9X Android 11 Update Status Tracker
Updated on January 31, 2021: Oppo A9 model started receiving the December 2020 security patch update with software version CPH1938EX_11_C.34. The update is based on Android 10.
Updated on December 07, 2020: Oppo A9 received the November 2020 security patch with software version CPH1938EX_11_C.33. The update is still based on Android 10 and brings nothing new except the security patches. According to the Oppo India tweet, the device will receive the Android 11 on December 23rd.
The December update plan for the release of #OPPOColorOS11 Beta & Official Versions based on #Android11 has arrived! Check the timeline below and save the dates.

Thank you all for your incredible patience & support! pic.twitter.com/HEfmBeivoy

— ColorOS (@colorosglobal) December 3, 2020
Updated on October 17, 2020: Today Oppo started rolling the September 2020 security patch for the device and there is no info when this device will receive the Android 11 (colorOS 11) update.
Both the Oppo A9 and Oppo A9X devices were launched with Android 9.0 Pie over ColorOS 6 preloaded and have started receiving the official stable ColorOS 7 update based on Android 10 in July 2020. Now, according to the Oppo officials, all the Oppo devices are eligible to receive the two major Android updates for sure.
That means there is one more major Android OS update that's pending for the Oppo A9/A9X models like Android 11. However, there is no official announcement made yet by the company. All the interested users may have to wait further. Till then stay tuned for more info.