UPDATE 2 (September 9th, 2020): Oppo has started the Android 11 Beta Recruitment Drive for its Find X2 and Find X2 Pro devices. Users residing in Thailand, India, and Indonesia could take part in this drive. Detailed information follows below in this guide.
UPDATE 1 (June 22, 2020): The Oppo Find X2 and Find X2 Pro has received the Android 11 beta update. The update package comes wrapped in the ColorOS 7.2. The download link and installation steps follow below in the guide.
After the release of the fourth Developer Preview of Android 11, Beta 1 update was next in the card. However, it had to witness quite a few delays. First due to the pandemic and then due to the ongoing protest going in the US. But the wait is now over as the Beta 1 build has finally made its way.
Till now these DP builds were mostly intended for the developers. But with the first beta version now available, the tech geeks could also get the taste of the same. And for the Oppo users, there is some good news lined up. The OEM has announced that they are bringing the Android 11 Beta package to the Find X2 series as well.
The Developer Preview is mostly slated for the Pixel devices in particular. While the Project Treble devices could also flash the GSI images, but the normal ZIP file could be installed on Pixel handsets. However, that isn't the case with Beta builds. Most OEMs do come forward and let their device owners get a taste of the latest Android version. While some smartphone manufacturers like OnePlus are usually among the first to be lined up, it's great to see Oppo joining the party as well.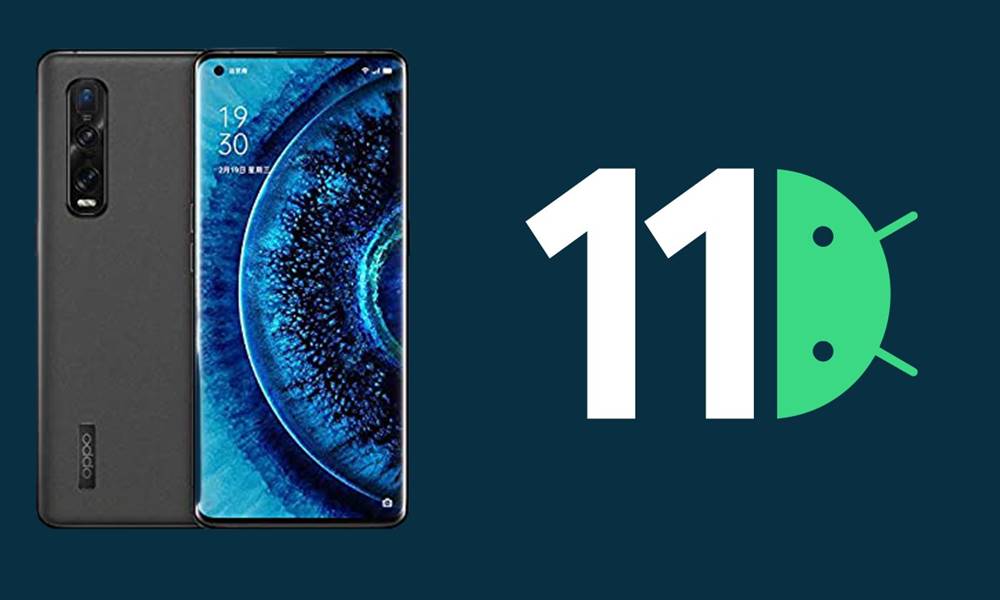 Oppo Find X2 Series Android 11 Beta Update: What we know
Well, the device with Qualcomm Snapdragon 845 chipset under the hood, was also part of last year's Android Q Beta program. So it is impressive to see they are continuing this tradition. As far as the release date for Android 11 Beta 1 for Find X2 and X2 Pro is concerned, the company has told that it is slated for this month itself, although the exact date is yet to be revealed.
[UPDATE: The download link is now available and you could download it from the below section] [UPDATE 2: Android 11 Beta Recruitment Drive for Oppo Find X2 and Find X2 Pro is now live]. Well, it might take some time, concerning the fact that they have to give it their touch, as it will be based on their customized OS skin, the ColorOS.
Anyways, it is great to see them coming forward and joining this bandwagon just a few hours after the beta build was announced. Furthermore, as per the timeline, Google has slated for three Beta updates before releasing the stable build. Well, we hope Oppo will be quick to join in for the other two beta packages as well.
[UPDATE 2] Android 11 Beta Recruitment Drive for Oppo Find X2/X2 Pro
As per the latest announcement, the Android 11 Beta Recruitment Drive for Oppo Find X2 and Find X2 Pro is now live. A total of 2000 users could apply for it and they should be residing in either Thailand, India, or Indonesia. Furthermore, your device needs to be updated to the software version CPH2023PU_11.A.39. Before you head over to apply for this recruitment, keep in mind that there are a few bugs that you are likely to encounter, namely:
Known Issues
1、There is a probability that WeChat video call cannot open assistive ball;
2、There is a probability that fingerprint icon flicker;
3、There is a probability that noise appears while playing the big game;
4、There is a probability that the application doesn't show rounded corner;
5、Decimal point is unseen on charging and lock screen;
6、There is a probability that after update the ringtone is reset to default if you set a ringtone for a contact;
7、There is a probability that blur photo sent in Wechat and voiceless video shared moment;
8、Input method is unavailable on application assistive ball(please try to restart the app and open again)
If you are ready to deal with these bugs, then here are the required instructions to apply for the Android 11 Beta Recruitment Drive for Oppo Find X2 and Find X2 Pro
How to Apply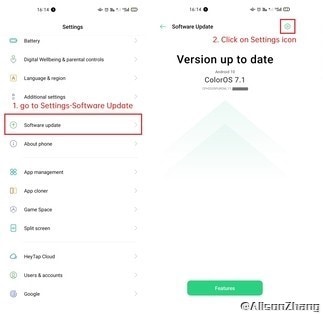 Head over to Settings > Software Update > Click the settings icon on the screen > Apply for Beta Version > Update Beta Version. After this, follow the guide to start the application process.
[UPDATE 1] Android 11 Beta Update for Oppo Find X2/X2 Pro is now live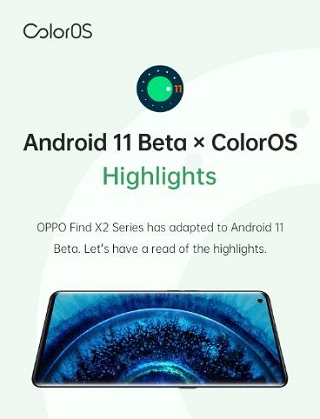 Oppo had announced earlier that the update is slated towards the end of this month, and it has stuck to its promise. The Android 11 Beta update is available for the devices in contention, i.e the Find X2 series. The update is based on Color OS7.2 and is slated for models CPH2023 and CPH2025.
You could download it from below and then follow the given installation instructions. However, before we list out the steps, keep in mind that it is still a beta package and could be buggy as well as unstable. So we wouldn't recommend you to try it as your daily driver. With that said, here are all the bugs that you are likely to encounter in this beta build:
Bugs/Known Issues
Making a video call using a test machine would fail and the other party's image could not be displayed after you answer a video call. This can be addressed by restarting your phone.
Your phone would not detect a simulated 4-pole earphone jack and audio would play through the speaker.
Charging using the CDP charger would fail.
Download Android 11 Beta for Oppo Find X2 and X2 Pro
Device: OPPO Find X2/Find X2 Pro
Channel: China Beta
Version: Beta 1
Android: 11
Type: Recovery
Download: Find X2 ROM
Download: Find X2 Pro ROM
Installation Steps
Download the ROM and transfer it to your root directory (i.e. not inside any folder) of your internal storage.
Now power off your device, press and hold the Power button and the Volume Down buttons together to enter Recovery mode.
Once the device boots to recovery mode, follow the on-screen prompts tap on Install from storage.
Navigate to the Android 11 Beta firmware package, select it, and hit the Install button.
While the installation process is going on, it is recommended not to perform any operations on your device. And when the process is completed, you should get the installation success message.
Once that is done, you could reboot your device to the latest installed OS!
Downgrade Oppo Find X2/X2 Pro From Android 11 to Android 10
If the bugs and issues are too much to deal with, you could easily downgrade to the stable Android 10 build. Just refer to our detailed guide on how to Downgrade Oppo Find X2/X2 Pro: Rollback From Android 11 to Android 10, and you're good to go.
Android 11: The Focus on PCP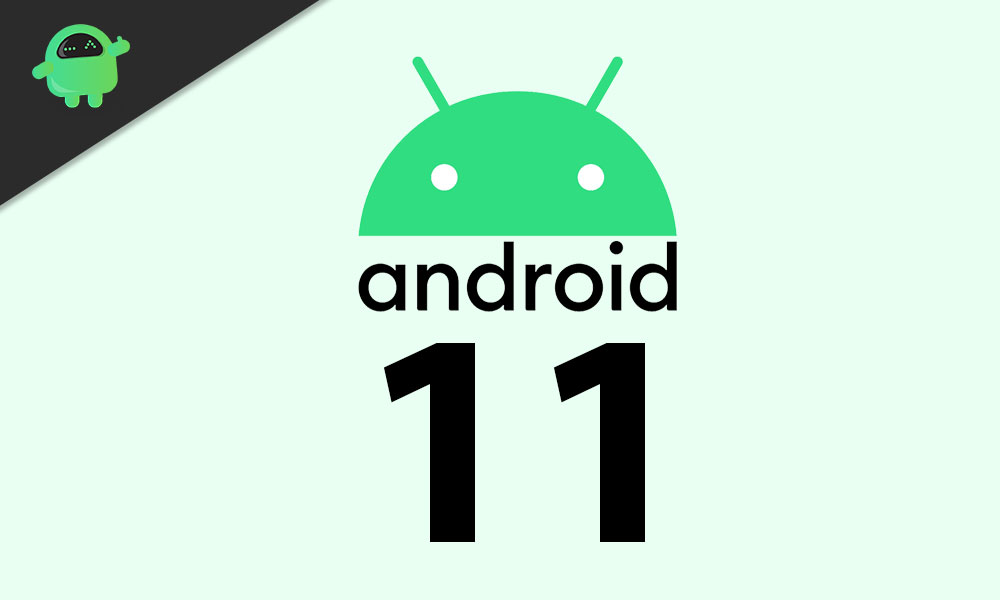 Talking about Android 11, its majorly focused on PCP, i.e. People, Control, and Privacy. We have already compiled a comprehensive guide regarding the latest iteration of Android. You could get all the information about the schedule-timeline, devices set to receive Android 11, and all the important and new features that it brings with itself. A quick recap about some of the noteworthy features includes:
People
A new conversation section in the Notification Panel.
Introduction of Bubbles Notifications
Cons0lidated keyword suggestions are also about to make its way over.
Control
Smart Home Controls right from the Power Menu.
Overhaul to the media controls
Permissions
One time permissions
"Allow only while using the app" Permissions getting expanded to other sections as well. Earlier, it was only limited to Location in Android 10. Now, it is expanding its domain and taking in Camera as well.
The Permission Auto-Reset feature
So this was all from our side regarding the Oppo Find X2 and X2 Pro welcoming the news of the Android 11 Beta update. Do keep in mind that once you have installed the Android 11 Beta package, the first boot might take up some time, it is completely normal. This guide will further be updated as and when the latest developments take place. Bookmark it and keep yourself updated. In the meantime, get yourself acquainted with our iPhone Tips and Tricks, PC tips and tricks, and Android Tips and Trick.