New Update on June 15, 2020: Good news for all the Oppo R17 users as the company has released a new firmware update for the R17 model that comes with a software version F.05 and the best part is that you can now download the firmware below and can manually install it on your Oppo R17 device easily. However, we always ask you to check for the OTA update on your device at first via the Settings > System updates > Check for updates.
If the latest update is available, simply download and install it. Make sure to connect your handset to the Wi-Fi and charge it up to 40% at least. Meanwhile, the eagerly awaited users can easily download and install the firmware manually by following the steps below.
You can download the firmware Oppo R17 (F.05) here and scroll down below to check for the steps to install.
New Update on April 20, 2020: Finally, the much-awaited Oppo R17 Android 10 update over ColorOS 7 program has been started officially. Currently, the update is live in India, Australia, and Saudi Arabia region. While the update will also arrive in the rest of the countries very soon. According to the ColorOS Community post, more opportunities will be available in the future.
The official version of the Oppo R17 users should have to update to the latest version which is C10/C11 and the target software version will be CPH1879EX_F.03 respectively. Once you will be updated to the latest ColorOS 7 stable version, you will get borderless visuals that bring a lighter feel and a smoother experience.
New Update on April 11, 2020: Amidst Coronavirus crisis, Oppo decided to change the release date of ColorOS 7 based on Android 10 to a few of their devices. In which, Oppo released a new update plan where the Oppo R17 will be eligible to receive the stable ColorOS 7 on April 20.
Here is their new update plan where a bunch of Oppo phones is now scheduled to be upgraded to Android 10 under their ColorOS 7 stable version by April.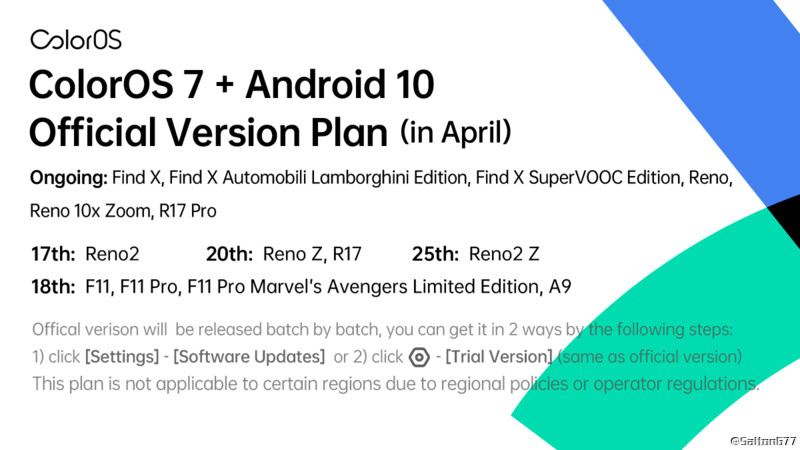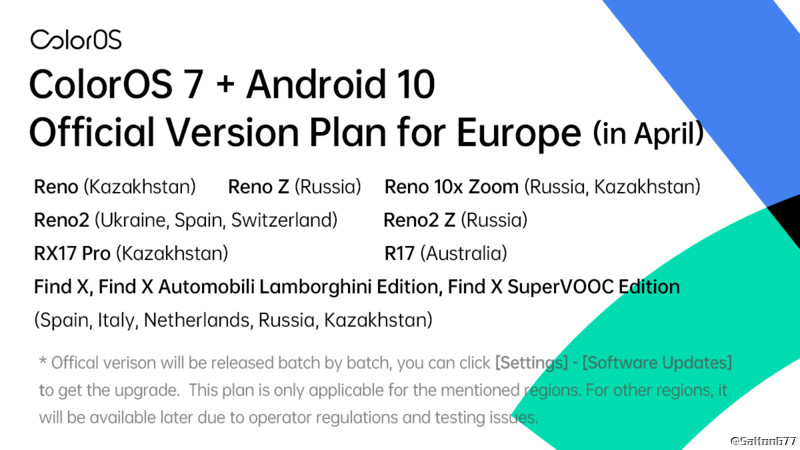 OPPO has released an announcement of the second batch of early adopters program for Oppo R17 Android 10 update with ColorOS 7. Google has released Android 10 officially in September 2019 and it features plenty of changes or improvements in the system. However, plenty of flagship Oppo devices still not be able to receive the official stable Android 10 update based on ColorOS 7. Now, the company is trying to deliver the second batch of beta updates for the Oppo R17 units in China.
To be very specific, the Oppo R17, Oppo R17 New Year Edition variant users will be eligible to apply and receive for the ColorOS 7 early beta testing program. This is the second batch of the beta program and limited as well. So, not all the interested users may become eligible to receive the beta update right now. The beta recruitment channel will open from March 7, 2020, at 10:00.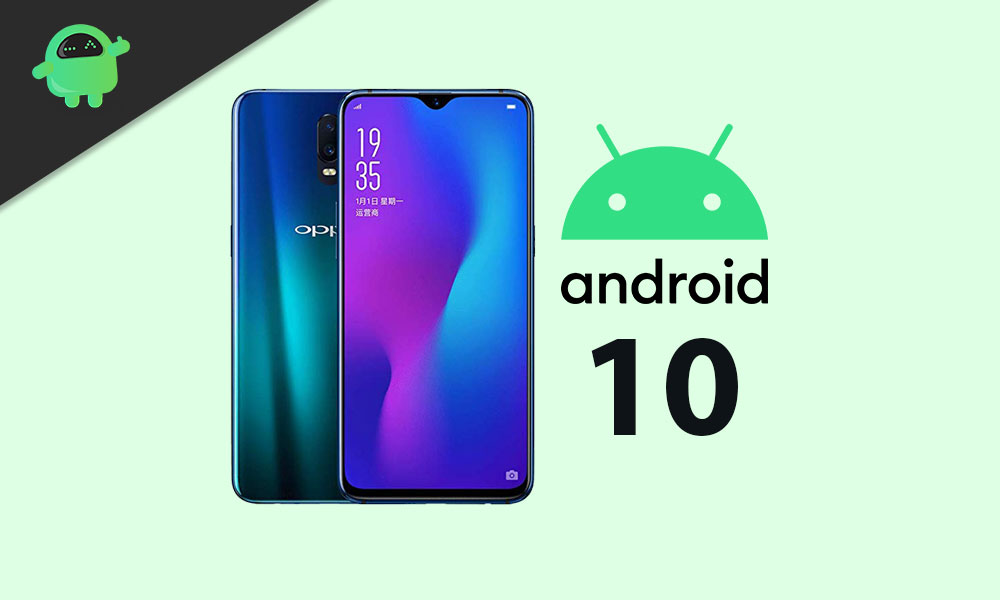 ColorOS 7 based on Android 10
The ColorOS 7 is a customized skin based on Android 10 for the Oppo devices. There are plenty of changes or improvements made in this new software version. You will get a unique look, improved icons, better color scheme, new sound effect, better RAM management, offers faster app opening time, etc. Additionally, the new ColorOS 7 also features improved touch response timing while gaming, optimized Breeno smart voice assistant, dark mode, Portrait mode 2.0, Soloop video editor, focus mode, and more.
What's on Android 10?
Android 10 (aka Android Q) was launched in September 2019 by Google which is the successor of the Android 9.0 Pie. It basically offers a bunch of new features and privacy improvements than its predecessor.
The Android 10 features Gestures Navigation control, System-wide Dark Mode, Wi-Fi & QR Code scanning, app sharing menu, improved app permissions, enhanced location privacy control, easy security updates, focus mode, live caption, family link, sound amplifier, better notification control, and more. It also offers 5G support, foldable support, improved lock screen, smart reply, etc.
Oppo R17 Android 10 Update Status
Third Batch of Early Adopters: The company has recently released the third batch of ColorOS 7 early adopters recruitment program for the Oppo R17 model. It's available for the first 10,000 people who're interested in Android 10 beta testing. Before applying to the early beta build, make sure that your R17 model is running on the C10/C11 software version.
First Early Adopter Beta rollout: Android 10 beta update arrives with the version number PBEM00_11_F.01 for OPPO R17. In fact, in order to be eligible for this ColorOS 7 beta update, users need to make sure that they are running the latest version of software i.e. C.06, C.07, or C.09 for R17.
Moreover, the new update for the R17 weighs in around 3.24 GB in size. We would advise you to use a stable WiFi connection to download this update. Below are the full details about the firmware update as well as the official changelog that the update brings in for both the devices.
First Early Adopter Beta Information
Model: OPPO R17
Android: 10 beta
Version: PBEM00_11_F.01
ColorOS Version: ColorOS 7
Download Android 10 Update Here:
[su_spoiler title="Changelog: PBEM00_11_F.01″]
Visual
– New borderless design is newly upgraded, the vision is more shocking, the operation is more efficient, and the experience is more natural
– Added OPPO Sans default font, overall simple and elegant, full of technological beauty
Breeno
– Added Breeno instructions, allowing you to complete daily tasks faster with fewer steps, and create personalized shortcut instructions
– Added Breeno voice and photo search function, you can perform voice search based on photo time, place, person, etc.
– Added Breeno voice, camera wake-up, voice switchable camera mode
– Added Breeno voice, turn on and off dark mode, query step count, open Breeno screen and other voice commands
– Added Breeno suggestions, wake-up reminders, today 's schedule and recommendations for dressing, etc.
– Added Breeno suggestion, bus information card, real-time reminder bus information
– Added Breeno suggestion, low battery reminder, automatic detection of nearby charging treasure merchants when low battery
– Added Breeno sleep mode, enter dark mode at night, and turn on DND
– Added Breeno screen, meeting schedule information identification, you can add a schedule with one click
– Optimized Breeno scan, independent scanning and identification, easy to evoke
– Added Breeno driving, which can quickly open the phone, music, WeChat and a recently used application
– Added Breeno quick tour, news information module
Smart Sidebar
– Optimize visual interaction and enhance one-handed operation experience
– Optimize the smart sidebar, replace the file table with file management, and remove the Breeno voice, ultra-clear visual effects, and notification not to disturb three shortcut tools
– Add notes shortcut tool
– Added support for drag and drop applications to achieve fast split screen
– Added "buoy transparency" and "buoy full screen hidden" settings
– Optimize the floating window mode adaptation range, more applications support floating window opening
– Added floating window bubble function to support fast expansion/collapse of floating window
Screenshot
– Optimized three-finger screen capture, you can press and slide with three fingers to select the screen capture area; long press and slide down to drag the screen to quickly take a screenshot
– Added screenshot settings, which can adjust the position of the preview floating window, set the prompt sound, etc.
– Optimize screenshots to preview floating windows, pull down to share, and pull up floating windows for long screenshots
Navigation Gesture 3.0
– Added swipe in from the sides of the screen and pause to switch to the previous app
– Optimize all gestures to support landscape scenes
System
– Added flashback button, support desktop display of important information such as navigation, taxi, and game, the quick return to application with one click
– Added dark mode, saving power and protecting eyes
– Added focus mode to help block outside interruptions while working or studying
– Added new charging animation style
– Optimize the control center interaction, making the one-handed operation experience more friendly
– Added screen recording pause function
– Added screen recording floating window and recording settings
– Added 360 cleanup engine
– New global themes, themes add more playability
– Added global delete sound effects, calculator key sounds, a compass pointing sound feedback
– Optimize built-in ringtone resources
– Added accessibility TalkBack hover tips
– Added accessibility color mode to improve the user experience of visually impaired users
– Added the latest task management page, including the latest task display memory information switch and application lock management
Game
– Optimize visual interaction in-game space
– Optimize the game space to start the animation
Desktop
– Added new interactive live wallpaper
– Added Art + static wallpaper
– Added desktop sliding settings, which can be customized to open the global search or notification center
– Add desktop icon customization, you can customize icon size, shape, style
– Optimize the unlocking process, you can switch the unlock mode by swiping up
– Optimize password unlocking vision, more convenient for one-handed unlocking
– Added lock screen support for live wallpapers
– Optimize the clock style of interest screen, more personality choices
– Added simple desktop mode, larger font icons, more concise and clear
Safety
– Add password function, auto-fill password, realize one-click login
– Added the remote guard application usage time, you can check the use of the mobile phone in the past 7 days
– Added remote guardian deactivation period, which can set the deactivation period of the bound mobile phone
– Added a time limit for the remote guard application, you can set the duration of the mobile phone application, and limit the number of games
– Add remote guard one-click navigation, one-click navigation to the location of the bound mobile phone
– Added SOS emergency contact smart customer service for help. When the emergency contact does not answer the call, the intelligent customer service will help continue to call the emergency contact
– Added random MAC address to connect to WiFi, block targeted advertisements, protect privacy, and make information more secure
– Added status bar icon prompts when using sensitive permissions, you can view the details of the specific invoked application to prevent personal privacy from leaking
– Added permission usage records, you can view the history of application call permissions
Tool
– Add note palace pattern
– Added note background setting, providing 6 colors and 4 skin backgrounds
– Added reminder time reminder function, you can set reminder time for reminders
– Added the function of deleting and retrieving notes, deleted notes will be kept in the recently deleted folder for 30 days
– Added calculator small window mode, support quick start through control center and smart sidebar
– Add recording trimming function, you can trim existing recordings to get important clips
– Added calendar support to customize the recurrence period of the schedule
– Add alarm clock dynamic weather ringtone to match different ringtones according to the weather of the day
– New weather animation effects, showing different dynamic effects according to different weather
– New file management Add OPPO cloud disk entrance to access OPPO cloud content
Camera
– Optimize camera interaction and improve operation experience
– Optimized camera countdown interaction and prompt sound
Album
– Optimize the interaction of albums and albums, the levels are clearer, and the pictures are more convenient
– Added album recommendation, support more than 80 types of scene recognition
Communication
– Added OPPO mutual transmission support and mutual transmission with Vivo and Xiaomi devices
– Optimize phonebook vision, bring more concise and efficient experience
– Add new phone number shortcut settings page, one-click to create new contacts, add tags or add to blacklist
Settings
– Add new inactive periods, customize inactive periods, and effectively manage phone usage time
– Added time limit for new applications, you can set the application duration, limit the number of games in some games, and prevent apps and games from being addicted
– Optimized search function, support fuzzy search and search record display
Application
– Added Soloop Instant Recording to better understand your video intelligent creation tools
– Add health, monitor sports health data, and provide health services
[/su_spoiler]
Second Early Adopter Beta rollout: There are a total of 8,000 Oppo R17 unit users who will be eligible for this early beta update of ColorOS 7 based on Android 10. As the OTA update will be rolled out in batches, not all the users will receive the update notification at the same time.
The early adopter version is focused on functional verification testing. So, it may contain some of the bugs or stability issues. Keep in mind that the device should run on C.10 or C.11 software version before applying for the beta testing program. Just head over to the phone Settings > Software Update > Tap on the settings (cog) icon in the upper right corner > Tap on Upgrade to early adopters > Tap on ColorOS 7 to limit early adopters.
Fill up the application > Check the early adopters and privacy policy > Tap on Apply Now. Once the application successfully applied and selected, the eligible beta testers will get the beta OTA update within 3 days. So, please be patient.
How to Install ColorOS 7 on Oppo R17 (Android 10)
If you've already downloaded the firmware file from above, then simply put the firmware file (zip) to the root directory on your internal storage of the device.
Now, boot your device into Recovery mode.
Once the device is in recovery mode, you can select the language according to your choice.
Next, select the downloaded firmware package from internal storage where you've saved it.
Choose the ColorOS firmware OTA zip file > Tap on OK to start installing the update.
This process may take a couple of minutes or so.
Once done, reboot your handset.
Enjoy!
Oppo R17: Overview
It has a 6.4-inches AMOLED display with 1080×2340 pixels resolution, a 19.5:9 aspect ratio screen, Corning Gorilla Glass 6 protection, etc. The handset runs on Android 9.0 Pie right now and is powered by Qualcomm Snapdragon 670 SoC, Adreno 515 GPU. It's paired with 6GB/8GB of RAM and 128GB of onboard storage options.
The device packs a dual rear camera setup of a 16MP (wide, f/1.7) + a 5MP (depth, f/2.4) lens with PDAF, HDR, Panorama, an LED flash, etc. While the phone features a 25MP (f/2.0) selfie camera with HDR mode. The handset sports a 3,500mAh battery with 20W fast charging support.
It has dual-band Wi-Fi 802.11 a/b/g/n/ac, Bluetooth 5.0, GPS, A-GPS, GLONASS, GALILEO, BDS, MicroUSB 2.0 port, USB OTG, etc. While the device packs an in-display fingerprint sensor, an accelerometer, an ambient light sensor, proximity, compass sensor.
Source: ColorOS Community