Oppo announced that it will bring ColorOS 11 which will be based on Android 11. There are tons of new features like dark mode customization, three-finger translation, Super Power Saving Mode, Flex Drop, improve privacy and security, and much more. Along with all these changes, the ColorOS 11 will also include the new additions that Google has embedded with Android 11 ColorOS 11 was released back in September 2020.
Notably, the Find X2 Pro has already bagged the Android 11 stable update. Oppo Reno, the vanilla Reno smartphone from the popular Reno lineup, is also set to grab the Android 11 ColorOS 11 update. In this post, we will give you a dedicated Oppo Reno software update tracker. From here, you will be able to keep your Oppo Reno smartphone up to date, with the latest available update for your phone. With that being said, let us get straight into the article itself:
Oppo Reno – Device Overview
Oppo launched the Oppo Reno smartphone back in April 2019. The phone comes powered by a Snapdragon 710 processor and is paired with 6/8GB of RAM. It offers 128/256GB of onboard storage and does not feature a dedicated microSD card slot. The phone has a 6.4-inch AMOLED 1080P display. Talking about the cameras, the phone comes with a dual-camera setup with a 48MP primary lens and a 5MP depth sensor.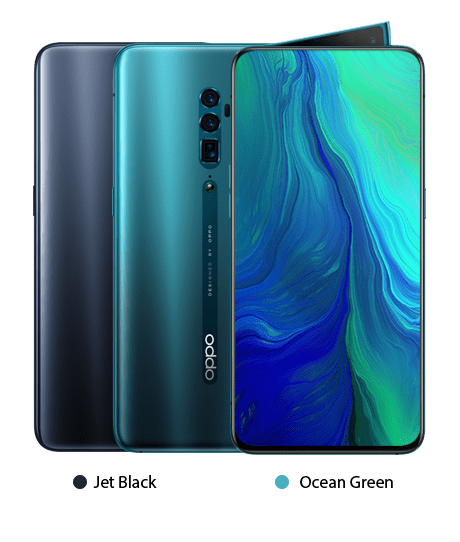 The Oppo Reno is capable of recording 4K@30fps, 1080p@30/60/120fps. For selfies, the phone houses a 16MP sensor under the motorized shark-fin camera module which is capable of recording 1080p@30fps. The fingerprint scanner is placed under the display and it is juiced by a 3765 mAh battery that supports 20W fast charging.
Oppo Reno Update Tracker
You will find all the latest updates posted on this table given below. Note all the latest updates will be put up at the end of this table along with the download link and changelog, if available. So, make a note of this.
Software Version
Changelog

CPH1917EX_11_A.06

CPH1917EX_11_A.08

CPH1917EX_11_A.09

CPH1917EX_11_A.13

Improved visuals
Oppo Sans font set as the default font
optimizations for one-handed use
new settings for screenshots
new gestures for system navigation
dark theme
focus mode (to avoid distractions)
new system sounds
optimization for games
camera improvements

CPH1917EX_11_A.16

CPH1917EX_11_C.24

Updated Log[Visuals]
• Brand new borderless design makes visuals more attractive and operation more efficient.
• Added OPPO Sans as the default font. The new font delivers a refreshing feel and fits well with OPPO's pursuit of blending beauty and technology.[Smart Sidebar]
• Optimised user interfaces and improved one-handed operation.
• Drag an app out of Smart Sidebar to open it in Split-screen mode.
• Added two settings: Assistive Ball Opacity and Hide Assistive Ball on Fullscreen App.
• Optimised the Floating Window feature for more apps.
• Added a bubble: A bubble is displayed when you open an app in a floating window from the Smart Sidebar. Tap the bubble to collapse and open the app.[Screenshot]
• Optimised 3-Finger Screenshot: Use 3 fingers to touch and hold the screen and swipe your fingers to adjust the screenshot size. Use 3 fingers to touch and hold the screen and swipe your fingers outwards to capture a long screenshot.
• Added screenshot settings: You can adjust the position of the screenshot preview floating window and set the screenshot sound.
• Optimised screenshot preview floating window: After taking a screenshot, drag it up and release to share it, or drag it down and release to take a long screenshot.[Navigation Gestures 3.0]
• New gesture: Swipe left or right at the bottom of the screen to switch between recently used apps.
• New gesture: Swipe inward from both sides of the screen and then hold to switch to the previous app.
• Optimised gestures: All gestures are supported in landscape mode.
• You can now enable vibration for when you use Swipe gestures from both sides to go back to the previous screen.
• Optimised Google Assistant: When Swipe-up gestures (Back at both sides) or Swipe gestures from both sides is selected, you can call up Google Assistant by swiping inwards from either bottom corner of the screen.[System]
• Added Dark Mode: Protects your eyes while reducing power consumption.
• Added Focus Mode: Shields you from outside distractions when you are learning or working.
• Added all new charging animation.
• Optimised the Quick Settings user interface for easier one-handed operation.
• Swipe left or right to ignore banner notifications.
• Added a pause function for screen recording.
• Added a floating window and settings for screen recording.
• New sounds added for file deletion, calculator key touches, and compass pointer.
• Optimised system pre-loaded ringtones.
• Added TalkBack floating prompts for Accessibility.
• Colour Accessibility Mode added to improve user experience for visually impaired users.
• New management function for recent tasks: You can view memory information about recent tasks and lock apps.

[Games]
• Optimised visual interaction for Game Space.
• Optimised the startup animation for Game Space.

[Home Screen]
• More live wallpapers.
• Added Art+ static wallpapers.
• Customise whether to open Global Search or the notification drawer when swiping down on the Home screen.
• Customise the size, shape, and style of app icons on the Home screen.
• Swipe up on the Lock screen to switch unlock methods.
• Optimised the graphic design of password unlock to facilitate one-handed operations.
• Supported live wallpapers on the Lock screen.
• More screen-off clock styles.
• Added a simple Home screen mode, featuring larger fonts and icons and a clearer layout.

[Security]
• Connect your phone to Wi-Fi networks using a random MAC address to avoid targeted ads and protect your privacy.

[Tools]
• In Quick Settings or Smart Sidebar, you can open Calculator in a floating window.
• Added the trim feature in Recordings.
• Added the Weather (dynamic) ringtone, which automatically adapts to the current weather.
• Added weather-adaptive animations in Weather.

[Camera]
• Optimised the Camera UI for a better user experience.
• Optimised the Timer UI and sound.

[Photos]
• Optimised the Album UI for a clear hierarchy and a quick lookup of photos.
• Added Album Recommendations that recognises more than 80 different scenes.

[Communications]
• Added Dual-Band Wi-Fi for faster and trouble-free connections.
• OPPO Share now supports sharing files with vivo and Xiaomi devices.
• Optimised the Contacts UI for a more efficient experience.

[Settings]
• Search Settings now supports fuzzy match and contains a search history.

[Applications]
• Soloop Video Editor: Create your video with one tap.

CPH1917EX_11_C.28

[Security]
· Added the June 2020 Android security patch to enhance system security.
[System]
· Improved system stability and performance.
· Fixed an issue where the Back button would occasionally not work.
· Fixed an issue where the "Photos" app would occasionally freeze.
· Fixed an issue where "Game Assistant" could be called up from Smart Sidebar when you were not in a game.
[Camera]
· Optimized the zoom method: Replaced the zoom bar with a zoom wheel for a better user experience.
[Communications]
· Fixed an issue where, after you restarted your phone and inserted a SIM card, the Home screen would flash during network registration.

CPH1917EX_11_C.31

CPH1917EX_11_C.32

CPH1917EX_11_C.33

[Security]
Added the October 2020 Android security patches to enhance system security.
[System]
Improved system performance and stability.

CPH1917EX_11_C.34

「Security」
·Added the November 2020 Android security patches to enhance system security

CPH1917EX_11_C.35

「Security」
·Added the December 2020 Android security patches to enhance system security

CPH1917EX_11_C.38
Security

•Added the April 2021 Android security patches to enhance system security
How To Update Oppo Reno?
Note that all the latest updates for the Oppo Reno phones will be rolled over via OTA in batches. This means that the phones will pickup the update gradually depending on regions. However, if you wish to manually check for the software updates on your phone, you can follow the steps below:
Head over to Settings.
Then go to Software Updates.
Let the device check for the latest software updates.
If there is a new update available then you can begin the installation process.
If you wish to manually update your phone, then you can follow our dedicated update process guide by clicking the link given below:
Update Guide: How to Flash Oppo Firmware on your device [Software update guide]
Wrap Up!
So, there you have it from my side in this post. I hope you guys liked this post and were able to grab the latest update for your Oppo Reno. Notably, we will keep updating this post, once a new update goes live for the Oppo Reno smartphone. For complete info on the Oppo Android 11 update, you can refer to our dedicated post by heading here.
In the meantime, if you liked this content and want to read more content, for more such awesome coverage, you can head over to our check out our Windows Guides, Gaming Guides, Social Media Guides, iPhone, and Android Guides to read more. Make sure to subscribe to our YouTube Channel for awesome videos related to Android, iOS, and Gaming. So, until the next post…Cheers!