From this guide, you could download the latest stock firmware for all the Oppo devices. When you are part of BBK Electronics which houses giants like OnePlus and other famous OEMs like Vivo and Realme, it is a real tough job getting a separate identity for yourself. In this regard though, Oppo seems to have done a rather brilliant job, carving out a niche collection of a loyal fanbase. With devices ranging from the low Rs 10,000 mark up to Rs 70,000, it hasn't left any segment untouched.
As far as its OS skin is concerned, it brings in the ColorOS that claims to offer infinite design concepts and a smooth and delightful user experience. Its latest iteration, the ColorOS 7 is based on Android 10 and has already started rolling out. However, as is the case with other OEMs, it also follows a staged rollout process. As a result, the update is delivered in a staged process. Hence not everyone receives the latest build in one go.
But you could now put all these doubts to rest. From this guide, you get to grab hold of the latest stock firmware for all the Oppo devices. Even if the update hasn't landed on your device, you could download the same from this post and manually install it. But before we list out the download links, let's check out the associated advantages that a stock ROM or firmware brings in with itself. Follow along.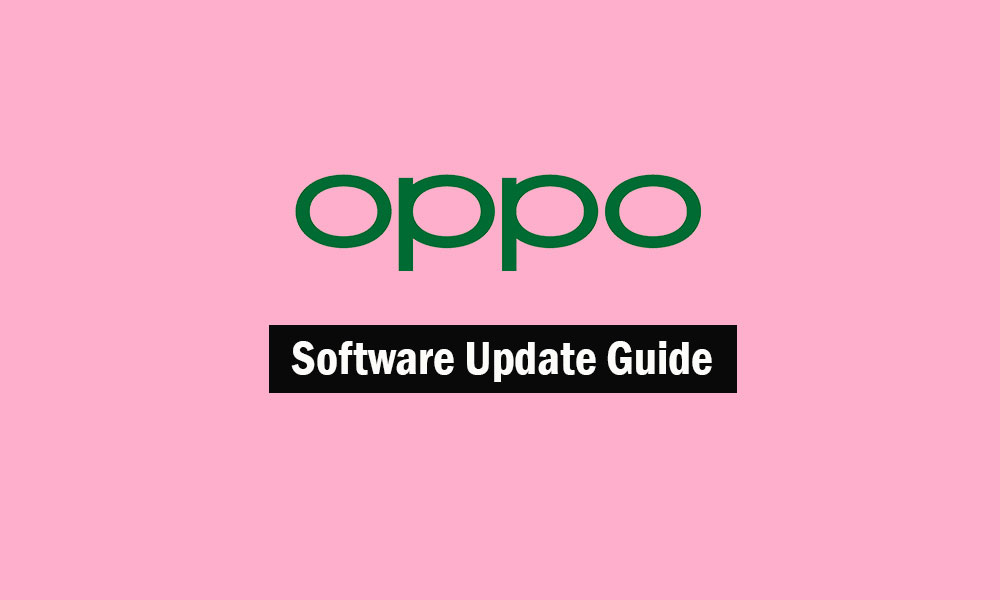 Advantages of Stock Firmware
The first and foremost advantage straight out spells out that you don't have to wait for the OTA to land on your device. Just take hold of the stock firmware from this post and you are good to go. Furthermore, there is a never-ending battle going on regarding the Custom ROMs vs Stock Firmware. Well, let's settle that one's it for all.
Custom ROMs no doubt bring in a couple of extra goodies than what your device might not be shipped with. However, these custom ROMs are usually buggy and might have some stability issues as well. The stock firmware is built keeping your device in mind and hence is customized and optimized according to each device's unique specs sheet. Therefore, it is capable of providing greater stability and a bug-free experience.
Likewise, owing to Android's open-source ecosystem, users generally try out a plethora of tweaks and customizations. And if they end up messing up even a single step, it will straight away lead to a bricked or boot-looped device. The only escape route around? Well, all you have to do is just flash the stock firmware onto your Oppo device and your device will be back to normal working condition.
So with a plentitude of benefits associated with these stock ROMs, it could be needed on any day of the week. And in that case, you could easily refer to this guide. From this post, you could download the latest stock firmware for all the Oppo devices.
List of Oppo Stock Firmware Support Page:
Important Notes:
Make sure to DO NOT root your handset by yourself or without any knowledge. The process may damage the device system and your device warranty will void immediately (if any).
The firmware updating process will take some time. So, please be patient.
It may delete all of the device data (internal) completely such as contacts, messages, documents, etc. Make sure to take a full back up of your important data before doing anything.
Keep the Oppo phone battery juice above 50% or you can plug your device into charging as well.
Connect your device to a working Wi-Fi network for faster and more stable software updates.
Steps to Flash Oppo Firmware on your device [Software update guide]
As we already mentioned above that there are two recommended updating methods that will share with you. Both methods are easy and safe enough that can be useful even if you don't have that much knowledge. Now, let's jump into the methods.
1. Update Oppo Software Wirelessly (via OTA)
First, connect your device to a working Wi-Fi network. The system will automatically show a new software update is available (if any). Now, you can see a notification on the 'System updates' icon.

If your device firmware is already updated, then it will show "It is already the latest version".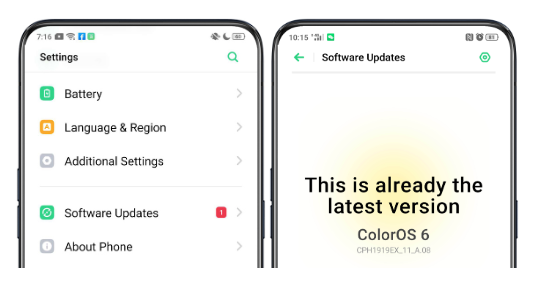 Then download the firmware by following on-screen instructions.
Tap on the System Updates option. Your device will reboot and start updating the installed firmware version.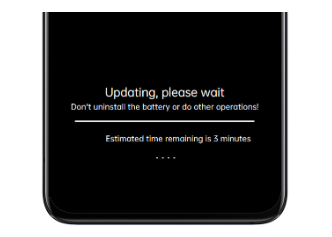 It will take a few minutes. You're done.
2. Update Oppo Software with SD Card (via Recovery)
Go to the Oppo Official Website > Click on Support > Software Updates.
Next, download the appropriate firmware for your device model and move it to the root directory of your SD Card without any folder. (Oppo Firmware Download Page)
Then put your SD card inside the device slot and power off the phone.
Now, press and hold the Power + Volume Down buttons together until the phone enters into Stock Recovery Mode.

Under the Recovery Mode, tap on the Install from storage device option > select Install from SD card and find the update package.
Tap on the firmware zip file and a confirmation message will appear on your screen.
Tap on the Yes button. Your device will reboot and start updating.
It will take some time. Have patience.
That's it. Enjoy!
We hope that this guide is helpful to you. If you're using the Oppo handset then you can update the firmware version easily. If you have any queries, ask in the comments below.