Pixel 7 and Pixel 7 Pro are improved and fully realized versions of the phones Google unveiled last year. In a new era for Google's mobile devices, featuring a brand new processor and a bold new design. However, many of them were great devices with some rough edges, but they were ambitious devices with big ambitions. The iteration of the Nexus series has yet to smooth out those rough edges completely, but they feel like worthy competitors to iPhones and Samsung Galaxies.
But, for some users, both these devices create a mesh. Yes, recently, users started reporting that their Pixel 7 and 7 Pro screen becomes unresponsive or freezing, due to which they cannot use their device. This is also why we are here. In this article, we have explained some basic fixes that will help you resolve the Pixel 7 and 7 Pro screen unresponsive or freezing issue. So, let's check out the fixes: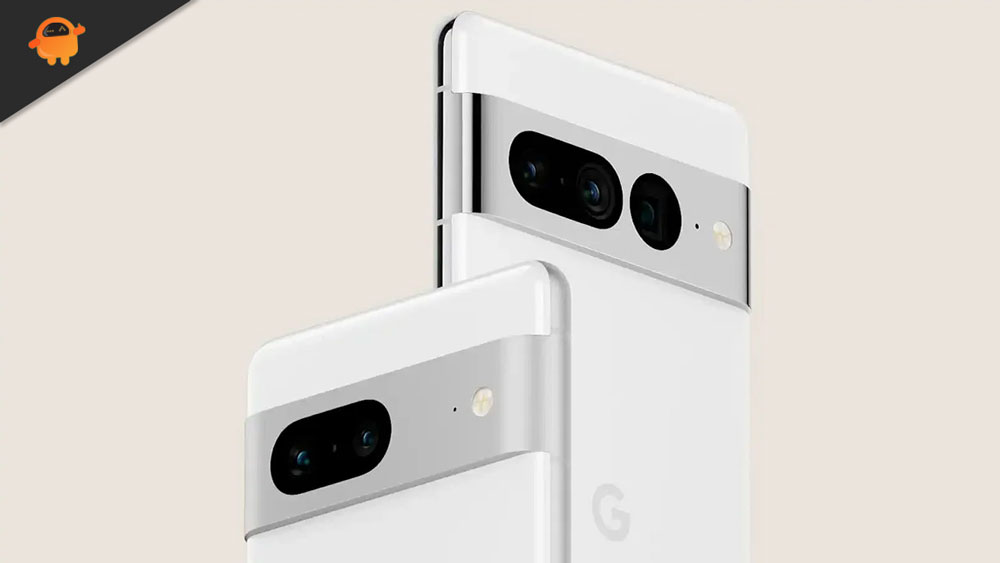 How To Fix Pixel 7 and 7 Pro Screen Unresponsive or Freezing
If you have recently purchased the Pixel 7 or 7 Pro and find that the device's screen has become unresponsive or started freezing, then you must try the fixes we have explained further, as these fixes are known to resolve these kinds of errors. Therefore, let's check them out and see if these fixes help you, but before that, make sure about these things:
Remove any cases or screen protectors you have.

Taking off your gloves is a good idea.

It is a good idea to remove any stickers you have placed over the screen or sensors.

Make sure your screen is clean.

Before using your phone, make sure it is fully charged.
Now, if you have already made these changes, and still getting the error, make sure to perform the fixes mentioned below:
Fix 1: Perform a Force Restart
A glitch in the software may cause the issue. If your device is unresponsive or frozen, you might have a black screen on your Pixel 7.
In order to fix this Pixel 7 and 7 Pro screen unresponsive or freezing issue, you must force Reboot your phone. It is possible to restore the normal operation of the device by rebooting and reloading all of its services. There will be no loss of data or apps relating to your personal information.
Initially, press the

Power

button and hold it for a couple of seconds.

In the power menu that appears, select

Power off

.

After a few seconds, you will be able to turn on your smartphone by pressing the Power key.
Fix 2: Connect Pixel 7 and 7 Pro to Computer
If you own one, it might be possible to solve the problem with a computer.
You should plug the charger into a wall outlet while unplugging the cable.

Before you begin, be sure to turn on your computer.

You can connect your phone to your computer's USB port if it comes with a USB cable.

Wait a few minutes.

Disconnecting and reconnecting the cable within 10 seconds is essential.

You may see a battery icon or a red light depending on how long you wait. An icon indicating battery life appears when the phone is charging and unplugged. An illuminated red light indicates that the battery has been fully discharged.

After you have charged your phone for 30 minutes, do not charge it again for at least 30 minutes.

Before you can restart your phone, you will have to hold down the power button. Restart your computer by pressing the Restart button.
Fix 3: Perform a Factory Reset on Your Google Pixel Device
Depending on whether the Pixel 7 and 7 Pro screen is unresponsive or the freezing issue persists, it may be necessary to reset the Android system recovery screen. Backing up your data before attempting a reset is recommended since it will erase everything on the phone.
Turn off the device.

Once that has been done, hold both the Power and volume down buttons simultaneously.

After you see an exclamation point and a triangle, release both buttons.

Once you've seen the words No Command, release the Volume Up button and power button.

Press the Power button when you have highlighted Wipe data/factory reset on the volume keys.

When you hold down the volume key and press the power button,

yes

will appear. It will take some time for your information to be deleted.

Once you've highlighted Reboot system now, press the Volume keys while pressing the Power button.
So, once the factory data reset has been completed, see if the Pixel 7 and 7 Pro screen is unresponsive or freezing issue persists.
Fix 4: Start the Google Pixel in Safe Mode
There are times when apps downloaded from Google Play can cause the Pixel's black screen to appear. Your phone won't work if the app doesn't work properly with your current operating system.
In order to check if a third-party app is the source of the issue, the Google Pixel needs to be started in Safe Mode.
You should hold the

Power

button until you see a '

Power off

' prompt on the screen, then release it.

Touch and hold Restart to boot into safe mode.

Click

OK

to confirm.

When you restart the phone, the Safe mode button is found at the lower-left corner of the Google Pixel 7 and 7 Pro's unlock/home screen.
If the Pixel 7 and 7 Pro screens are unresponsive or a freezing issue does not occur in this mode, you can certainly assume that a downloaded app causes it. It is important that you uninstall the app that is causing the problem. To exit Safe Mode, you only need to restart your phone.
Fix 5: Charge your Google Pixel
You may not be able to turn on your Pixel phone because the battery is running low. After charging your Pixel phone for at least 30 minutes, if it doesn't turn on, it is recommended that you charge it for another 30 minutes.
You need to make sure your power adaptor is plugged into a functioning electrical outlet.

It is necessary to use a USB-C charging cable in order to charge your Google Pixel.

It is advisable that you wait at least 30 minutes before using your phone for the first time.
Make sure that both your charger and the outlet are working before charging your phone.
A red light indicates that the battery is fully discharged whenever the phone is connected to its charging cable. Hold the power button for three seconds when you have been away from your phone for 30 minutes, then release it. Here are instructions for starting an Android robot with an arrow surrounding it and "start" on it.
You can turn off the device by pressing the volume-down button.

Press the power button and select Power off.

Then, you should charge your Google Pixel phone for at least 30 minutes before using it.

In the next few seconds, hold down the power button.

For a restart, tap the power button for about 30 seconds or press Restart on the screen.
Fix 6: Find an Authorized Repair Center
A damaged component may cause this Pixel 7 and 7 Pro screen's unresponsive or freezing issue, so you should contact your nearest authorized repair centre. In some cases, the phone's warranty covers the damage, so the cost of repair will be covered.
So, that's how to fix if Google Pixel 7 and 7 Pro screen unresponsive or freezing issue. I hope this guide was helpful to you. Meanwhile, in case you need more help, comment below and let us know.