Poco is known for being a budget-friendly device with features of a flagship device, and Poco X3 falls under the same category. All the Poco devices nailed it when it comes to performance and software, but what about its hardware and safety measures? How durable is the phone going to be? What about its safety measures in the life of a normal user. Does Poco X3 or X3 NFC support Waterproof rating and protection or not? Well, we are going to discuss all this in this article. Not only that, but we will conduct a waterproof test on Poco X3 and Poco X3 NFC to give you accurate information about the waterproofing.
In March 2018 Xiaomi announced its sub-brand called POCO. Poco is also is known as PocoPhone. Just like its main brand Xiaomi made a revolution in the android market. The first Poco device PocoPhone f1 gave competition to Many flagship devices. Recently, Poco has launched its latest device Poco X3 smartphone, on 22nd September 2020. There are 2 different models of Poco X3. The first one is Poco x3 with no NFC support, but a bigger battery, and the other one is Poco x3 NFC with lower battery capacity and NFC support.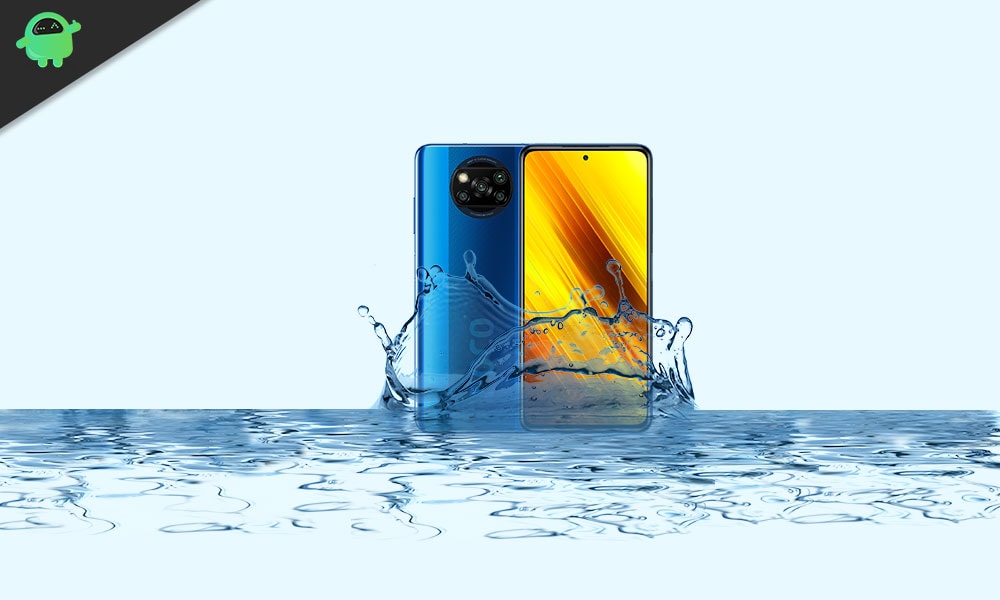 Did Poco X3 or X3 NFC Support Waterproof Rating?
Devices with complete Waterproof protection have an IP rating of IP68, which means the device is completely waterproof. There are some other IP ratings that indicate different protection levels like dust proofing and splash proofing.
The IP Ratings are an international standard by different testing agencies to know about the sealing and protection standards of different devices.
We have checked the official site of Poco for information on the IP values of Poco X3 and Poco X3 NFC. According to the data on the official website, both devices have an IP53 rating. The IP53 rating means that the device is not waterproof, but it is splashproof. Still, there are chances of the device being waterproof because sometimes companies take time to give exact IP ratings. one of the best ways to check it by ourselves is to conduct a Waterproofing test, and we are going to do it for you. Before that, let's have a look at the specifications of this device.
Specifications of Poco X3 and X3 NFC
Both device has almost the same specifications and features. However, there are some differences, and we are going to mention them after the specifications.
Both the devices come with Qualcomm Snapdragon 732G. Poco x3 and x3 NFC have 6GB of RAM and 64GB of internal storage. Both phones have a 6.67 inches display. Poco x3 has a resolution of 1080×2340 pixels. On the other hand, Poco x3 NFC has a resolution of 1080×2400 pixels. Both have an IPS LCD display with gorilla glass protection.
Talking about camera Poco X3 and X3, NFC has a 20MP front camera. After that, both devices have 64MP + 13MP + 2MP + 2MP Primary back Cameras and LED flash. Both devices have a 20MP front camera. Poco X3 has no front flash, but Poco X3 NFC has a screen flash for the front camera.
Just Like any other smartphone nowadays, these devices are also dual sim phones. Both phones have GSM+GSM sim support with 2G,3G and 4G supported in both the SIM slots.
The major difference Between both devices is the NFC support and battery capacity. Poco x3 has no NFC support, but it has a 6000mAh battery. On the other hand, Poco X3 NFC has NFC support, but it has a 5160mAh battery.
That's all for the specifications; now, let's go for the waterproof test.
Poco X3 and X3 NFC Waterproofing Test
Disclaimer
The waterproof test results are purely based on individual/team observation. These tests will only give an idea of whether a device is waterproof or not. We recommend users not to try this test at home, as it might damage your device.
Here we are conducting a waterproof test on both Poco X3 and Poco X3 NFC. We put the devices in a bowl of clean water for a minute and then took them out. Running a checkup on the devices after the waterproofing test gave us this result for both devices, and results are nearly the same for both phones.
We checked the camera, performance, touch, speaker, mic, etc. Everything is working fine, but there is a distortion in the speaker of POCO X3. In the most budget, phone's speakers and mic have no layers of deep protection, and it might be the reason behind this distortion in POCO X3. However, the distortion went away after a few hours.
| | | |
| --- | --- | --- |
| Testing parts | Poco X3 | Poco X3 NFC |
| Screen & Display | working, no issues | working, no issues |
| Camera & sensors | camera & sensors working | camera & sensors working |
| Speaker | little muffle up sound, but fine after 3-4 minutes | earpiece sound issues, but fine after 3-4 minutes |
| I/O ports | working | working |
As per the test results, Poco X3 and X3 NFC are not completely waterproof devices. Even after being into the water for a minute, both the devices run normally, and it concludes that they are Splashproof devices, as mentioned on the website. In addition, it is also a notable point that test was conducted in clean water, and other liquids might affect the devices differently.
Conclusion
Poco X3 and X3 NFC are feature-packed devices at an affordable price range. The waterproof test proves that the devices are not completely waterproof and can be damaged by water if it stays long inside water. It is highly advisable to use the device with care around water.
| | | |
| --- | --- | --- |
| Test name | Poco X3 | Poco X3 NFC |
| Splashproof | IP53, splashproof | IP53, splashproof |
| Dustproof | yes | yes |
| Waterproof | no, not official | no, not official |
However, the devices are splash-proof, so you don't need to worry much as far as you keep it away from getting into the water. That's all for this article hope this clears all your doubts about Poco X3 and X3 NFC waterproofing.