Vivo has launched multiple smartphones in the past year with active waterproofing and dustproof measures. However, this functionality was only available in Vivo flagship devices. But now Midrange smartphones also enjoy a couple of features from flagship devices. In this article, we will discuss the latest recent models of Vivo. If you are thinking of buying Vivo Y70s or Vivo Y51s, you would want to know if the device is waterproof or not.
However, knowing the device is waterproof or not is not enough; you would also want to know the IP rating. Then you will have a brief idea of how much longer your device will survive underwater.
Moreover, features are also very important aspects of a smartphone. Therefore we will also be discussing the features of Vivo Y70s and Vivo Y51S below along with the waterproof specs.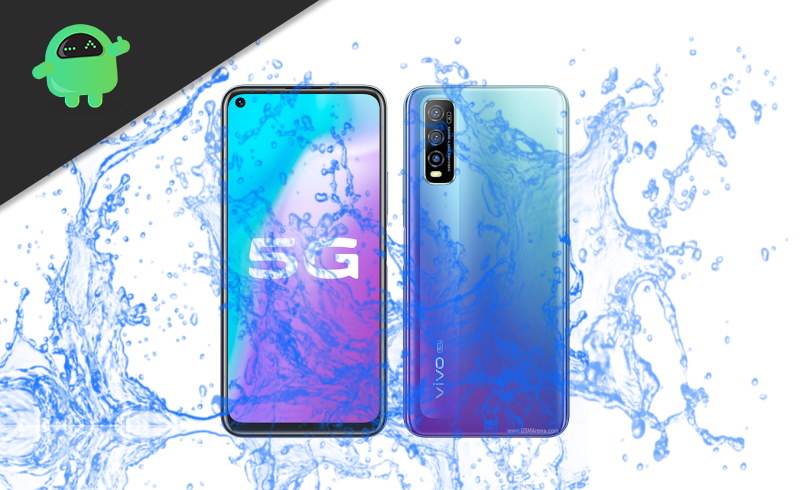 Is Vivo Y70s or Vivo Y51S a Waterproof smartphone in 2020?
Vivo Y70s Device Specifications
Launched on June 01, 2020, the Vivio Y70s has the dimensions of 162 x 76.6 x 8.5 mm, which only weigh 190g. It supports dual nano SIm cards with GSM/CDMA/HSPA/LTE networks. Also, it supports 5G network, and the display is 6.53 inches of IPS LCD that supports 1080 x 2340 px and 16m colors on the screen.
Y70s runs on Funtouch 10.o and Android 10, the chipset used in Y70s is Exynos 880 and as Mali-G76 GPU with Octa-core CPU. Thus, giving the smartphone more processing power, also it has 8GB of RAM. So, you can say the smartphone will run any game smoothly without local lags.
However, for memory, there is no card-slot because the internal storage comes with 128GB of storage, which is more than enough. The main camera comes with three cameras, 48MP+ 8MP + 2MP, thus giving you a crisp and sharp image. Also, it has LED flashlight, HDR, and panorama support. The front camera has a single 16MP camera with HDR, and the fingerprint sensor is located at the side of the smartphone.
All the other sensors, like accelerometer, proximity, compass, etc. are included. It supports fast charging of 18W for 45000mAH Li-Po Battery, which is non-replaceable. Other necessary features like WLAN, Bluetooth, USB, GPS, and Radio are also embedded in the phone, and the stereo jack is 3.5mm.
Is Vivo Y70s Waterproof?
Though there is no mention of any IP rating for Vivo Y70s, it is safe to assume that the device is not waterproof nor splash resistant. Since it is a budget-friendly device.
Therefore it only offers you the top-notch features with a friendly price. However, if you are seeking more protection like water-resistant, then you will have to get a more high-end device than Vivo Y70s.
We request users not to use this device near water or for any water-related activities such as swimming etc.
Vivo Y51S Device Specifications
Recently launched on July 29, 2020, Vivo Y51 comes with a screen size of 6.53 Inches, which has an IPS LCD capacitive touchscreen that supports 16m colors and 1080 x 2340 pixel resolution. The dimensions of Y51s is 162 x 76.6 x 8.5 mm and weight around 190g. It supports dual Nano SIM's with GDM/CDMA/HSPA/LTE and the latest 5G network technology.
The smartphone runs on Android 10 and Funtouch 10.5 using the Exynos 880 chipset. It has an octa-core CPU and a Mali-G76 GPU, with the addition of 6GB RAM. Thus, you can say that you can almost run all the heavy games on your Android.
There is no external Memory card support because it already has enough internal storage of 128GB. The main camera has triple cameras where one is 48M, and the other two are 2MP for macro and depth. Also, the panorama, LED flash, and HDR features are included with the rear camera. The front camera, however, only has 8MP with HDR support.
Sensors like accelerometer, proximity, compass, etc. are included where the fingerprint sensor is located at the side of the device. The battery is non-removal of Li-Po 45000 mAh and supports 18W fast charging. Other common features like WLAN, Bluetooth, GPS, Radio, USB, and a headphone jack of 3.mm is also included in the smartphone.
Is Vivo Y51S Waterproof?
Since there is no IP ratings nor any evidence that the device is waterproof, it is safe to assume that Vivo Y51s is not waterproof nor water-resistant.
There is also no confirmation about the waterproof specs of Vivo Y51s across the Web, so it will be best if you keep your Vivo Y51s away from water. And since the device is to splashproof as well, we request users not to use the device near water fountains, rainy weather, shower, etc.
Conclusion
Vivo is the manufacturer of many excellent devices but also produces budget devices. These devices come with all the top-notch and necessary features but not comes with enough protection, like water-resistant.
If you own a Vivo Y70s, then it is your best interest to keep the device away from any water source because there is no IP ratings nor any confirmation for the device to be waterproof.
Similarly, Vivo 51s is also one of the Vivo devices that has no IP ratings and confirmation, and it is safe to assume it is not a waterproof device. Well, the features of both Vivo 70s and Vivo 51s are top-notch and latest, but they lack the protection from water.