Realme Narzo is a budget smartphone that was recently launched on May 18 of 2020. Realme has built a very good reputation in the smartphone market under just two years of time span. They mostly sell budget smartphones only, which gives them a large number of audiences for selling and also is the reason behind there huge success.
This new Narzo 10 comes with so many features according to its price. And one of the best budget smartphones of this year till now. This device does not have any official IP68 or IP67 waterproof rating. So, let's check the waterproof test of this device.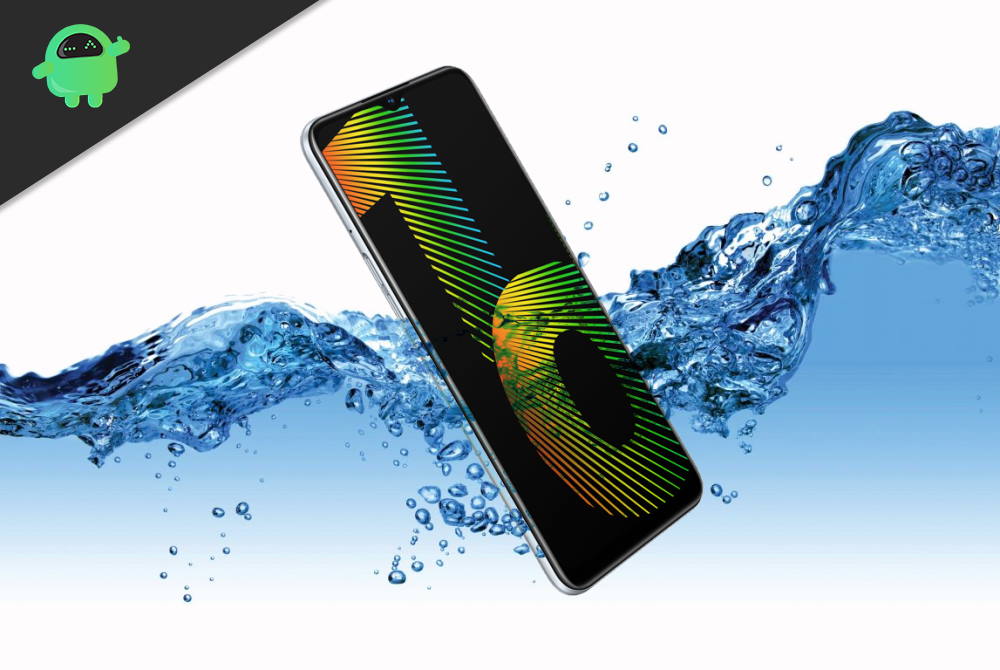 Is Realme Narzo a Waterproof Device? Waterproof Test
Realme usually does not provide any device with an official IP rating. Most of the smartphones from Realme are budget and low range smartphones. So, they usually do not get this feature. But some of the mid-range smartphones or flagship smartphones of Realme get the waterproof features. This feature usually attracts so many customers as it is mainly required nowadays. The waterproof devices provide an extra coat of security to our device from the water and also some additional features like clicking photos underwater.
Majority of people out there only buys waterproof device just for using it underwater. This is one of the major advantages of waterproof devices that they can be underwater for a long or extended period of time. By using waterproof devices, people can take advantage of various features like photography under the water, underwater selfies, and much more. These are the things that make a waterproof smartphone so much demanding in the market.
But let's come to the Realme Narzo 10 smartphone. We have found that this is officially announced that the Realme's recently launched Narzo 10 do not come with an official IP68 waterproof rating. It means that we can not consider this device as a waterproof device. But the good news is that Realme has officially said that this device is splash-proof. So, we can check a waterproof test on this device to see how much it can handle.
Realme Narzo 10 Device Specifications
Realme launched Narzo 10 with some impressive features. This smartphone comes with a 6.5 inch IPS LCD display with a pixel density of 277 PPI. The processor of this device is MediaTek Helio, which is considered one of the best gaming processors and runs on Android 10. If we talk about the storage variants of this device, then this device comes with only one storage option that is 4GB ram and 128GB internal storage, which you can further expand up to 256GB using an SD card. The battery of this device is a 5000 maH Lithium-ion battery, which also supports an 18w fast charging. There are only three color options in which you can buy this device – That Green, That Blue and That Blue.
One of the most attractive features of this device is that its primary cameras come with a full Quad cam setup. The back camera of this device consists of a 48 MP main camera. The next camera is an 8 MP ultra-wide-angle camera, supporting it a two same 2MP camera lenses for deep sensing. And the starting price of this device is currently just 11999. So lets now check the waterproof test of this device and see what it resulted in.
Realme Narzo 10 Waterproof Test
As you know that this device does not have any official IP68 waterproof rating. So, it cannot be considered as a waterproof device. There may be a chance that this device may get harm after some exposure of water to it.
Disclaimer
The waterproof test results are purely based on individual/team observation. These tests will only give an idea of whether a device is waterproof or not. We recommend users not to try this test at home, as it might damage your device.
However, Realme itself claims a splash-resistant feature. It might be waterproof and splashproof. In our test, we will see whether this device withstands under a waterproof and splashproof test. So, let's see the results of the test.
| | |
| --- | --- |
| Display | No issues were found |
| I/O Ports | Volume of Speakers have slightly become low, and volume buttons are working slow |
| Waterproof and Splashproof | This device is waterproof to some extent |
After doing the waterproof and splashproof test on the Realme Narzo 10. We came to know that this device is splashproof and can handle some of the splashes with ease but is not waterproof. If you give a large exposure of water to this device, then it may become unfunctional. As we did, the waterproof test the device's speakers and earpiece are slightly damaged, and it shows that there is no proper waterproofing on this device.
Conclusion
After conducting the waterproof test on the Realme Narzo 10, we can say that this smartphone is splashproof but can not be considered as a waterproof device. As it does not comes with any official IP ratings. Buying this device for waterproof security would not be a good option. But excluding it, we can say that at this price point, this device offers so many features and value than others.