Samsung announced its quantum 5G phone as known as Samsung Galaxy A Quantum, in May 2020. This device is powered by the Exynos 980 chipset with an Octa-core processor. It is basically a rebranded version of Samsung A71. Now many of you have heard about quantum computers. As we all know, they are very powerful and expensive. Also, they have the ability to generate an unpredicted series of numbers, which helps it to create the best security. Well, that is what Samsung Galaxy A Quantum can also do.
Now, this phone is similar to the Samsung Galaxy A71 5G. But it has a 5G modem which is combined with 980 Chipset. It's a pretty cool move by Samsung with the launch of this phone. But many people who are excited about this phone want to know that is Galaxy A Quantum waterproof device? Alright, we will clear your doubt in this article. So Let's jump straight in and have a look at its waterproof IP rating support.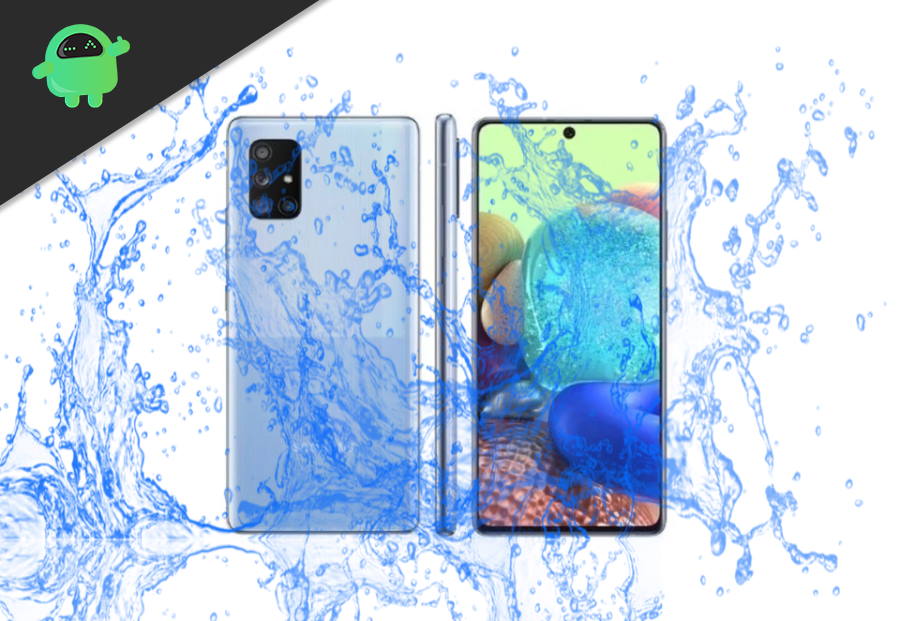 Does Samsung Galaxy A Quantum has Waterproof IP Rating Support?
First, let's have a look at what IP68 Rating or Ingress Protection 68 rating really meant. Well, the devices which are good enough to withstand the damage from dirt, sand, or dust particle with water-resistant ability are backed by the IP68 rating. Many Samsung Galaxy devices are backed by the IP68 rating. It include Galaxy s20, Note10, S10e, Note9, S7, Note8, etc.
The IP68 rating basically means you can bring those devices while doing adventures in the water. Meanwhile, many of us are thinking, does Samsung Galaxy A quantum is waterproof? So the answer is NO. It is not waterproof. It does not have an IP68 rating, which means you can not take it into water.
Samsung Galaxy A Quantum Device Specification
The dimension of Samsung Galaxy A quantum is 162.5 x 75.5 x 8.1 mm. It also has a super AMOLED display. The smartphone comes up with a long-lasting Li-Po 4500 mAh battery. It has 8 GB RAM and 128 GB internal storage. The various sensors in this device are proximity, fingerprint, accelerometer, compass ANT+, and gyro. Additionally, it comes in many different colors.
This phone has a special thing which we have seen never seen in any smartphone, and that is a quantum QRNG chip.
So what is a quantum QRNG chip? Well, the Chip is built for next-level security. With the help of this QRNG chip, the phone can generate random numbers that are used to create unbreakable security keys. Samsung made this phone with the collaboration of SK Telecom, and at the moment, it only works with services that utilize quantum tag. In the future, it can expand to various other options.
Can you use the Samsung Galaxy A Quantum underwater/ while shower or rain
We looked at some cool features of Samsung Quantum A Galaxy in this article. It is equipped with new technology. But there is one disadvantage in it i.e. Its not waterproof/water-resistant. So we already know that Samsung Galaxy A Quantum is not waterproof. Hence you can not use this while dancing in the rain or while doing adventures in the swimming pool. Many Samsung smartphones come up with IP68 Rating. But this newly launched device is not waterproof, and it does not come up with IP68 Rating.
Conclusion
we recommend you do not expose or carry Samsung Galaxy A Quantum in water and do not use it in shower. It can damage its internal parts and screen. We hope you like this article. Thanks for reading it.