Samsung launched its mid-range smartphone Galaxy A51 5G in April of this year. After the launch of its S20 flagship smartphone. However, A51 had already managed to get some reputation during its launch in April-May. And after that recently, during this month, they also launched their new smartphone Galaxy A71 5G which was also introduced in April 2020. Both of the smartphones come with the best specification and features according to their prices. These two devices were rumored to get an IP68 waterproof rating. So, let's check out a waterproof test between the Galaxy A51 5G and Galaxy A71 5G smartphones.
Most of the flagships smartphones of Samsung, i.e, Galaxy S20 or S20 plus comes with waterproof specifications features. And Samsung is the only brand which produces the most number of waterproof devices, so people also like to purchase them. Anyhow, waterproof smartphones give a more covering of protection to your device. And adds some more features like calling someone while it's raining or clicking some underwater selfies or videos.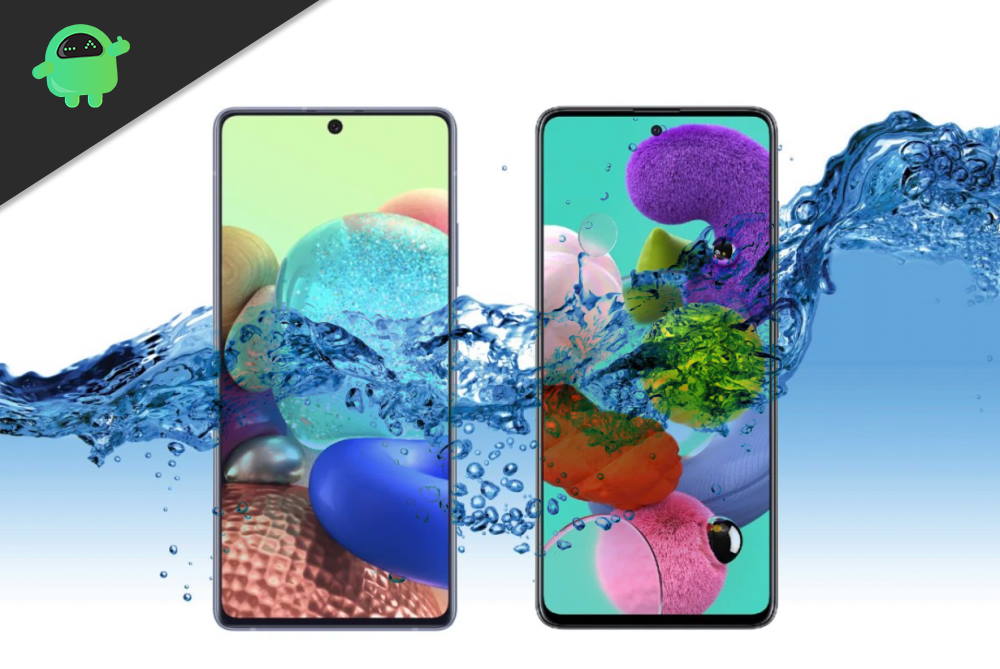 Samsung Galaxy A51 5G and Galaxy A71 5G Which One Is Waterproof device?
A large number of people just buy waterproof smartphones just for using it underwater. A smartphone that is waterproof can easily hold out in the water with a particular period of time. And while using users can easily enjoy taking some underwater photographs or even more. These are the things that make the waterproof devices so much demanding in the smartphone market. And in 2020, an upper mid-range or a flagship device should have this feature.
So, are these both smartphones waterproof, and what are the IP ratings? Unfortunately, both of these smartphones do not come with an official IP rating. The Samsung Galaxy A51 4G used to come with an official IP rating of IP68, but this new model does not come with it, and The older Galaxy A71 was also lacking the waterproof feature as the new one. In case you want to know what is IP rating, It is basically a certificate that shows us if water or dust can harm the device. However, both smartphones are not waterproof. But let's check the waterproof test of both the devices.
Samsung Galaxy A51 5G Full Specification
Samsung launched its Galaxy A51 with some great features and specifications. This smartphone comes with a 6.5-inch full HD display plus a widescreen display with the super Amoled display. It has an Exynos 9611 processor and runs on Android 10. Additionally, it has three storage variants available, including the 4GB and 64GB, 4GB and 128GB, and 6GB and 128GB rams and internals, respectively. And it also has an SD card slot, which can help you to store more data. You have five different color options to choose from, including the White, Blue, Prism, Pink, and Crush Black. This handset is powered with a non-removable 4000mAh li-po battery and has fast charging support of 15 watts.
WaterProof Test of Samsung Galaxy A51 5G
As you know, the Samsung Galaxy A51 does not come with any IP ratings. So, it is not a waterproof smartphone. You can also not take this smartphone underwater for underwater photography. But we can check it to see how much water exposure it can handle or may it can be a splashproof smartphone. So, let's see the waterproof test results of Galaxy A51:
| | |
| --- | --- |
| Display | The display is working correctly and in perfect condition |
| I/O ports | All the ports are OK and in working condition |
| Waterproof and Splashproof | Waterproof and Splashproof only to some extent |
These were the results of the Waterproof test of Galaxy A51. After doing the waterproof test on this device, we can say that this device is not waterproof but can handle some of the splashes of the water and can be used inside the pools, water parks, during rain, or even while you are taking your showers. But remember it will only work if you give only some of the water exposure. It will not harm the smartphone.
Samsung Galaxy A71 5G Specification
This smartphone was announced by Samsung on April 9 of this year. It is one of the best devices that Samsung launched this year. It has a 6.7-inch full HD Super AMOLED display. This device comes with an octa-core processor powered by Exynos 980 chipset and runs on the Android 10. Moreover, it comes with 2 storage variants, 6GB and 128GB, 8GB and 128GB ram and internal respectively. Its storage is expandable up to 512GB. So, you can put an SD card on it to expand its storage. The battery of this smartphone is a 45000 mAh non-removable Li-po battery with fast charging support of 25watts.
Waterproof Test of Samsung Galaxy A71 5G
As you have read, this device does not have any official IP68 ratings. We can not consider it has a waterproof smartphone. However, we can do a waterproof test on this device and check it can handle some exposure of the water or not. So, let's check the results of this device from the waterproof test.
| | |
| --- | --- |
| Display | No issues were recorded in the display |
| I/O ports | Ports of the device are OK, but the volume rocker buttons are not working |
| Waterproof and Splashproof | It is not waterproof but can handle some splashes |
After checking the results of the Galaxy A71 5G, we can conclude that this device is not a waterproof device but can consent some of the splashes or exposure to the water. Its speakers were not producing the same sound as before after doing the Waterproof test and showed that this device does not have any proper waterproofing.
Conclusion
So, after doing the waterproof test of both the devices, we can conclude that both smartphones may be splashproof are not properly waterproof devices and also not have any IP68 ratings.