Vivo is actively making new smartphones in all ranges, and the new Vivo iQOO Z1x and Vivo iQOO U1 are the latest smartphones from Vivo. Both fo these smartphone devices fall under the budget segment. Where many companies such as Realme are already providing waterproof protection in their smartphones, Vivo lacks behind the waterproof race.
But Vivo is competing with any smartphone, and according to some smartphone experts, the new Vivo iQOO Z1x and Vivo iQOO U1 will come with waterproof and dustproof ratings. All though we will confirm that in our Vivo iQOO Z1x and Vivo iQOO U1 waterproof test.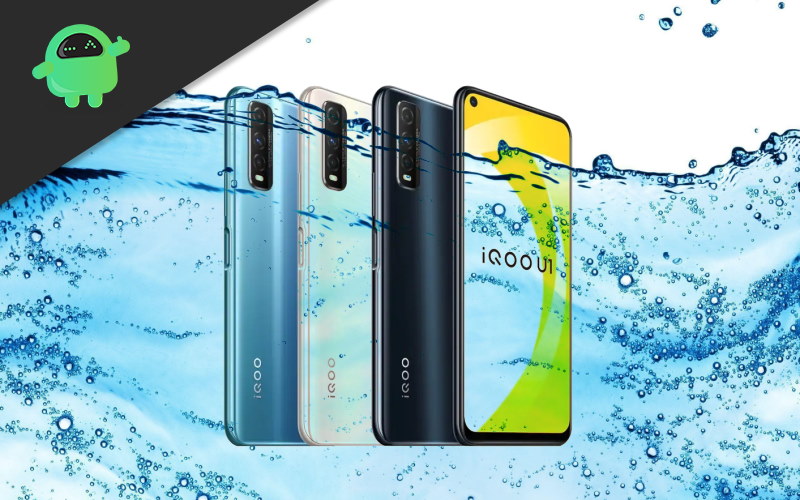 Which One is Waterproof? Vivo iQOO Z1x or Vivo iQOO U1
for checking a device is waterproof or not, we also have to see whether it has an official IP rating or not. It will also tell you about the amount of water it can handle. So, before checking it, we will lookup on the specifications of both the devices followed by the waterproof test.
Device Specification: Vivo iQOO Z1x
Vivo IQOO Z1x was announced on July 9th of this year. This device comes with some of the great features as being a mid-range smartphone. The display of this device is a 6.57 inch IPS LCD display with a pixel density of 402 PPI. This smartphone gets power from its octa-core processor with a snapdragon 765G chipset. It also supports 5G network connectivity. This device runs on Android's 10 version with IQOO UI.
Vivo iQOO Z1x comes with only one storage variant right now 6 GB ram and 64 GB internal, and there is also no card slot available. The rear camera of this device is a set of three cameras with 48 mp main camera and two 2 megapixels camera for features like digital zoom, auto flash, etc. The front camera is 16 megapixels with a pop-up selfie feature. The battery of this smartphone is a 5000 MAh LiPo battery with 33 w fast charging support. It also has a side-mounted fingerprint sensor as a security feature.
Is Vivo iQOO Z1x waterproof Smartphone
The Vivo iQOO z1x does not have any official IP waterproof rating, and their officials also have not given any information about this. So, we say that this smartphone is not a waterproof device. It is quite obvious because it is a mid-range device, and mostly these devices do not get this technology.
This device may not be water-resistant, but it can be splashproof as there are so many devices in this price range which has the splash-proof feature. But there is also not any official information regarding this. This device provides you some of the best features at this price, but if you want to get a waterproof device, then you should check there higher smartphones.
Therefore, we do not encourage anyone to use this device for waterproof purpose as it may get it some permanent damage.
Device Specification: Vivo iQOO U1
This smartphone was launched recently on July 23. The Vivo iQOO comes with a 6.53 inches LCD display with a pixel density of 395 PPI. The processor of this device is octa-core with snapdragon Qualcomm 720G chipset. The device runs on Android 10 with iQOO 1.0 UI.
There is a total of three storage variants that come with this device – 64 GB/ 6 GB, 128 GB/ 6 GB, and 128 GB/ 8 GB internals and ram, respectively. The primary camera of this device is a three-set camera with a 48-megapixel main camera, two 2 megapixel camera one with a macro lens, and others with a depth sensor. The front camera is an 8-megapixel pinch hole display camera. The battery of this device is a 4500 mAh non-removable LiPo battery with 18 w fast charging support. So, lets check does this device supports any waterproof feature or not.
Is Vivo iQOO U1 Waterproof Smartphone
This device also does not have any official IP rating. So, we cannot consider it as a waterproof or water-resistant device. There is also not a chance of any waterproof feature with this device if we look at its price.
Since there is no confirmation about this device to be waterproof, it is recommended not to use this device anywhere in the water. It also does not claim to be a splashproof device. So, you should also prevent this device from some water splashes of rain, showers as it may make it unfunctional.
Conclusion
Vivo provides some of the best smartphones in the market. There is no doubt about the feature that they provide with their smartphones. Vivo iQOO Z1x and Vivo iQOO U1 also enriched with enough feature according to their prices, but it lacks the waterproof feature.
If you have already bought one of these devices, then it will be best for you to keep them away from the water. However, if you want to buy one of these devices, then keep in mind that they have enough features to make them one of the best smartphones in their price range. But if your main priority is to have a water-resistant feature, then you should go with some top-end devices of Vivo, which may have this feature.