Consumer Durables or Electronics Items getting a top priority in the last decade since entertainment and internet use became trending. Talking about the Television (TV), black & white TV and then colour TV didn't make any huge impact until HD set-top boxes and entertainment platforms appears in the market. Since then electronics companies making HD, FHD, 4K, UHD, QLED, etc TVs with specific operating systems and other features. Now, you may ask QLED TV vs UHD TV – Which TV Should You Purchase in 2023?
It's worth mentioning that HD and FHD TV market becomes quite saturated at the time of writing this article due to their wide range of availability, too much competition in the brands, pricing competition, and more. But UHD and QLED TV market is still not that exposed to the public as well as not everyone is capable of owning such kind of a TV in the majority. Whereas the lack of proper information and differentiation in the technology also creating a fuss around high-end smart TVs these days.
For instance, there are a couple of manufacturers in the market and all of them are selling high-end TVs like UHD and QLED but each model does offer something different in features. While the display quality in bare eyes also looks quite different irrespective of the brand and pricing of the TV model. So, even if you want to consider a better value-for-money TV without comprising the display quality, there is no better way to understand. Thanks to overwhelming fluffs in retail websites or in-store advertising.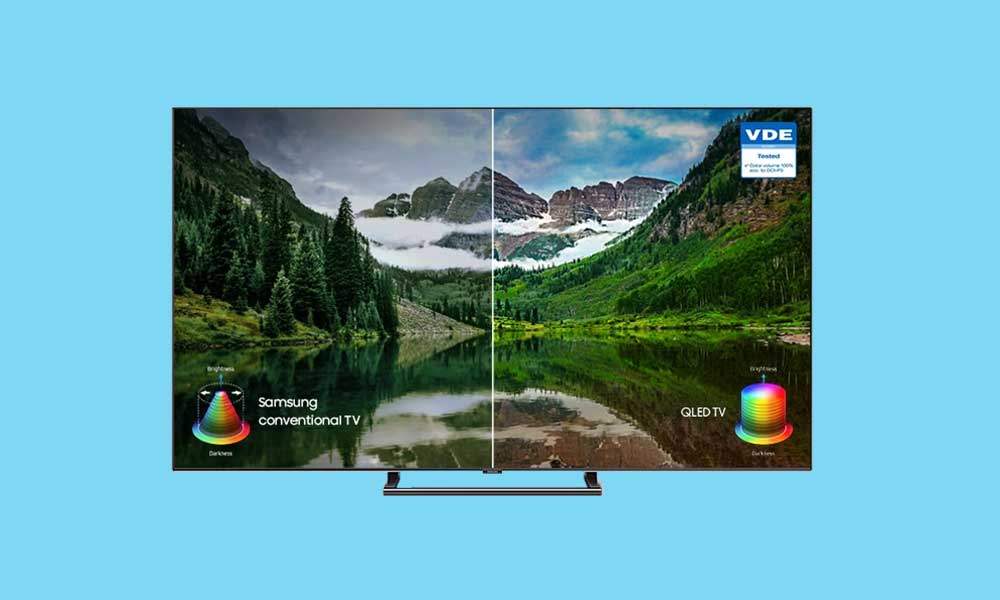 What is the Real Issue While Choosing a QLED and UHD TV?
As both the QLED and UHD terms are different, people mostly believe that there might be a huge technology and display the quality difference in the real-life usage world. These two terms are specifically used in retail websites and in-stores while marketing to attract customers rather than simplifying the key factors. So, interested buyers who are not aware of this marketing terminology may fall into confusion to purchase a costlier TV model in order to get stunning technology.
To be precise, UHD is a term to denote a 4K or higher display resolution TV. Whereas QLED is literally a display LED panel technology that doesn't have to do anything with the UHD as a standard buyer. Even if you don't care about QLED technology, you can get hundreds of UHD TVs in the market from different brands starting from an affordable price range to a higher price range. But these days most salesperson or advertisements forcefully (intentionally) feed into buyers' minds by comparing QLED and UHD TVs.
Obviously, brands are making this tactic and serving their products seem to be more innovative and latest in technology development. Due to the lack of standardized terms, marketing departments play wild games with marketing terminology. Though there is no crime in doing so, unaware people can be fooled quite easily which isn't a good thing. Just like smartphones and smartwatches, these days brands are fooling consumers by releasing hundreds of smart TVs in the market in a year or two.
Now, whenever a buyer searches online or visits an offline store to get a Smart TV, the person is left with no choice rather than asking for a suggestion from the salesperson because there are so many options and all seems good with a difference of a few bucks and some minor feature changes than the previous generation. So, you can now understand which one the salesperson will recommend. Remember, we told you previously that brands are creating a fuss. That's the one!
What is UHD TV?
UHD is known as Ultra High Definition. It's a display resolution technology that gives 4x better resolution than the QLED technology. It also has a higher display resolution than the Full HD quality because it has 4096 x 2160 pixels (4K) or higher. UHD TVs can offer a much higher resolution than 4K but are generally scaled to default 4K for a better visual experience because currently, most visual content offers 4K. It's even higher in the 8K resolution (7680 x 4320 pixels).
If you already own a 4K TV or Monitor then you should be aware of how good the display clarity and sharper picture appear on the screen. Every moment feels crystal clear and realistic, especially playing AAA titles or watching movies. It's mostly recommended to get a 55-inch UHD TV to experience the 4K quality detailing. But enjoying a 55-inch TV will also require an ample amount of space for a proper viewing distance. With the technology improvement, brands are upgrading the black level on the screen for rich detailing.
Though the default colour options and other image settings are set for a better viewing experience, once you set up your UHD TV, you can adjust the contrast and brightness level according to your preference always.
What is QLED TV?
QLED stands for Quantum Dot Light-Emitting Diode which is also commonly known as Quantum Dot Display for ease. If your TV has a QLED technology display panel certification or label, mentioned by the brand itself then you can consider it as a standard UHD TV and nothing else. There is only one major difference is that your QLED TV is built with QLED panel technology instead of the regular LED panel. The benefit of having a QLED display panel is that you can get a higher brightness and colour contrast level.
We can't deny that the QLED layer technology is quite new and will unveil more opportunities for the Smart TV industry in future. But there is nothing game-changing or exceptional improvement in QLED as of now in 2023 or even in upcoming years. You don't need to know all the terminology before purchasing a new Smart TV because there are endless things to describe. The only thing you should know is that QLED is a display panel technology that can be used by the brand on a few TV models to improve their brightness and contrast levels.
Otherwise, everything will be the same in the display resolution or quality just like UHD TV. So, there is nothing to confuse and nothing to worry about at all. Samsung is one of the first brands to manufacture and launch QLED TVs in the market which also offers the same 4K display resolution just like a standard UHD TV. Now, it's up to you whether you'll go with QLED from Samsung or try an affordable option from other brands.
QLED TV vs UHD TV – Which TV Should You Purchase in 2023?
The QLED technology applies the LED backlight to allow brightness & colour to enhance much higher than the standard LCD or LED TVs. But you should keep in mind that overall both UHD and QLED TVs do offer 4K display resolution. Though QLED TVs may have a slight advantage of new technology and better brightness, it doesn't improve your viewing experience that much in your daily life. Whereas the picture quality on a Crystal UHD TV is much better in all aspects.
Unless you don't watch your TV from multiple angles, you won't even notice any kind of difference between QLED and UHD in low light or a well-lit room.
QLED TV might sometimes go through the light bleeding effect on the screen in the dark conditions while turned on which is also known as the 'Screen Burning' issue. There might be a grey or slightly green tint effect visible to some people if you watch dark scenes or the room lights are off.
Some QLED TV models might have a vertical banding issue on the screen while using HDR mode.
Except for a couple of affordable brands, most QLED technology Smart TVs will be priced much higher. While the UHD TVs are available in a pretty competitive and reasonable price segment from the most popular brands.
QLED TVs are better energy efficient.
Don't go for the advertisements from companies to choose the difference between QLED and UHD because brands showcase QLED displays as 4K and conventional UHD TV displays as FHD which is totally wrong. It's a marketing gimmick. It's always better to physically check both displays side by side by playing the same content to understand what you feel.
Summary
As a final verdict, you can buy anything whatever you want and how much you can spend. Obviously, you will need proper space to place a minimum size 55-inch TV whether you get QLED or UHD. But if you don't want to spend extra bucks and are happy to live with the 4K resolution with standard LED display then you can go with UHD for sure. But if you're more concerned about higher brightness levels and interested to have QLED tagged TV, you can go with QLED.
That's it, guys. We assume this article was helpful to you. For further queries, you can comment below.