Before this, it was always difficult to connect multiple devices to our PC. However, external plugins are available to install, but they are not very functional. To enhance the speed of data transfer, a lifestyle brand for gamers called Razer invented a Dock USB port made up of Thunderbolt technology and offers a 40 GB per second bandwidth for data transfer.
However, that was the first series they launched and later continued with newer models and functionality. In the case of the Razer Thunderbolt 4, we can pack up to 10 ports, 1 GB Ethernet Port (RJ-45), SD card support, Multiple device compatibility and so forth. There is a problem with the Thunderbolt 4 Dock USB port. So, to fix it let's have a quick discussion.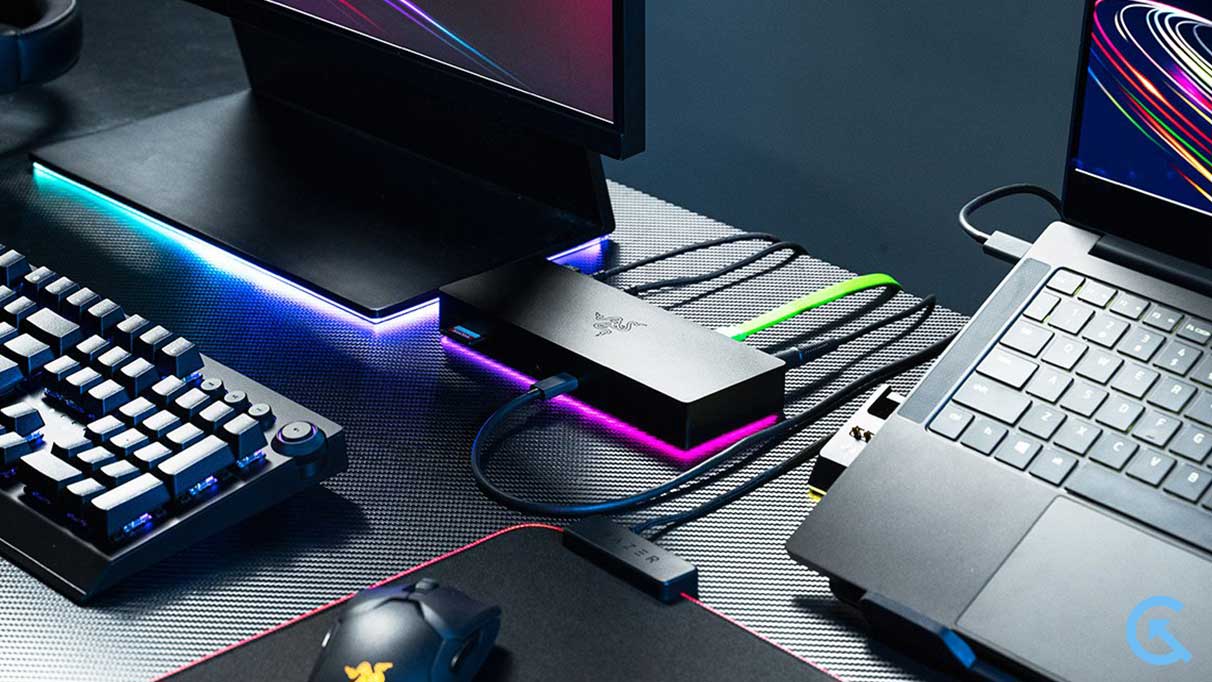 Fix: Razer Thunderbolt 4 Dock USB Ports Not Working
As the industry's most popular product, Razer Thunderbolt 4 Dock USB Ports offer more than anyone else. My favourite thing about this dock USB port is its consistency. As you already know about the product features, we can say Razer is doing outstanding work tuning into user needs and adding them to their product. But apart from that, they also maintain reliability through their support page.
Like recently, most Razer Thunderbolt 4 users have experienced issues connecting external devices with it. In the meantime, they seem to be experiencing USB port problems. For such a problem, users reported it to Razer support. And as I mentioned, Razer also provides user Support. Fortunately, Razer mentioned possible fixes for that USB not working issue. But I agree that being a newbie you can't get the hang of these things. So to ease your pain, here are the best fixes for such issues.
Restart the Thunderbolt 4 Dock USB Setup
The first thing you should do is restart the system. It is because of the overhaul that it is working at such a fast pace. Sometimes the processor can't process inputs and USB ports don't work. For this thing, you need to restart the entire setup, so USB ports resume functioning. I expect you to know how to restart it. But if you have questions, follow the following steps.
Simply detach the Thunderbolt 4 cable

After that, turn off the power on both the Razer core and blade system.

You will need to unplug the electrical cable from the Razer core to disconnect the power and wait for 30 seconds.

After that, reconnect the electric core and restart the core and razer blade.

Now plug the devices into the ports that weren't working previously.

That's all there is to it. The PC detects all USB ports and the issue is solved.
Try another USB port
As a common practice, you should use another USB port if one USB port does not respond. But note that we are not neglecting the non-working port. Instead, if other ports are functioning, you can update the port and fix the non-working port with that new update. I know updating port drivers seems difficult and confusing for everyone. Please don't worry, we've shared the steps below.
Unplug all USB devices except one.

Change the USB port of the above-left device to the working one.

Next, your PC will show the connected device with your Dock USB.

After that, right-click on Thunderbolt 4 dock USB and select properties.

Under properties, choose the drivers tab and click Update.

Follow the on-screen instructions to update it.

Lastly, restart your Thunderbolt 4 dock USB and you are done.
Update your device drivers
See if your computer works with a compatible version and your PC driver is outdated. Even if you have the best Dock USB port, you still can't run it properly. The reason is, your Pc USB driver does not recognize the connected device and it seems like Razer Thunderbolt 4 dock USB not working. You still get the same issue even after trying the above two fixes. We recommend updating your device drivers. To do that, follow the steps below.
Simply head over to your PC's search bar.

Search for "Device manager" there.

Under the device manager, click on the device name you want to update drivers.

Then right-click on it and select Search automatically for driver software.

Following this, the system starts searching for the latest driver update.

Follow the instructions on the screen to download and install the latest update.

That's it, you are done.
These are potential solutions for fixing the Thunderbolt 4 dock USB not working. This is the main reason for the problem since these are the main causes. That's the only reason why developers acknowledge these fixes on their support page. Now I expect your issue has now been resolved. However, you should contact the official support page if the issue persists.