Updated on March 05, 2020: Today Realme India has rolled a new update in support of VoWiFi in India for Realme 5 Pro which brings WiFi calling service to both Airtel and Jio. If you have not received a new update, you can check: Settings> Software Updates> Choose "Download Now" and install it to update your device.
Hey, realme UI update with VoWiFi feature for realme 5 Pro is in a staged rollout process and will soon be available on your device. You can also download the update manually following the link below. Thanks!?https://t.co/ngUH7hSdQi

— realme India Support (@realmecareIN) March 3, 2020
Updated on March 3, 2020: Call quality in India is still an issue and we personally experience several call drops and voice break while we are in a call. Two of the major network providers in India, Jio and Airtel has tried to bring in the enhanced calling quality via the VoWiFi or WiFi calling feature that allows the user to make use of the WiFi network, if you have access to it, and make calls using that network. We all know the quality of the network on a WiFi network is so high that this will definitely benefit the calling issues that we have been facing for so long.
Realme has been pretty vocal about bringing in the VoWiFi feature for its devices and in this post, we will guide you on how you can enable the VoWiFi (WiFI calling) feature on your Realme 3/3 Pro, Realme X2 Pro, and Realme XT. Note that the update enabling this feature on these mentioned devices are already out there and if you have updated your phone to the latest version, we advise you to do that. So, that being said, let us take a look at the procedure to enable WiFi calling on Realme phones.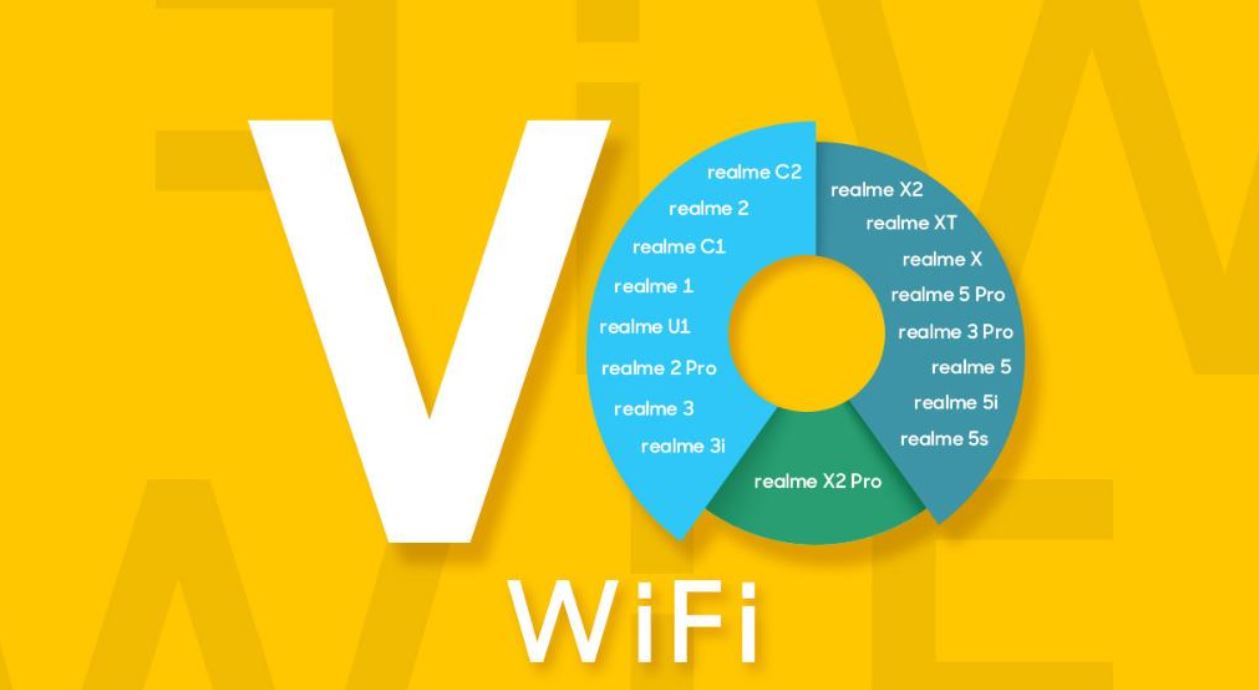 How to Enable VoWiFi on Realme 3/3 Pro, Realme X2 Pro, and XT
Realme explains VoWiFi as:
VoWiFi is a complementary technology to VoLTE and utilises IMS technology to provide a packet voice service that is delivered over IP via a Wi-Fi network. Where possible, VoLTE calls may be seamlessly handed over between LTE and Wi-Fi and vice versa.
And in order to enable this feature on Realme devices, follow the steps mentioned below:
Connect to a WiFi Network.
Go to the Settings app and select SIM Card & Mobile Data option and Tap on SIM 1 (Make sure you have Airtel/JIO SIM inserted)

Then select the option Wi-Fi calling and turn it on. Under the Wi-Fi calling preferences, you should select the Wi-Fi calling preferred option.

In some time, you can see VoWiFi calling icon in the status bar.
While making a call, you will see an icon as shown below:

However, users must note that the quality of the WiFi calling or the VoWiFi calling depends on the speed of your WiFi connection. In fact, this feature is only available for the users of Airtel and Jio. So, there you have it from my side in this post. I hope you guys liked this post and were able to enable the VoWiFi feature on your Realme phone. Let us know in the comments below if you come across any issues. Until the next post…Cheers!