Most Android smartphones come with a bunch of preloaded apps or unnecessary Google Apps except for Google Pixel devices and Stock Android UI devices out-of-the-box. Though some of the preloaded apps are useful for the users, most of them are too buggy and may not be useful. It takes a lot of internal storage and RAM to run even in the background. Here we've shared the step-by-step guide on How to Remove All Google Apps and Bloatware from any Android device.
There are plenty of users who are concerned about the system security and want to De-Google. Thanks to the @xd4d3v and @conbak49 for sharing this full-depth guide. You can easily De-Google or De-Bloat any Android device by following the steps below. Make sure that this guide requires TWRP Recovery to be installed on your handset and Magisk v19+ zip as well. Now, let's take a quick look at the De-Google overview below.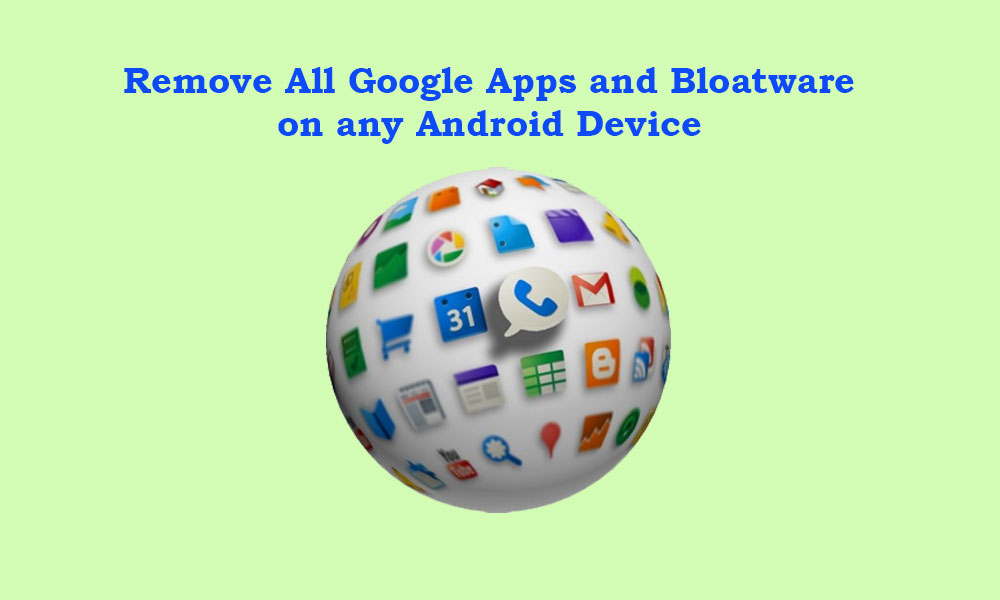 What is De-Google?
All the Android devices do come with preinstalled Google Apps or GApps package that includes Gmail, YouTube, Maps, Google Drive, Google Sheets, Google Keep, Google Photos, Google Chrome, Google Play Store, Google Docs, Google Translate, Google Keyboard, Google Play Books, Google Play Music, Google Play Movies & TV, Android Device Manager, Google Calendar, Google Slides, Google Text-to-Speech, Google Street View, Clock, Google Talkback, Android System WebView, Google Play Services, etc.
So, to be very honest, plenty of apps won't come in handy for most of the users in their daily life. But the issue is that most of them can't be uninstalled. Now, if you want to fully uninstall all of the Google apps completely, that's called De-Google.
Why do we need to remove Google Apps?
It's all about privacy and security of your personal data, credentials, etc that you don't want to reveal or compromise at all in any case. However, the online presence in your daily life and other tasks or permissions while using any app can hugely affect your personal data. That's why most of the experts always say that once your data is out in the public via any service or app, you'll no longer have control over it. And that's true.
Google's advanced AI algorithm always keeps a track record of all your activities like web history, logins, location, movements, online transactions, chat history, and more.
Google also records voice data of the users via Google Home or Google Voice to text, or any Google Assistant-powered smart device or smart speaker.
If you search for a product online, Google immediately tracks your recent searches and then tries to push similar kinds of products or the same product everywhere. Though most of the popular companies also do the same thing for marketing purposes.
What will happen if we disable Google Apps on Android Phones?
Google Apps and services are the most essential part of an Android device in order to run the system and background services smoothly for longer. Except for the Chinese variants, all Android devices run on Google Apps (GApps) like Google, Gmail, YouTube, Maps, Calendar, Phone, Messages, Google Docs, Google Sheet, Google Drive, and a lot more.
But if we disable Google Apps or remove it from our Android device, then we will gonna face plenty of bugs or compatibility issues or even system performance-related issues in our daily usage. Additionally, we may encounter some other major issues like app crashing, app force closes, high usage of memory or CPU, network-related problems, online streaming or buffering issues, software update-related issues, app update-related issues, and more.
Steps to Remove All Google Apps and Bloatware from any Android device
Before heading over to the steps, let's follow all the requirements below which are very very important.
Pre-Requirements:
Note:
Even after completely removing Google apps from your device, you will get a fully functional Aurora Store. It's just the same as the Google Play Store without any trackers. It's under an open-source MicroG project and you will be able to install all apps (Anonymously) including paid apps (with your login).
Disclaimer:
GetDroidTips won't be held responsible for any kind of error that occurs on your device by following this guide or flashing any file. Do it at your own risk. Make sure to take a full backup at first.
Sometimes, TWRP can give an error message like 'unable to mount storage/system'. If it happens, go to the Mount > Storage > select Storage Media > Internal Memory and try again and it should be fixed.
** NEVER start removing system apps without booting the system for the first time. Otherwise, your device will be stuck on bootloop or the system will be crashed.
Step 1:
Remove the Google account and remove the password/pattern lock on your device from the Settings menu. (Important)
Now, connect your device to the PC using a USB cable and copy all the downloaded files into the MicroSD card or USB OTG drive.
You will need to backup all the files.
Step 2:
Install TWRP on your device [Search for your specific model here]

If the magisk is already installed, you can boot into TWRP from the 'Modules' in the left pane of Magisk, and in the right pane inside 'Modules' select 'reboot into recovery.

Now, perform a factory reset on your device from Wipe > Advanced Wipe in the TWRP menu. Select Dalvik/ART Cache, Data, Internal Storage*, Cache. [DON'T WIPE SYSTEM]

* If you don't have a MicroSD card or USB OTG driver, then don't select & wipe the Internal Storage.

Re-flash the Magisk zip file on your device using the TWRP Recovery.
DO NOT REBOOT your device right now.
Connect your MicroSD card or USB OTG to your phone.
Flash Magisk v19+ zip file + Flash Encryption Disabler zip file.
Now, boot your device into the system normally. [DON'T CONNECT TO INTERNET]
Next, copy the files from the MicroSD card or USB OTG to the internal storage on your device.
Reboot your device into TWRP recovery again.
Take a full system image backup of your device via TWRP from the Backup option.
Now, go back to the Backup option and take a backup of everything except for the system image this time.
Reboot your device and copy all the backed-up data except for the system image into the MicroSD card or USB OTG drive.
Install Titanium Backup app on your handset and allow root access.
Find all the uninstallable Google apps list to remove all Google apps and bloatware from any Android device.
At the top-right corner of the Titanium Backup app, select the icon (a file with tick mark) and it will open 'Batch actions -ALL'.
Swipe down to Un-install.
Select 'Un-install all user & system apps'.
Deselect all and manually select the apps which you want to uninstall.
You will get a list of a bunch of apps having names like – com.android.phone.overlay where the overlay term will be present in all app names.
Make sure to select and delete the overlays first and then select & uninstall the full apps.

If you want to delete apps one by one, find and select app package name like for calculator app you will see com.google.calculatorprebuilt
Launch Titanium Backup app > select Backup/Restore > tap on any application > tap twice on the Un-Install button in red color to uninstall the app completely.

Make sure to reboot your device once after uninstalling a couple of apps to check whether the system is working properly or not. Some times, the interconnected app packages can cause crashing. If the system works fine, continue removing system apps or bloatware.
If in case, your device system crashes, get stuck in bootloop, or stuck on boot logo, you can follow the below steps:

Boot into TWRP mode > Go to Restore > Tap on Restore System (select the system image) > Done.
Step 3:
Install microG services via NanoDroid > Download NanoDroid-patcher-.zip and NanoDroid-microG-.zip.
Copy the zip files on your phone.
Boot your device into TWRP Mode again > Go to Install > Select and flash patcher file then install microG file. [Patcher file takes a too long time to install. Have some patience]
Go to Wipe > Advanced Wipe > Select Cache and clear it.
Restart your device into the system.
Now, you will get Aurora Store for installing apps like the Google Play Store.
Connect your device to the internet via mobile data or Wi-Fi.
Go to the Magisk > Install Bromite Systemless Webview module > Install Xposed Framework.
In the Xposed Framework, you will need to install AnyWebView module > Reboot your device.
Now, go to the phone Settings > System > Developer Options [Tap 7 times on Build Number next to About Phone to enable Developer options]
Under the WebView option, select Bromite Webview.
Once done removing bloatware, make sure to take a full data backup of the bloatware-free system via the TWRP recovery for future reference.
That's it, guys. Enjoy!
We hope you've found this guide useful. Feel free to ask in the comments below for any queries.
Source: XDA Developers