Are you being troubled by frequent network outages.? Or are you not able to connect to the internet or a specific webpage on your Windows computer.? Then in this guide, I will explain to you how to use Windows Network Diagnostics to fix the issue. This a free tool from Microsoft. It has been a part of the Windows OS for a long time now. If you have been a Windows 7 user, then also you would find this tool in the Settings.
The Windows Network Diagnostic tool's working is simple. It will look for network connectivity issues and guide you to fix them. You can even take the help of the tool to report the network issues to Microsoft. Then Microsoft will offer some solution regarding that. Apart from this tool, you can contact your service provider to help in fixing the network problems.
Use Windows Network Diagnostics in Windows 10
First, let's check how to access the tool on Windows 7. There are two ways to do so.
Network Troubleshooter
Press Windows + I to open Settings
Click on Network and Internet

Under the left-hand panel, option Status navigate to Network Troubleshooter and click it

Then the tool will start to run a network check to find what can be possibly wrong with the connectivity
I will show you how it will work. Let's say I am not connected to my preferred network. Then upon running a network check using the Network Troubleshooter, I will get the following result.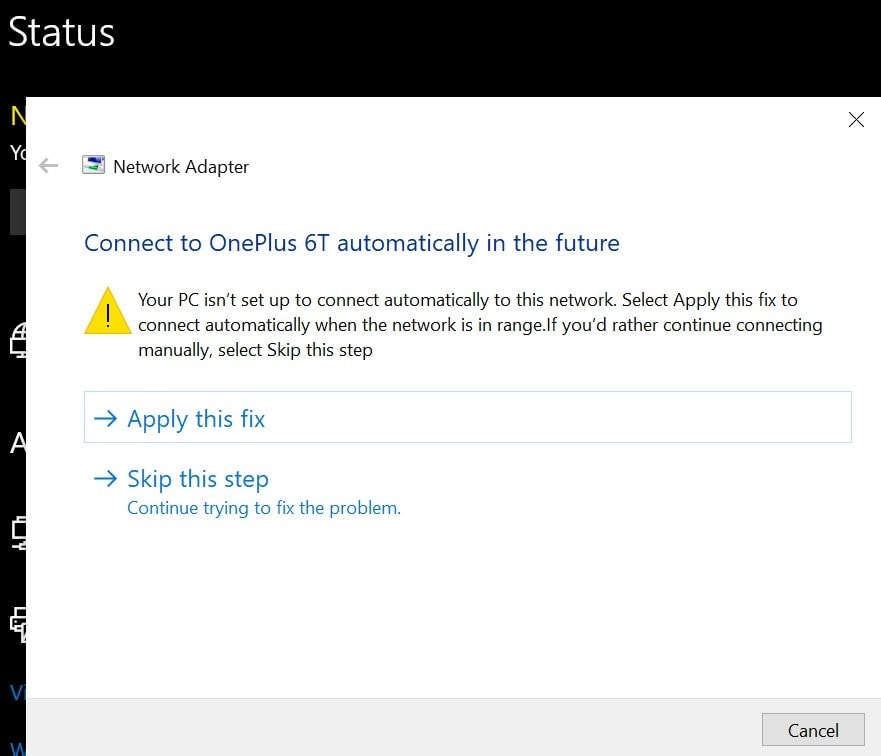 Mind you that the results will vary depending upon what the exact network issue is. The point is if there is an issue the tool will point it out to you and you can decide an action to fix it.
Using Windows Network Diagnostics to Connect to A Webpage
Another way is,
In the Search box on the desktop, type fix network
From the matching result, click Open on Find and Fix Network Problems

Click Next

Here you will get two options to choose from Troubleshoot My Connection to the Internet and Help me Connect to A Specific Webpage

If you are not able to open a particular website or a webpage, then go for the second option
Otherwise, if you want to connect to Microsoft's official website to fix the issue, then you can opt for the first option.
Contact your ISP
Sometimes your ISP may be carrying out some maintenance work and for that, in a particular region they would cut off the internet connection. Not only you but everyone who is a subscriber of the same ISP will suffer an outage on their computers and other devices.
You should contact your ISP and ask them if they are undergoing any maintenance leading to network disruption. If they say yes, then wait for them to finish their maintenance and go back online. In case, you are the only one who is facing an internet connectivity problem, the ISP will probably send some tech support person to assist you in finding and fixing the network issue.
So, that's how you have to use the Windows Network Diagnostics tool to find out and fix the internet-related issues on your computer. Try the tool out or you can also take the help of your Internet service provider.