The Samsung Galaxy S20 lineup are the company's flagships for 2020. The Galaxy S20, S20 Plus and the Galaxy S20 Ultra are some of the best Android devices to buy this year. However, the lineup has had a rocky since users noticed a green tint issue and a few other problems. For the most part, Samsung has been quick to release fixes for these issues.
Sadly, it seems that this trend of bugs on the S20 series isn't coming to an end. Few Galaxy S20 users are now reporting that they aren't receiving calls. In some cases, the user isn't even receiving a missed call notification. These users have taken to Samsung's community forum to express their concerns over the problem.
According to one user, the problem does not end with not receiving calls or missed call notifications. The user also claims that he has to restart his Galaxy S20 to receive text messages at times. Unfortunately, there is no workaround for the issue yet. This has left users frustrated because such issues on a smartphone priced over $1000 are not expected.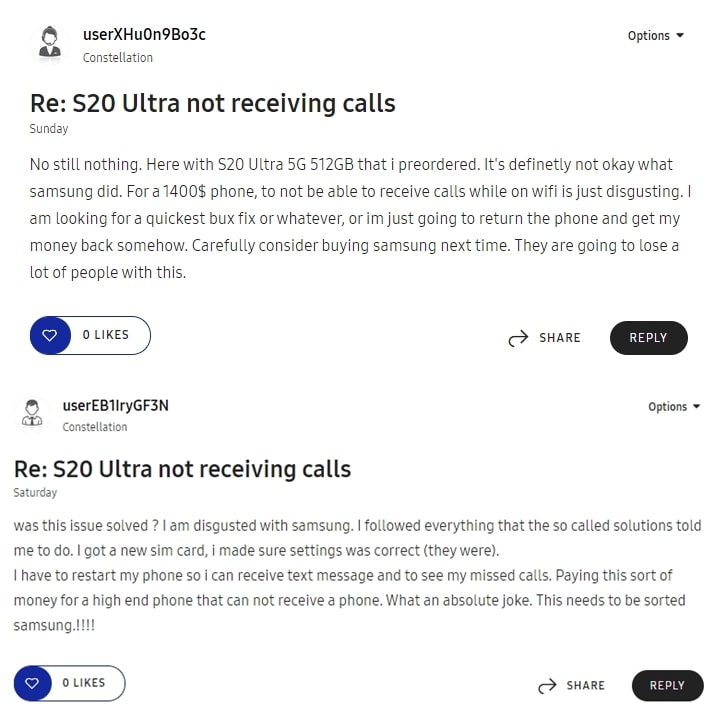 Basic functions such as messaging and receiving calls are what a phone should get right 10/10 times. In another post, a user claims to have had a word with Samsung support. The user goes on to claim that according to Samsung support, this is a known issue and a fix is being worked upon. Although, the issue has not been directly addressed by Samsung. If the bug has been acknowledged by Samsung, a fix should be in as early as next month.
However, it's still sad to see users paying over $1000 for a smartphone only to deal with calling and texting issues. The irony here is that the Samsung Galaxy S20 series pack in some of the best tech on any smartphone. Moreover, the devices are 5G enabled yet users are experiencing issues with calling and texting.
Nonetheless, in case you are facing the Galaxy S20 series call bug on your device as well, we'd suggest waiting for Samsung to release a fix. It should arrive in the form of an OTA update. Thus, users should keep an eye out for an update notification. Alternatively, you can check for updates manually by going to Settings > Software update > Download and install. This is a developing issue and we will keep you posted if and when the fix arrives.