Samsung launched its first flagship series of the year, the Galaxy S20 lineup that includes three smartphones i.e., Galaxy S20, Galaxy S20 Plus, and Galaxy S20 Ultra. While the Galaxy S20 Ultra is a beast of a smartphone as it offers a 100x periscope zoom feature. And if you happen to be the owner of the Galaxy S20 Ultra then, you are at the right place as in this post we will give you on how to root Samsung Galaxy S20 Ultra Exynos variants.
Thanks to XDA Senior Member geiti94 for sharing this rooting instruction. Note that this guide is only for the Exynos variants and should not be attempted on Snapdragon variants of the phone. Rooting the smartphone will give you all the options to flash custom ROM, install modified apps and do a lot more with your phone which is restricted by your OEM, for some reason.
Users should also note that rooting the phone has its adverse effects on the phone, the first and foremost being that it voids the warranty of your phone. Secondly, if all the steps are not followed correctly, it might brick your phone or put it in a boot loop. So, it is advised that you follow all the steps carefully. With that being said, let us get straight into the article itself: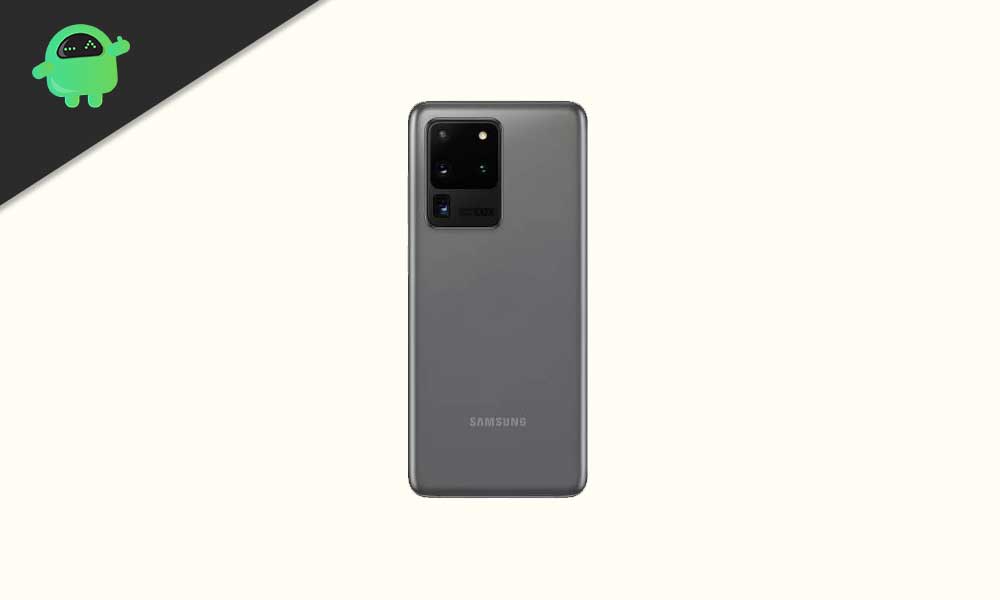 What is Rooting?
Rooting is a procedure of unlocking the true potential of the smartphone. This operation gives the user the administrative or developer privileges to modify the system settings of the device. With the help of this, you can go ahead and install any limitation that your OEM has set for the device or your carrier if you bought your device from one like Verizon, AT&T, etc. Moreover, you can also install various mod applications, restricted apps, and other specialized apps on your device that requires some special system permissions. Besides, installing these apps from third-party developers are not always dangerous and will improve the features of your smartphone.
However, every OEM keeps the bootloader locked so that users, by mistake or by will, do not alter the system files and cause damage to the smartphone. But, there are methods and procedure like this guide, that allows the user to take control of their device fully in a safe way, and unlock the true potential of their smartphone.
Advantages of Rooting
Install any custom ROM like Lineage OS
Remove pre-installed bloatware
Block ads on any apps
Change the skin or other aesthetics of the Android
Improve the speed and battery life of the device
Make complete and full backups of the device
Install latest updates and also install beta-updates
Install mod applications, restricted apps
Warning
Before we begin with the rooting of the device, I would strongly recommend you to create a backup of your device storage and all your files stored on your device. Rooting the smartphone will wipe off the entire data on your device. Moreover, it is advised to follow the steps mentioned in this post very carefully to avoid permanent damage or to brick your device. If anything goes wrong the author or GetDroidTips are not responsible for it.
Pre-Requisites
Now before we go ahead and root the Galaxy S20 Ultra, let us make a list of pre-requisites that are required to unlock it:
Charge your phone
You need to make sure that your Galaxy S20 Ultra is charged to about 60% before operating it for unlocking the bootloader to avoid any boot loop issues during the unlocking process.
You need a PC or Laptop
We would be running certain ADB and Fastboot commands that can be executed via PC or a laptop. So, we would need a computer in order to unlock the bootloader.
Take a complete backup
Before rooting, one of the most important things that you need to do on your phone is to take a complete backup of your phone. For that, you can follow the guide by clicking the link below:
Download USB Drivers
In order to make your Galaxy S20 Ultra get recognized by your PC, you need to have proper USB Drivers appropriate to your phone installed on your computer. And for that, you can follow the link below to download the correct Samsung USB Drivers on your PC.
Install ODIN in PC
Odin is used to flashing stock firmware file (in .tar or .tar.md5 formats) on Android-based Samsung devices and supports any Windows 10, 8.1, 8, 7, XP PC. You can install the latest Odin tool on your PC from the link given below:
Steps to Install
Once you are ready with everything that is mentioned in the list of pre-requisites above, you can go ahead and root your Samsung Galaxy S20 Ultra by following the steps below:
Step 1: Activate the Developer option
Enable the Developer Option on your device. To do this go to Settings>> About>> Software Information>> More.
Tap on the Build Number 7-8 times until you see a message "Developer option enabled."
Step 2: Enable USB Debugging and Developer option
Now head back to Settings>> Developer Option>>Enable USB Debugging.
Step 3: Unlock Bootloader on your device
In order to unlock the bootloader on your Galaxy S20 Ultra, reboot your phone into the download mode and unlock the bootloader by pressing the button combo to enter the download mode and not with ADB or recovery.
The button combo is: Hold Volume up + Volume down and plug in your PC. You need to turn off your phone first
Step 4: How to Install Magisk Patched Image using ODIN
Now, after the bootloader is unlocked, boot up the phone and set up it without accounts (Make sure the phone is connected to the internet)
You need to Reboot again in download mode and flash the tar file with the kernel using ODIN tool.
Now Reboot your phone in recovery mode and make a factory reset/wipe.
Once again, boot up your Galaxy S20 Ultra and setup it again. Make sure to use the accounts you want, and also, the phone is connected to the internet over the SIM card or wifi.
Install the latest Magisk Manager Canary.
Step 5: Install the latest Magisk Manager Canary
Follow this guide on how to install Magisk Manager on your phone by clicking the button below:
Install Magisk Manager
So, there you have it from my side in this post. I hope you guys liked this post and were able to root your Samsung Galaxy S20 Ultra Exynos variant using the above-mentioned method. Let us know in the comments below if you come across any issues or errors. Until the next post…Cheers!