Samsung's Galaxy Z Flip 4 is the latest foldable smartphone from the South Korean tech giant. Released in August 2022, this sleek device has already captivated audiences with its cutting-edge features, the foldable display, and a powerful Qualcomm Snapdragon 8+ Gen 1 processor.
The operating system is one of the most critical components of any smartphone, and the Galaxy Z Flip 4 is no exception. With the release of the Android 14 Developer Preview 1, Z Flip 4 users are now wondering if their devices will get Android 14. In this article, we'll track the Android 14 (One UI 6.0) update for the Galaxy Z Flip 4 and discuss its release date.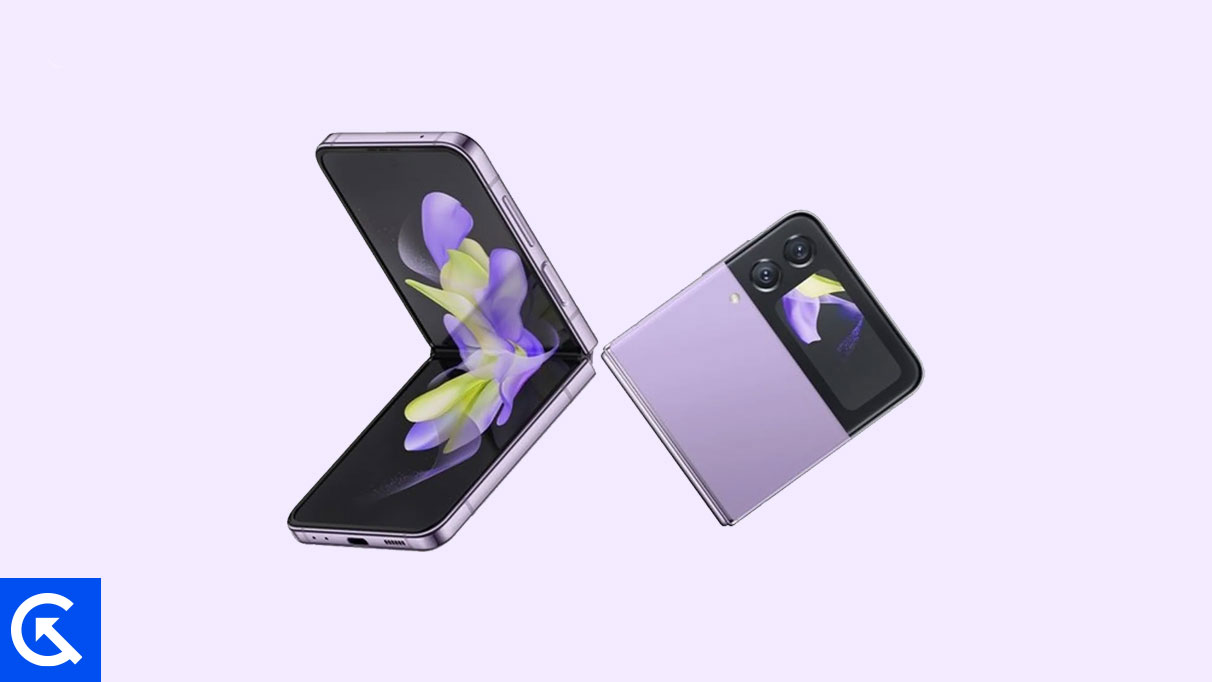 Samsung Galaxy Z Flip 4 Overview
Before we delve into the Android 14 update for the Samsung Galaxy Z Flip 4, let's overview its specifications.
The Samsung Galaxy Z Flip 4 boasts an impressive 6.7-inch foldable Dynamic AMOLED display with a refresh rate of 120Hz and 1200 nits of peak brightness. It also has a 1.9-inch cover display that is AMOLED too and is protected with Gorilla Glass Victus+.
Under the hood, the Galaxy Flip 4 hides the Snapdragon 8+ Gen 1, powered by up to 12GB of RAM and up to 256GB of internal storage. Additionally, the phone features a 12MP primary sensor (wide) and a 12MP ultra-wide sensor, delivering stunning images every time. It also has a 10MP front camera to capture selfies.
Furthermore, the Galaxy Z Flip 4 has a 3700mAh battery with support for 25W fast charging. It also supports 15W wireless charging and 4.5W reverse wireless charging to charge your Galaxy Watch and earbuds.
The Galaxy Z Flip 4 shipped with One UI 4.1 based on Android 12. As per Samsung's software update policy, the Galaxy Z Flip 4 has already got the latest Android 13 (One UI 5.1) update.
Will Samsung Galaxy Z Flip 4 Get the Android 14 (One UI 6.0) Update?
Samsung's software update policy states that the Galaxy Z Flip 4 would receive four years of major OS updates and five years of security updates. So far, the Galaxy Z Flip 4 has received only one major OS update, the One UI 5.1, based on the Android 13 update. This means the Z Flip 4 will receive another three major OS updates.
So, it is confirmed that the Galaxy Z Flip 4 will receive the Android 14 (One UI 6.0) update, joining the list of the latest smartphones to benefit from the update. However, the tech giant has yet to announce an official release date for the update.
Samsung Galaxy Z Flip 4 Android 14 (One UI 6.0) Release Date
Although the Android 14 Developer Preview is already out, Samsung, as usual, has not announced anything about Android 14. This is because, each year, Samsung tends to start rolling the beta update for the first Galaxy devices in around July or August. So, we cannot expect the beta rollout to be any earlier this year.
Based on past trends, Samsung should start rolling out the Android 14 update for the Galaxy Z Flip 4 in November 2023. This is because the Z Flip 3 received the Android 13 update in November 2022. Additionally, the update will likely be rolled out in stages, meaning some regions may receive it before others.
Samsung Galaxy Z Flip 4 Android 14 (One UI 6.0) Update Tracker
Update September 21, 2023: Although the stable Android 14 release is still a few weeks away, Google has started rolling out the first quarterly major update i.e., Android 14 QPR1 Beta 1. The Android 14 QPR1 Beta 1 comes with big fixes and new features that will make their way to the stable release in December Pixel Feature Drop.
Update September 07, 2023: Google just announced the Android 14 Beta 5.3. This new update brings certain bug fixes and improvements to Android 14. This update is available for all the eligible Pixel devices. The stable version of Android 14 is set to be released on October 4th alongside the Pixel 8 series.
Update September 01, 2023: Samsung has officially released the One UI 6 Beta 2 for Galaxy S23, S23 Plus, and S23 Ultra users. The beta update brings improvements and bug fixes on top of new features and interface changes to One UI. The update is currently available for users in Germany, South Korea, the United States, the United Kingdom, and India. You can join the Beta program through the Samsung Members app.
Update August 26, 2023: Google is now rolling out the Android 14 Beta 5.2 for the Pixel Tablet and the Pixel Fold. If you have one, you can update the devices to the latest version. The new update brings a ton of bugs fixes to both the devices, including unresponsive fingerprint issues, docking issues with the Pixel Tablet, screen flickering, and more.
Update August 19, 2023: Unfortunately, Google's promise wasn't true. Google has released the Android 14 Beta 5.1 update for the Pixel devices. Pixel devices that meet the criteria are now getting the update rollout, which includes bug fixes for Android 14. Google has also made a promise to fix a specific wallpaper bug, potentially paving the way for Beta 5.2. The timing of the stable Android 14 release remains uncertain.
Update August 12, 2023: Google has just announced the Android 14 Beta 5. This version serves as the final update preceding the stable release, something that has been officially confirmed by Google in the Android Developer's blog. Enhancements, bug fixes, and the addition of some new features are included in this update for Android 14. Pixel users can install the update right away. However, the stable release is anticipated to be postponed until late August.
Update August 11, 2023: Samsung One UI 6 Beta is out! Currently, the One UI 6 Beta is available only for the Galaxy S23 series. One UI 6 Beta brings a host of new changes along with Android 14. Some of the new changes include a new Quick Settings menu, a new photo editor, media player, new emojis, more lock screen customization and so much more. If you have a Galaxy S23 series phone, you can install the update on your device.
Update August 08, 2023: Samsung just accidentally announced the One UI 6 Beta. The announcement was posted on Samsung Germany's newsroom but subsequently removed. One UI 6.0 seems to be their biggest design change yet, featuring a simplified and modernized UI. The accidental announcement from Samsung Germany reveals a streamlined quick panel with expanded one-handed-friendly controls at the bottom. The notification panel retains a similar appearance until expanded, keeping the One UI element. However, Samsung Galaxy S23 series users will experience further delays as the One UI 6 Beta release has been postponed again.
Update July 27, 2023: Android 14 Beta 4.1 has started rolling out, bringing an array of bug fixes for Pixel devices, including the Pixel Fold. Eligible Pixel users can now download and install this update. The release of Beta 4.1 could possibly indicate the final phase of Android 14 Beta versions, indicating the imminent launch of the stable Android 14 version. Moreover, recent rumors suggest that Samsung intends to release the One UI 6.0 Beta based on Android 14 on August 2, 2023.
Update July 12, 2023: Android 14 Beta 4 is out! The update is being gradually rolled out to users who are eligible for Beta updates. This new Beta version is either the final or second-to-last update before the official release of Android 14 in August 2023. Beta 4 includes bug fixes, improvements, and new features for Android 14. It is also possible that Beta 4.1 will be released soon. It is expected that Samsung will begin the gradual roll out of the Android 14-based One UI 6.0 Beta in the following week.
Update June 16, 2023: The Android 14 Beta 3.1 has been announced. This update introduces the June security patch and resolves several bugs, including the issue related to fingerprint unlocking. Samsung should be releasing their first beta of Android 14 in late July.
Update June 07, 2023: Android 14 Beta 3 has been announced. Samsung has yet to release the Android 14 Beta update for its Galaxy Z Flip4. However, once the update becomes available, users should be able to test out Android 14. The Android 14 Beta 3 brings finalized APIs and app-facing system behaviors. Along with these improvements, the Android 14 Beta 3 update will bring exciting features like non-linear font scaling, allowing users to customize font sizes up to 200%.
Update May 10, 2023: Google has made the Android 14 Beta 2 available for Pixel devices, while other original equipment manufacturers (OEMs) have also released the beta version for specific devices. The Android 14 Beta 2 introduces a range of fresh features to Android devices. However, Samsung has not disclosed any details regarding the beta release of Android 14 for their devices. Nevertheless, we anticipate hearing from Samsung in the near future and will keep you informed once we receive any updates.
Android 14 Beta 2 introduces various new features, including the division of the "Languages & input" settings menu into separate sections for easier access. It also adds a Quick Settings tile for adjusting font size, a new uninstall/trash icon for app removal, and modifies the layout of the app info screen. Additionally, new animations have been introduced for certain interactions, and a redesigned Security & privacy icon enhances the visual representation of security features.
Update April 16, 2023: The Android 14 Beta 1 was released on April 12, 2023, offering a sneak peek of the upcoming Android 14's features and enhancements. Compatible devices can download and install this public beta version, which includes several notable changes and additions. Samsung should be releasing its own Android 14 beta as well very soon.
Android 14 Beta 1 features include the ability to toggle the navigation bar's transparency, improved PIN animations, customization options for lock screen wallpapers, enhanced security for the authenticator app, and modem upgrades for Pixel 7 and 7 Pro users. Other changes include a Bluetooth LE audio toggle and new configuration files for external touchpads. These improvements provide insight into what can be expected in the final release of Android 14.
Update March 09, 2023: The Android 14 Developer Preview 2 has been released, one month after the Developer Preview 1 was released. It brings a number of new features, most prominently flash notifications, some alterations in gesture navigation, an improved security and privacy menu, a new system icon, changes to the lock screen widget, a new clock settings option, and a monochrome theme.
The original post is as follows:
Currently, there are no updates available for the Galaxy Z Flip 4. Nevertheless, you can be worry-free about the update reaching your Galaxy Z Flip 4. In this section, we will track all the Android 14 updates for the Z Flip 4 and will also provide you with the stock ROM so you can install the update yourself. Stay tuned.
How to Check for Software Updates on Galaxy Z Flip 4?
When the update has finally arrived, you need to install it. If you need help with the installation, follow this step-by-step guide:
Open the Settings app.
Scroll down and go to Software Update.
Afterwards, select Download and install. Your phone will now check for updates.
If an update is available, tap Download to start installing the update.
Restart your phone once the update is installed.
Final Words
In conclusion, the Samsung Galaxy Z Flip 4 is a premium smartphone with advanced features, and the upcoming Android 14 (One UI 6.0) update will further enhance its capabilities. Although the official release date has yet to be announced, it's expected to be available in early 2023. As always, keeping your phone updated is essential to ensure that it's running smoothly and securely.