In terms of top-of-the-line smartphones, the Samsung Galaxy S23 Ultra stands out due to its impressive display, powerful performance, and advanced features. The device can, however, encounter problems, and one of the most frequent issues users face is the "No Signal" or "Network" issue. It is a frustrating problem, especially if you rely on your phone for both personal and professional communications. This article will explain the reasons behind this issue and offer some solutions.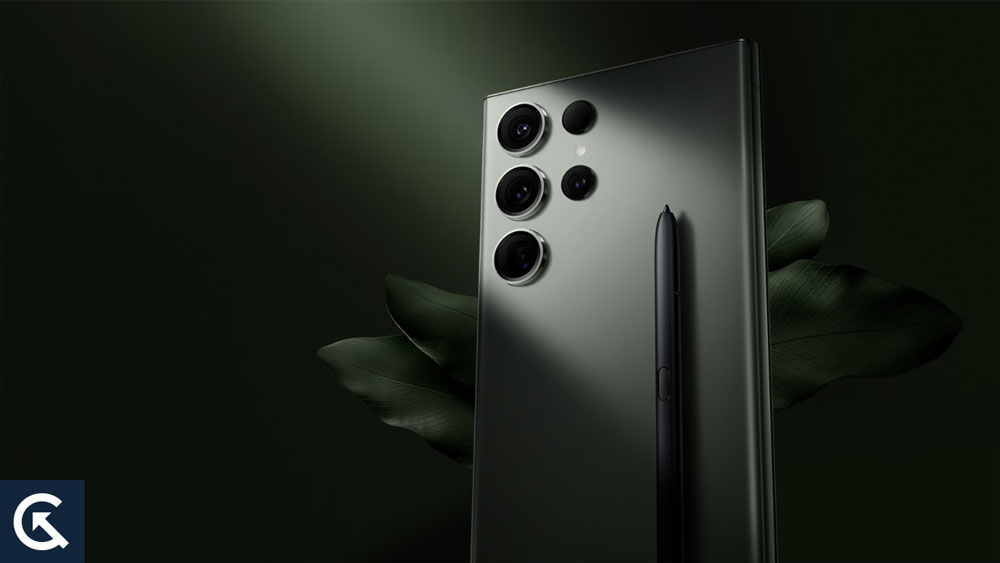 Possible Causes of Samsung Galaxy S23 Ultra No Signal or Network Issue:
It is possible that your Samsung Galaxy S23 Ultra is unable to connect to the internet or receive a signal for a number of reasons. Common causes include:
Poor Signal Strength:

Your phone may not receive a signal if you are in an area with the poor network coverage.

Network Congestion:

When a network is congested, the signal may be poor or nonexistent due to too many users.

Software Issues:

Network connection problems can sometimes be caused by software issues. There may be a bug in the operating system or a corrupted file that causes this.

Hardware Issues:

Other causes of the no-signal or no-network issue include damaged antennas and faulty SIM cards.
Fix Samsung Galaxy S23 Ultra No Signal or Network Issue
Here are some fixes that has the potential to resolve the Samsung Galaxy Ultra no signal or network issue. Therefore, let's check them out:
Fix 1: Check Network Coverage
Whenever you are trying to fix a no signal or network issue on your Samsung Galaxy S23 Ultra, you should check your network coverage first. If the network provider does not cover your device or if the coverage is poor, this step will need to be taken.
Your network provider's website is a good place to check network coverage. Many network providers present a coverage map on their websites so users can see what areas are covered by their network. In the search bar, you can enter your location, and the map will show you how strong the network signal is near your location. It is likely that you will have difficulty connecting to the network if the map indicates poor signal strength in your area.
The use of an app to check network coverage is another way to find out if your network is covered. You can see what network coverage is available in your area using these apps, which use GPS technology. There are many applications that can be used to check network coverage, including OpenSignal, Network Signal Info, and RootMetrics.
It is important to note that network coverage can vary based on your location if you are experiencing no signal or no network issues while travelling.
Fix 2: Restart Your Phone
If your Samsung Galaxy S23 Ultra does not receive a signal or does not have a network, you can fix the issue by restarting your phone. You can use it to troubleshoot various issues with your phone's software or hardware, including connectivity problems.
Here are the steps you need to follow to restart your phone:
Initially, on your phone, hold down the power button until the "Power off" option appears.

Once you have selected the "Power off" option, wait until your phone has completely shut down.

In order to see the Samsung logo appear, press and hold the power button again once your phone has been turned off.

After you release the power button, your phone will begin to boot up.
You should check if the network or signal issues have been resolved once your phone has restarted. You can try other solutions, such as updating your phone's software or resetting your network settings, if these don't work.
You can also restart your phone to improve its performance and fix other problems like app crashes or freezing. By doing so, you clear the phone's memory and close any apps or processes that may be causing issues. You can try this simple fix before moving on to more complicated ones.
Fix 3: Update Your Phone OS
If you are experiencing no signal or network issues on your Samsung Galaxy S23 Ultra, updating the operating system (OS) may help. Often, software updates can improve your phone's performance and stability by fixing bugs and adding security patches. Additionally, they are able to resolve issues related to network connectivity and signal strength.
You can update your phone's OS by following these steps:
On your phone, go to "Settings."
Select "Software update" from the list.
Click "Download and install."
Tap "Install now" if an update is available.

Your phone will download and install the update. It may take a while to complete the update depending on your internet connection speed and how large the update is.

Your phone will restart once the update has been installed.
Ensure that the no signal or network issue has been resolved after the update has been completed. The SIM card may also need to be checked if the problem persists. If resetting network settings does not help, try other solutions.
Regularly updating your phone's software will keep your device running smoothly and securely. Furthermore, software updates fix bugs and security vulnerabilities; software updates add new features and improvements. To avoid manually checking for updates each time, you can set your phone to automatically download and install updates.
Fix 4: Check SIM Card
If your Samsung Galaxy S23 Ultra is not receiving a signal or is not connected to a network, you may need to check your SIM card. In order to connect your phone to the network of your service provider, you need a SIM card. It is possible for a SIM card to cause network connectivity issues if it is damaged or not properly inserted.
You can check your SIM card by following these steps:
Make sure your phone is turned off.

Find the SIM card slot on your phone. You'll usually find it on the side of or on the back of your phone.

Use a SIM ejector tool or paper clip to remove the SIM card tray. To remove the SIM card tray, gently insert the tool into the hole located next to it and push until the tray pops out.

You should remove the SIM card from the tray and inspect it for any signs of wear and damage. Make sure the card does not have any scratches, cracks, or bends.

Replacing the SIM card into the SIM card tray is recommended if the SIM card appears to be in good condition. Place the SIM card in the tray so that the gold contacts are facing down.

Start your phone and wait for it to boot up.
Replace your SIM card and check if the issue of no signal or no network has been resolved. You can also reset your network settings or update the software on your phone if that doesn't work.
Fix 5: Reset Your Phone
The no signal or network issue on your Samsung Galaxy S23 Ultra can be fixed by resetting it to factory settings. By using this solution, you will be able to erase all data and settings from your phone and restore it to its original state. If software glitches cause the problem, this can assist in removing them.
You will lose all your important data and files when you reset your phone, so make sure you back them up before you do so. Cloud storage services like Google Drive and Samsung Cloud or external drives can be used to back up your data.
Follow these steps to reset your phone to factory settings:
On your phone, go to "Settings."
Select "General management" from the list.
Click "Reset."
Choose "Reset factory data."
Then tap on "Reset" again after reading the information on the screen.

If prompted, enter your PIN or password.

Click "Delete all."

Once your phone has been reset and restarted, wait for it to finish.
Reset your device and check if you have a signal or network issue after setting it up as a new device. Alternatively, you can update the software on your phone or check your SIM card if that doesn't work.
Fix 6: Contact Support Team
Samsung's support team may be able to assist you in further troubleshooting if none of the above solutions works for your Samsung Galaxy S23 Ultra. It is possible to diagnose and troubleshoot the issue, as well as provide a solution to fix it, by Samsung's customer service team.
Conclusion
To conclude, the Samsung Galaxy S23 Ultra is a great smartphone that provides excellent network connectivity. Check out these solutions if your phone doesn't have any signal or has network issues so that you can ensure that your phone is functioning optimally. That's how you fix Samsung Galaxy S23 Ultra with no network or signal issues. It is our hope that this guide has been helpful to you. In the meantime, if you need more information, comment below.