Samsung Galaxy Z Fold 4 5G is currently one of the most popular foldable smartphones in the market that has been launched in August 2022. It has a 7.6-inches Dynamic AMOLED 2X foldable display that packs 120Hz refresh rate, HDR10+, up to 1200 nits peak brightness, and more. While the cover display is 6.2-inches with the same panel. Meanwhile, several users have started reporting that the Samsung Galaxy Z Fold 4 Touch Screen is Not Working properly.
Foldable display devices are now a trending topic and smartphone enthusiasts are quite eager to get hands-on. Whereas Samsung's foldable phones are doing really well as compared to other OEMs due to their premium quality, better software support, and brand value. But somehow the previous generation of Galaxy Z Fold lineup and even the latest generation of Fold model have some issues with the display that we can't deny at all.
It seems that even though the company has researched and tested its foldable displays thoroughly, it does have longevity issues for some obvious reasons. Issues with the display cracks, signs of screen tearing, flickering, screen bleeding, pulled out thin protective layer on the top of the glass, etc might occur on your Galaxy Z Fold 4 device after using moderately for a couple of months. Whereas Fold3 users were facing the same issues within a year or so.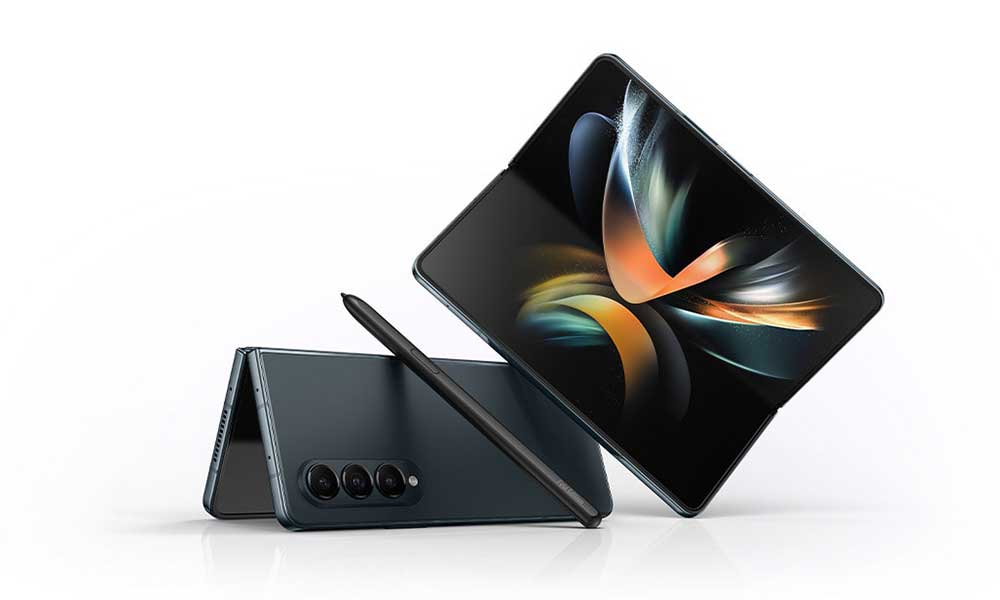 Fix: Samsung Galaxy Z Fold 4 Touch Screen Not Working
Some users may also face the screen not responding or unresponsive issues on their Galaxy Z Fold 4 model unexpectedly. Additionally, you may also find that some specific parts of the screen aren't responding or the touch screen not working which feels weird too. If you're one of the victims to encounter any of the issues then don't worry. Luckily, we've shared some possible workarounds for you that can help a lot. A few tips have been shared by Samsung.
1. Remove All Third-Party Screen Protectors or Other Accessories
First of all, you should remove all non-Samsung certified screen protectors, back cases, or any other accessories that may be touching the screen. Sometimes third-party screen protectors may prevent the screen from registering touches.
2. Gently Clean the Screen and Dry it up
It's also recommended to clean the touchscreen gently using a microfiber cloth and dry it up if there is some water or moisture on it. Dust particles, moisture, smudges, sweat, and water splashes may prevent the display to register touch properly. Touch sensors as well as the fingerprint sensor won't work on the wet screen.
3. Do Not Use Gloves
If in case, you're using hand gloves or finger gloves then make sure to remove them. The screen may not recognize touches through gloves or extremely dry and chapped fingers.
4. Reboot Your Device
Sometimes restarting the device can refresh the system as well as the hardware to work properly again. To do so:
Press and hold the Power key to bring the Power menu.
Tap on Restart > Tap on Restart again to confirm.
Your device will reboot.
Note: If in case, the touchscreen on your Galaxy Z Fold 4 device isn't working at all then you should restart your device by pressing and holding the Volume Down key + the Power key together for around 10 seconds. Your device will shut down. Now, you can long-press the Power key again to boot your device.
5. Check Your Charger
The chances are high that your charger accessory is physically damaged and it doesn't supply sufficient power to your device. This specific issue may cause the touch screen to malfunction. In some cases, using a third-party charging adapter or USB cable to your device might trigger the touch screen unresponsiveness issue. Make sure to use a stock or Samsung-certified compatible sharing accessory to properly charge the device and avoid touch issues.
6. Check for Software Updates
You should also check for the available software updates on your device by following the steps below. The chances are high that you're using an outdated software version and it's buggy enough to occur display issues.
Go to Settings > Tap on Software update.
If there is a new update available, tap on Download and install.

You can also choose Install now or Schedule install or Later.

Wait for the update to complete and then reboot the device to apply changes.
If you're already running the latest software then you'll see the 'Software is up to date' notice on the screen.
7. Optimize Device Performance
The Device Care feature has been provided by Samsung to improve your phone's overall performance by scanning for wasted storage space and other potential issues. It'll automatically detect and remove temporary cache data, junk files, temporarily consumed storage space, CPU/RAM memory, etc. To run Device Care, you can follow the steps below:
Open the Settings menu.
Search for Device Care and open it.
Now, tap on Optimize now.
Wait for the device to be optimized and then reboot the handset.
8. Disable Touch Sensitivity
If the touch sensitivity setting is turned on then make sure to turn it off. But if you're protective film on the screen then it's not necessary to turn it off. Sometimes the touchscreen may respond too sensitively because of the smoothness and additional 120Hz refresh rate. So, there may be some malfunction that you can experience in most scenarios. To disable the Touch Sensitivity feature:
Go to Settings > Tap on Display.
Tap on Touch Sensitivity to turn it Off.
Please Note: Sometimes the edge of the touchscreen areas may not work properly due to the touch sensitivity issue. It's quite normal because the side edges or rounded corners are narrowed and your finger contact with the bezel part mostly. It's not a fault and more of a part of the design structure.
9. Reboot in Safe Mode
Well, if you want to troubleshoot your screen or device issue by yourself then booting your smartphone in the safe mode is a great idea to start with. You might be able to find out if there is a screen flickering or touch issue. Safe mode is like a diagnostic tool to help identify issues on your device. To do so:
Switch Off your device normally > Then press and hold the Power button to turn it on.
While turning on, the Samsung logo will appear > Immediately, press and hold the Volume Down key for a while.
Your device will boot into the Safe Mode. 'Safe mode' text will be displayed on the bottom left of the screen.
Note: If your device fails to boot in Safe Mode on the first attempt, make sure to follow the steps again. There is nothing to worry about it.
Once you're inside the safe mode, you'll be able to check whether the screen and touch response are working fine or not.
If the screen issue is still occurring that means either any recently installed third-party software is troubling you or there may be an issue with the screen panel physically.
If there is an issue with any application, you should uninstall the recently installed or updated app first.
Once done, normally restart your device to exit Safe Mode.
If in case, your screen issue is related to the physical display panel or touch then make sure to visit your nearest Samsung authorized service center to get it thoroughly checked.
10. Back Up and Perform Factory Reset
A factory reset method is always useful to remove system glitches, connectivity issues, software-related issues, temporary cache data issues, and more. It's also known as a hard reset or master reset to restore your device system and settings back to the factory default mode like a new one. Plenty of affected users did find this method useful to fix the Samsung Galaxy Z Fold 4 Touch Screen Not Working issue.
Obviously, you'll lose all the installed applications, configured settings, networking passwords, manually configured APN settings, internal storage files, text messages, on-device stored contacts, etc. Therefore, it's better to take a full backup of the device before getting into the reset method.
Backup:
You can check out this link to easily complete the backup process. If you don't want to go through an in-depth guide, you can follow the steps below to quickly take a backup.
Tap on the Settings menu > Tap on Accounts and backup.
Choose Back up data > Select the toggle of which things you need to back up.
Once selected, tap on Back up now > Wait for the process to complete.
Now, use the Cloud Storage or MicroSD card or a USB flash drive to copy all the documents and media files as a backup.
Also, do keep in mind that you'll need to enter the Wi-Fi password after a reset. (if you're using Wi-Fi only)
Factory Reset:
Once done, you can now follow the steps below to perform the factory reset method.
Tap on the Settings menu > Tap on General Management.
Scroll down to the bottom of the page.
Tap on Reset > Tap on Factory data reset.
Now, you'll get a list of all the apps, accounts, & some other info that will be erased from the device.
So, you can check which data you want to back up further (if in case, you've forgotten in the previous method).
Once you're sure to proceed, tap on Reset.
If prompted, confirm the reset, and wait for it to complete.
Ensure the device battery is around 50% of the above because it may take some time. If not, connect to the charging.
Let the reset process complete and then your device will reboot to the system automatically.
Go through the initial setup process and you're done.
If you're using a Wi-Fi connection, you'll need to enter the Wi-Fi password again to connect to the internet.
11. Contact or Visit Samsung Service Center
If none of the workarounds come in handy or you're feeling that there is an issue with the physical screen from outside or inside then make sure to contact Samsung Service Center to set up the service. You can also directly visit your nearest Samsung authorized Service Center to get assistance. If your device is under warranty period then you'll have to carry the photo-id proof and the original purchase bill/invoice to get it repaired.
Do keep in mind that if you've somehow done something wrong or unusual with your device intentionally or unintentionally then you may face issues with getting the warranty claim. It might be related to dropping your phone to the floor, water or any liquid item getting into the device, any forceful pressure created on the screen, removing the protective layer on the top of the screen by yourself, scratching the display using something, etc.