Samsung has a popular Foldable Z series that is catching everyone's eye. The device can fold, which gives it a futuristic approach. However, many users who have purchased this device feel otherwise. Because there have been multiple complaints regarding Samsung Galaxy Z Fold 4 Stuttering, Lags, and Freezing Badly issues. Today in this article, we will address these issues and help you with some troubleshooting tips.
The Galaxy Z Fold 4 is a powerful flagship device with a Qualcomm Snapdragon 8+ processor and 12GB of RAM. This configuration is more than enough to run a smartphone, but still, Fold 4 users occasionally face lagging or freezing issues. Such a problem can either be due to old software or having any third-party app using all the phone RAM & CPU resources. Read more to learn about why your device performance is slow and what you can do to fix it.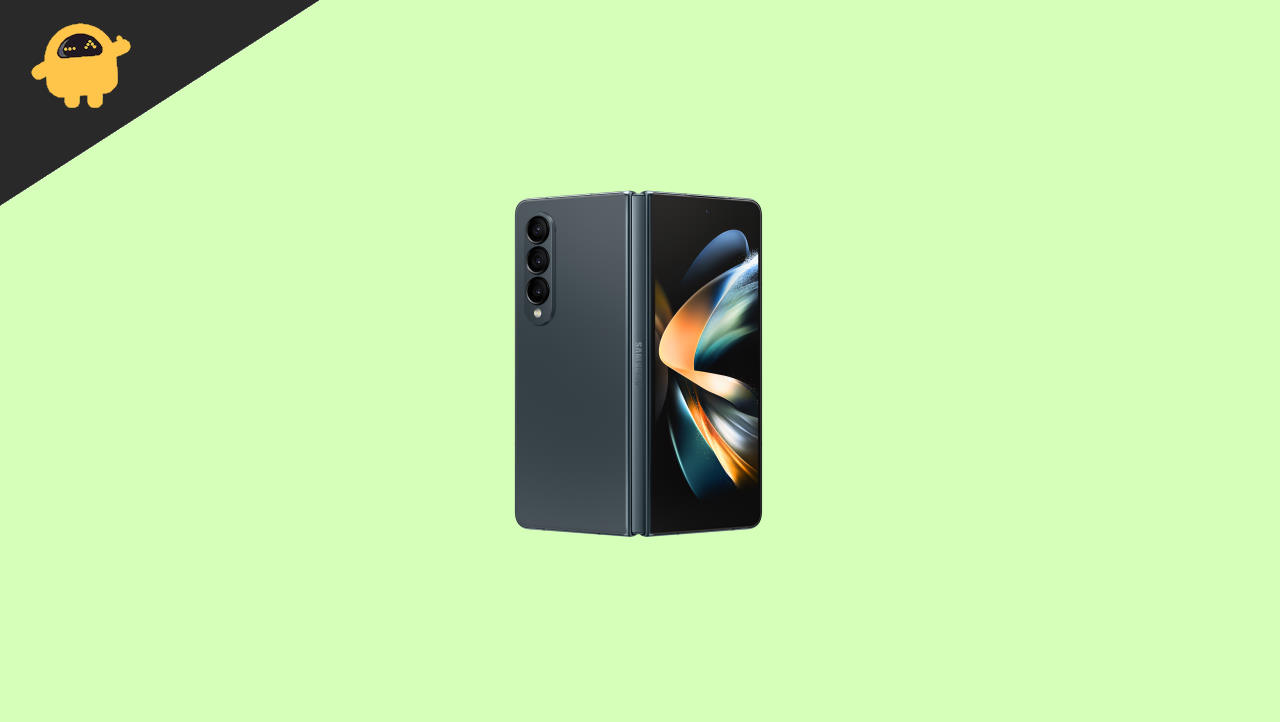 Fix: Samsung Galaxy Z Fold 4 Stuttering, Lags and Freezing Badly
Many users have addressed the issue of slow devices on Reddit and the official Samsung forums. With the latest Qualcomm Snapdragon 8+ processor, slow performance is out of the question. But unfortunately, Galaxy Z Fold 4 users face stuttering and freezing issues from time to time.
Method 1: Restart your device
In most cases, freezing or lagging issues are caused due to technical glitches and can be fixed with a simple device restart. So press the power button and restart your device.
Method 2: Clear background processes
When you open an app and click the home button, the app goes in the background but stays active. This uses CPU resources and makes the device slow. Maybe this is why you're facing lagging and stuttering issues on your Samsung Galaxy Z Fold 4 device. Here is how you can clear background apps easily.
Click on the menu at the bottom left corner of your device.
This will open the recent apps/background process section.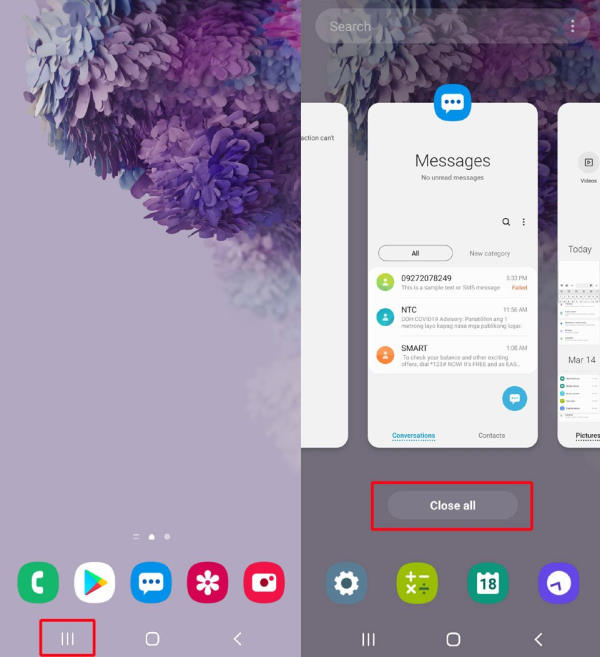 You may click on the close all button to close all background processes.
Method 3: Remove unnecessary apps
Android users can access thousands of apps from Plyastore, but that doesn't mean you will install each one. It is recommended to keep only useful apps on your device as excessive apps can make your device slow and even degrade its performance.
If you're installing a lot of apps & games, make sure to uninstall them once they are not useful for you. Also, do not install APK files, as they may contain malicious scripts that can slow your device.
Method 4: Update the software version
Since the Z Fold 4 smartphone was launched, its software has had many issues. So Samsung developers have been releasing multiple patch updates to fix such issues. Maybe the reason behind Samsung Galaxy Z Fold 4 stuttering, lags, and freezing badly issue is bad software or an outdated firmware version. Here is how you can update it easily:
Open settings and navigate to the About Phone section.
Now tap on the software update section.
This will check for new updates and will show if any.
Then you can tap on the download button and follow the instructions to install the update
Method 5: Boot in safe mode
Samsung has a special feature of safe mode which can help you to troubleshoot any issues locally. This mode will run your device with minimum requirements and will disable any installed apps or features. This is how you can boot into safe mode.
Power off the device completely.
Press and hold until the logo appears.
Once the logo appears to, release the power button and press and hold the volume down button.
Release the button when safe mode appears at the bottom of your device screen.
If booting into safe mode solves the lagging and stuttering issues, it means the issue is caused due to installed apps or any other malware scripts. So you have to do a factory reset, and the issue will be solved.
Method 6: Don't Use the Device While Charging
It is a common misconception that you can play games or use the device while charging. However, it is dangerous, plus it slow slows down your device. While charging, your device also gets warm, and it causes the throttle problem. So make sure not to use your device when charging.
Method 7: Reduce animation speed
Samsung puts a lot of animations on their devices, which can ultimately slow the user experience. This also gives an impression of the Samsung Galaxy Z Fold 4 stuttering, lagging, and freezing issue badly, as the animations can be slow or jittery sometimes. Here is how you can reduce the animation speed easily:
Open device settings and navigate to the about phone > software information section.
Click on the build number multiple times until you see the "You are now a developer" message.
Now navigate to settings > system > developer options.
Here go to the animation section and reduce the window animation scale to the 0.5x option.
Method 8: Wipe the cache partition
With time, your device and the installed apps generate a lot of cache files which can slow down your device. So you must clear the cache once a month to ensure your device performs fast. Here is how you can clear the cache partition easily:
Boot into the Recovery Mode by pressing and holding the Home and Volume Up keys on your Samsung Galaxy Z Fold 4 Device.
In the Recovery Mode, use the Volume Keys and select the wipe cache partition option.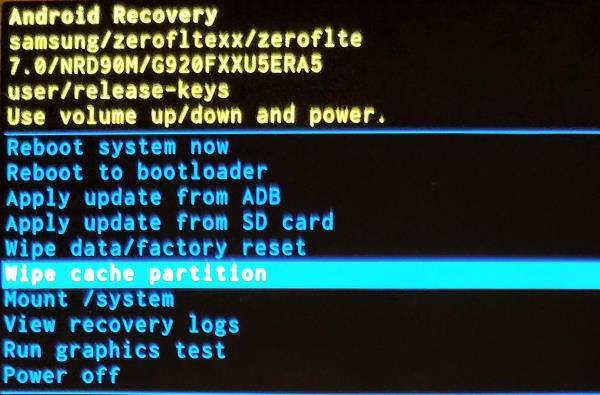 Press the Power Key once to confirm the clearing of the cache.
Once done, restart the device to see if the issue is fixed.
Method 9: Factory reset your device
Factory resetting your device will remove all unwanted programs, malware, or malicious apps making your device perform faster and more efficiently. This process will remove all your saved media, messages, and call records. So make sure you take a full backup of your device before doing so. Here is how you can factory reset your Samsung Galaxy Z Fold 4.
Method 10: Contact Samsung care
If none of the above methods works, it is wise to connect with Samsung care. As often, the issue can be hardware related, and in such cases, Samsung care might offer you a free device replacement or fix the device if it is under warranty period.
Conclusion
This brings us to the end of this guide for fixing Samsung Galaxy Z Fold 4 stuttering, lags, and freezing issues badly. The above methods are generic methods that will help you to solve any device freezing or lagging issues, but we recommend you to do a factory reset to be sure. And if nothing helps, you should contact Samsung care, as they might be able to offer you a device replacement at no extra cost.