Suppose you have an online lecture or a gaming session, but as soon as you turn on the Sceptre monitor, you quickly realized that the device is flickering. Although Sceptre monitors are known for offering high-quality screens and good performance, they can sometimes encounter problems. At the end of the day, they are still a piece of tech. If your Sceptre monitor is flickering or flashing colors, look no further. This detailed guide will tell you how you can fix the flickering issues on your Sceptre monitor.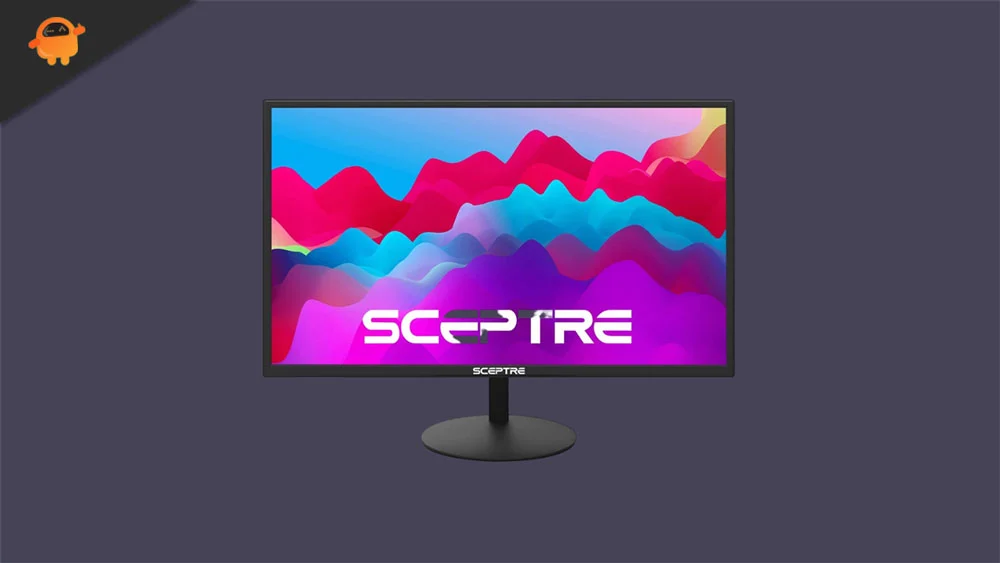 If your Sceptre monitor keeps flickering or flashing colors, it's probably because of one of the following reasons:
Loose connections: One of the most common reasons for the flickering issue on any monitor is the loose connections. You have to ensure the video cable is firmly connected to the computer and your Sceptre monitor.
Interference from other devices: It's recommended not to put another electrical device, such as a phone near the monitor because it can cause electrical interference. Although you do not see it very often, it happens and causes issues like screen flickering.
Incorrect display settings: The current display settings on your Sceptre monitor can also cause screen flickering or color flashing problems. You need to check the display settings and make the required changes. We've shared more details on this in the solutions.
Incompatible or outdated graphics drivers: If your computer has an outdated or incompatible graphics driver, you are inviting many problems. It could result in many screen-related problems including the one you are currently dealing with.
Incorrect refresh rate settings: A low refresh rate can cause screen flickering and color flashing problems. You need to set the refresh rate of your Sceptre monitor to the recommended value to get these issues fixed.
Damaged cables: Check if the cable has any signs of damage. Even small damage to the video cable can result in issues like screen flickering, no screen, etc. Also, make sure that you are using a high-quality cable.
So, these are some common reasons why a Sceptre monitor flickers or keeps flashing colors. Now that we have some understanding of the problem, let's apply the troubleshooting steps to fix it.
Here's How to Fix if Sceptre Monitor Flickering or Keep Flashing Colors
We have jotted down the effective ways of fixing flickering or color flashing issues on the Sceptre monitor below. Simply, keep trying them until you get your monitor up and running again.
1. Check if Connections Are Loose
We will start our troubleshooting by checking all the cables. Quite often, the flickering issue surface when a cable is not securely attached on both ends. You should therefore check if all the cables are firmly connected on both ends. A better approach is to remove all the cables and plug them in firmly.
Now, turn on your Sceptre monitor to check if the problem is fixed.
2. Increase Screen Refresh Rate
In simple terms, screen refresh rate is how many times a screen is refreshing its contents in one second. It has been found that a low screen refresh rate can cause flickering issues. You should therefore increase the screen refresh rate of your Sceptre monitor. Not only it can fix flickering issues, but you will also have a smooth experience afterward.
Here's how to change the refresh rate of your Sceptre monitor:
Press the "Windows + X" shortcut and select "Settings".
Tap on "System" and choose the "Display" option.
On Windows 10, tap on "Advanced display settings". If you are a Windows 11 user, click "Advanced display" under "Related settings".
Tap on "Display adapter properties for Display1". A small window will open.
Go to the "Monitor" tab.
Select a higher screen refresh rate from the drop-down options.
Click "Apply" and then "OK".
After selecting a higher screen refresh rate, restart your monitor and do let us know if the problem is fixed. If the problem persists, try switching between available refresh rate options to find out the best one for your monitor.
Alternatively, you can look up the user manual guide for your Sceptre monitor to check if there's a recommended refresh rate value.
3. Update Graphics Driver
Your computer may have an outdated or corrupted graphics driver causing the flickering issue on the Sceptre monitor. You can try updating the graphics driver first. If it does not work, try uninstalling the driver.
Follow these steps to update the graphics driver:
In the search box at the bottom, type "Device Manager" and hit "Enter".
Expand "Display adapters".
Right-click on your graphic device and select "Update driver".
Tap on "Search automatically for drivers". Windows will now look for the latest driver.
Follow on-screen instructions to update the driver.
Alternatively, you can download the latest driver from the manufacturer's website and install it manually.
After updating the graphics driver, if the problem does not fix, you should uninstall the graphics drivers. Sometimes, the driver gets corrupted, and updating it does not fix the problem. You can try reinstalling the driver using these steps:
Type "Device Manager" in the search box and hit Enter.
Expand "Display adapters".
Right-click on your graphics device and select "Uninstall device".
Click "Uninstall" to confirm.
Once you have uninstalled the driver, restart your computer. Windows will automatically scan for unavailable drivers and install them.
4. Power Reset Your Sceptre Monitor
If your Sceptre monitor is still flickering or flashing colors, try power resetting your monitor to check if it can fix the issue. Follow these steps:
Turn off your monitor and unplug it from the power strip.
Remove all other cables.
Press the power button for 15-20 seconds.
Properly connect the HDMI or VGA cable.
Give the power supply to the monitor.
5. Check the Display Cable
Even a minor defect in the display cable can lead to screen-related issues like screen flickering, color flashing, no signal, etc. You should therefore carefully inspect the display cable for any visible damage. Also, make sure that the connector pins are not missing, damaged, or bent.
Firmly connect the display port on both ends. To make sure the connection is secure, push both cable ends firmly.
If you are still having a hard time, try getting a new display port. Or, you can go with a different type of display port. For example, if you were using the VGA cable, go for HDMI.
6. Contact Sceptre Support
If none of the above solutions worked, hard luck to you. At this point, the most viable solution is to contact Sceptre support because it seems there are hardware issues with your monitor. You should get it checked by a technician.
We hope this guide was useful to you. If you were able to fix the Sceptre monitor flickering or keep flashing colors problem, do let us know which solution worked out for you in the comment section below.