Smartphones are getting advanced with each passing day. They make our lives easier. However, people are also getting addicted to smartphones. Using technology is good but abusing can be harmful. A majority of people stay glued to their smartphones all day. Some waste their time on the never-ending social media browsing. Users are even losing out on their sleep and becoming night owl by staring into the phone screen. To deal with this, the iPhone and iPad have this feature Downtime under the Screen time section.
As the name suggests downtime is a specific time within which you cannot use any apps on your device. Yes, the only exceptions can be the Phone, Message, email, or such work-related apps. You can even customize which apps you wish to allow while downtime is active. Ideally, people only keep emergency apps such as phone, message, or email in the list of exceptions. In this guide, I will show in detail how to set up this useful feature and get some much need break from the smartphone overuse.
Related | How to Pair or Connect Airpods to Windows PC
How to Use Downtime in Screen Time for iPhone and iPad
You can customize the timeline between which the device will go through the downtime. When it is active you will not receive any notification from the apps except the ones that you have allowed. You can decide apart from the emergency apps, which other apps will remain active and send you notifications.
Go to Settings > scroll down to Screen Time
There is the option Downtime. tap on it
You now need to tap on the switch beside Downtime to enable it.

Set up the Starting time by selecting From and also set when the downtime will be over. For the latter select To.

Once you set that time limit go back to the Screen time which is the previous section.
Customizing the Apps
Now, select Always Allowed
Here you will see a list of apps that are allowed during the downtime
If you tap on the red minus sign beside the app name those are under the Always Allowed section, that app will be unavailable during the downtime.

Same way if you tap on the green plus sign beside the app name those are under the Choose Apps they will be added into the exception list of apps that you can access while Downtime is enabled.
Note
When downtime is enabled, the apps that come under it will appear dimmed out on the home screen. The apps will have a small hourglass icon beside them.
How Can I Access Blocked Apps
While the downtime is active, if you try to access any blocked app, then you will see a message that says you have reached the time limit for that app.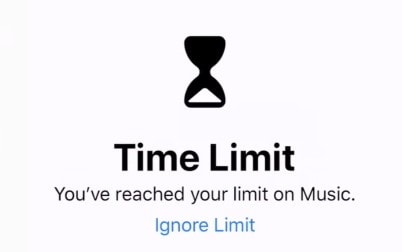 If you urgently want to use an app, then tap on the Ignore Limit option. You can select between using the app for 15 minutes and get a reminder to close it or entirely allow the app for that day. Depending upon how you need it there will be two options Remind Me in 15 Minutes and Ignore Limit for Today.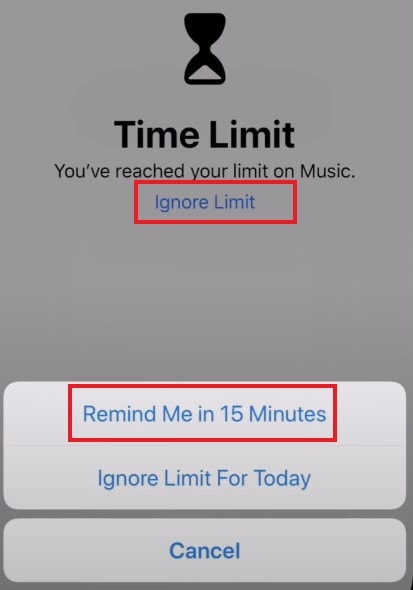 So, that's all about setting up the downtime on your iPhone or iPad. The steps I mentioned above work for both Apple devices. It is useful if you wish to break away from the monotony of smartphone use, or social media addiction. I do use downtime and it is a helpful feature. Go try it out now.
Read Next,