Sonos is a popular wireless home system brand that offers all ranges of products from bars to speakers to subwoofers and more. Its line of subwoofers such as the popular Sonos SUB lets you enjoy deep bass and spiritual music listening experience and with its wireless solutions, you can say goodbye to wires (somewhat). A while ago, we got to know that some users are facing issues such as the Sonos subwoofer not connecting or working issues.
The reports are available on Sonos' sub-Reddit as well as many other forums including the Sonos community. Thus, GetDroidTips tried a few methods to fix the issue, and here's what we found out on how to fix this issue.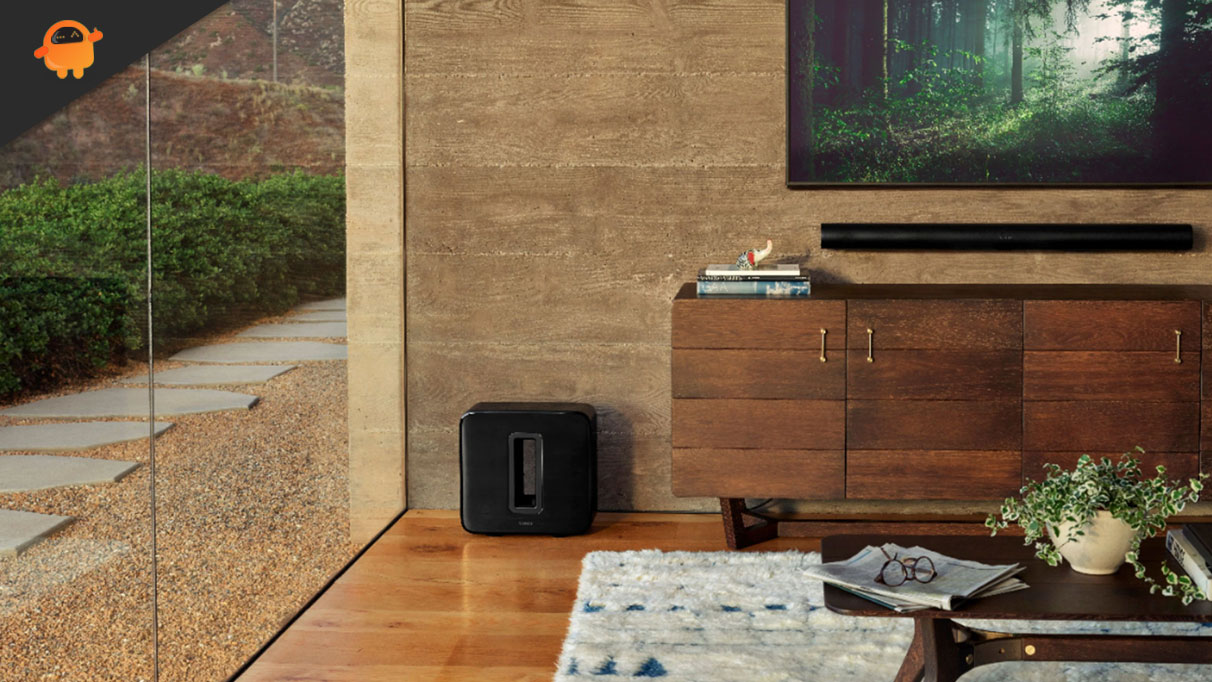 Why is my Sonos subwoofer not connecting or not working?
There is a tonne of reasons why your subwoofer won't connect to other peripherals in the sound system or won't produce any output it is entitled to.
Some of the possible reasons are being stuck in a network loop, not connected to WiFi, or not connected to the same WiFi network. You could be using the wrong connections if the system isn't getting the appropriate power to support output. Here are some possible fixes.
Anyone else having issues connecting their gen3 sub and surrounds to Arc? from sonos
How to Fix Sonos Subwoofer Not Connecting or Working Issue
#1: Fixing a network loop
You have a set of Sonos speakers complete with subwoofers to connect and enhance your music experience. Usually, the primary Sonos speaker should be connected to the router using a wired ethernet cable while other units should stick to the wireless signal coming from the primary speaker.
However, there's an instance of a network loop when a user tried to either pair all the speaker units to the router or use to and fro wireless connection between each speaker unit to connect others. In simple words, you are trying to connect the sub speakers and woofers to the remaining other units forming a dual connection for each unit.
This can cause subwoofers not connecting or working issues. The solution here is pretty basic and here's what you should do.
Disconnect all the speaker systems from each other and the router.
Now, use the Ethernet cable and connect it to the primary speaker.
Turn on Wi-Fi on the primary speaker that will allow it to communicate with other systems wirelessly. Here, the primary speaker is connected to each unit and there's no connection between subunits.
Keep Wi-Fi disabled on all the subunits in the network.
#2: Ensure all the cables & connections are proper
You can't simply plug in a cord from a speaker to another unless specified. Connections between the power source and the speaker and the sub-systems should be done in the right way to ensure everything works as it should. If you used connected the wrong cord to the wrong port, you will end up with a messy system that doesn't work. Based on which Sonos products you are using, get help from YouTube to find the right connections and use it to connect your systems. This will ensure at least the connections are properly laid out eliminating this part of the issue.
#3: Verify the system is hooked up with power
I am pretty sure that might not be the solution you are looking for but there could be a subset of users who ended up with a Sonos subwoofer not working because they plugged the cords improperly and there's inadequate power supply. In any case, if you want to eliminate cords improperly plugged into the system, unplug everything and use the user manual or YouTube for guidance on how to plug Sonos systems properly. Check if this method works or else, you can proceed.
#4: Reconnecting to a new WiFI network
You can't just get Sonos speakers and subwoofer working on the existing WiFi network so you changed the router. Here's how you can connect the systems to the WiFi.
Wireless Mode
This particular method works when you don't have any existing Sonos product hooked up to the router via ethernet cable.
Firstly, ensure your phone or a PC is connected to the new WiFi network and has the Sonos app installed on it.
Next, connect the Sonos player using an Ethernet cable to the router.
Launch the Sonos app and proceed to "Settings >> System >> Network >> Wireless Set Up.
You will be prompted to enter the required WiFi password so enter it to ensure it is well-connected.
Remove the Ethernet cable and you should be able to use the system wirelessly.
Wired Mode
This method requires having Sonos player or Boost installed and wired to the router using an ethernet cable. Proceed with the shortlist of instructions given below.
Firstly, ensure Sonos Boost is well-connected to the router using an ethernet.
Next up, unplug the player and reconnect it.
Repeat the procedure for all the players if you have it in your home ensuring all show a white light on the indicator that denotes it is now connected.
Run a diagnostic program on Sonos
Sonos has a diagnostics program that lets you figure out what's wrong. You can submit the diagnostic report to Sonos support to get a clear resolution. The Android users require the app on which Sonos is installed and the same goes for iOS while PC and PC users can go for Help >> Submit Diagnostics. Of course, this means waiting for the revert from Sonos support so it might take some time.
#5: Doesn't connect with Playbar
If you are trying to connect Sonos subwoofer to a playbar wirelessly but the latter is not connecting, this method might be able to help.
Connect both playbar and the subwoofer using LAN cables to the router. Set up the system on the Sonos app as well.
Next up, go to your router's admin setting and set up a static IP address.
Now, find the MAC address of your subwoofer and playbar.
Proceed to router's settings and set DHCP to automatic and change the current IP address as a static IP on both the peripherals.
Head over to the Sonos app on your phone.
Next, head over to Settings >> Advanced Settings >> Wireless Setup and now, you need to set up the wireless settings of Sonos systems (playbar and sub, in this case)
Remove the LAN cable and check if it has resolved the problem or not.
Note that depending upon what sub you are using, the method can slightly differ and its effectiveness may differ as well. You can try it although there's no guarantee it will solve 100% of cases for sure.
#6: Reset Sonos subwoofer
Resetting the Sonos subwoofer does a lot of tricks. It is essential if you are facing difficulty connecting to it or there are too many software glitches and bugs that make it difficult to enjoy deep bass on your subwoofer. Perhaps, this guide will help you reset the subwoofer.
The first thing you need to do is to unplug the power. For this, you can either snag the power cord connected to the back of Sonos subs or unplug the one connected to the wall outlet.
Wait for a few minutes.
There's a physical button on the side of the subs. The Gen 1 and Gen 2 subs will have a square button while Gen 3 subs have a circular button with an infinity mark on it.
You need to press and hold this button while connecting to the power cord to power the subs simultaneously. As you do it, the LED indicator will blink white and as soon as it blinks with a red color, press the button.
You have successfully factory reset your device after the indicator turns green.
Now you can re-configure the Sonos subs and check whether this made any significant difference in fixing the issue or
#6: Call in the big guns
The aforementioned troubleshooting methods should fix most of the user complaints although we don't guarantee one size fits all solutions. If you aren't able to figure out what's wrong and why your subwoofer is not connecting or working, you should call the technicians from Sonos or the retailer from where you purchased it or approach a local technician. Connecting an entire Sonos system or others is an intricate affair and you must know what connects where and how to ensure all goes fine when you actually try to use it. A technician is your best hope in this case.
Closing Words
And with that, we call it a pack upon this post on how to fix Sonos subwoofer not connecting or working problem. Hope this troubleshooting guide did help you fix the annoying issue.