SteamOS is Valve's Linux-based operating system, which runs on the Valve Steam Deck. This device was designed specifically for Steam gaming and looked like a Nintendo Switch, but it can also pair controllers, mice, and keyboards with it, so players can play via Steam. In a similar manner to portable gaming devices, it can play Windows games and suspend/resume them. Steam Deck is powered by an AMD APU, which combines a CPU and GPU. The processor features four cores and eight threads, which run from 2.4GHz to 3.5GHz.
But, even though it faces many performance issues as many users started reporting that the CPU uses high power, due to which the Steam Deck is charging slowly. However, we have investigated this issue and found many fixes that will help you resolve the Steam Deck charging slowly issue. Therefore, let's get started with the guide.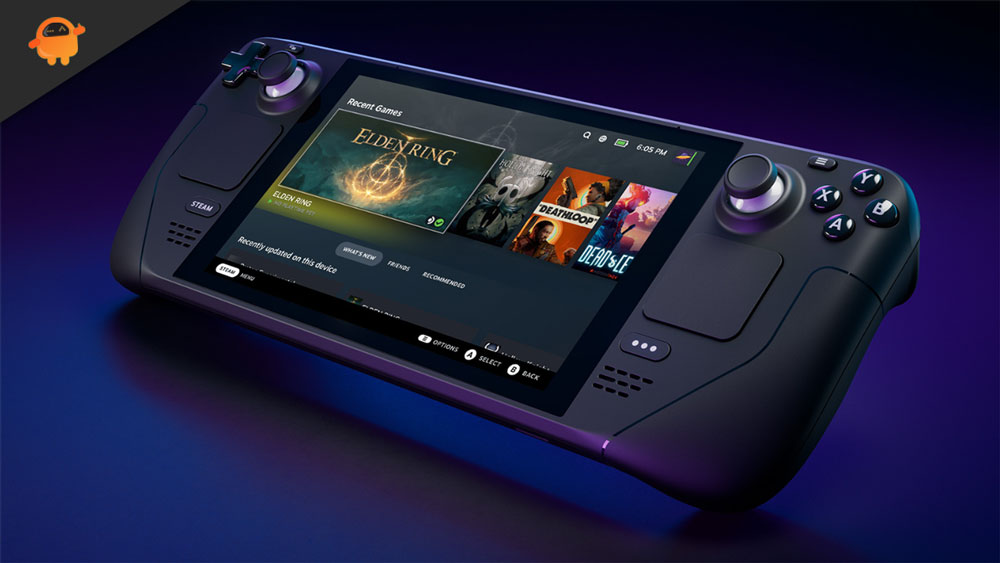 Why My Steam Deck Charge Slowly?
There are a number of factors that can cause Steam Deck Charging problems, but the following three are the most common:
You may have a faulty USB-C power adapter or cable for the console.

Your power strip may also prevent charging in some cases.

It is also conceivable that there is a software glitch preventing the console from starting or charging.
How to Fix Slow Charging Warning on Steam Deck
While Steam Deck's performance varies depending on the game, you play and the settings you choose, it is known for being an excellent gaming system. Therefore, we cannot just sit and wait for the officials to fix these kinds of random bugs. So, you must check out these fixes in order to resolve the Steam Deck charging slowly issue.
Fix 1: Use the Correct Adapter
The adapter, or charging block, plugs into a wall outlet. In order to complete the charging process, you must plug the cable into the charging block. Choosing the right charging block is crucial. Many people use mobile adapters to charge Steam, which slows down their charging process.
It is important to note that each adapter has different power output. When charging Steam using mobile adapter, the charging time is twice as long as when charging mobile.
It is not recommended to use a power adapter rated at 45W with an Steam Deck. Yes, you're right – charging takes a long time. At least 10W should be used to power an Deck. Ideally, you should have at least 30 watts.
The higher the power output, the better. Use a charger that delivers more power, and you will not damage your Deck (you can even use an 18W adapter with AirPods). There will be a sped-up charging process.
You will also have a different experience depending on your type of gaming device. Valves Steam Deck will take longer to charge than its predecessor when using the same adapter. You should choose a power adapter with 30W or 45W if you are using a Deck.
Steam Deck comes with power adapters. In the event that this power adapter is unavailable, you can use another Valve-certified power adapter. Make sure the power adapter is in good condition as well. Your power adapter might need to be replaced or you could purchase a new one to solve the issue.
Fix 2: Use a New Cable
Depending on how long the problem persists, your cable may need to be replaced. A frayed and broken charging cable may prevent your device from being charged.
As well, I recommend not using cables made by third parties instead of those manufactured by Valve. They are often less expensive than Valve products when you buy them online, making them great alternatives. Despite the fact that they work somewhat better than Valve cables, they aren't as good as Valve cables. In addition to being easily broken, their fragility slows down the charging process.
Fix 3: Stop Using the Deck While It's Charging.
You will need to charge your Steam Deck more slowly if you use it while it's charging. Although the battery is being charged, you will probably use it up. If your Deck is old, you could be consuming so much power that its battery level does not increase. When you aren't using your Steam Deck, you should turn off the screen and close any background apps. In the event that you download large files, movies, or app updates, your Deck's battery will be drained much more quickly.
Fix 4: Ensure the Steam Deck Is Not Too Hot.
Getting your Deck too hot or too cold can interfere with the charging process. Valve says your Deck should not be hotter than 95 degrees Fahrenheit or colder than freezing.
To prevent overheating, charging may be delayed during periods of high temperature. You can prevent this from happening by avoiding places where the sun shines, parking your car, or keeping it near a heater or oven.
Fix 5: Plug Your Deck Into the Wall.
A computer will likely take longer to charge your Steam Deck than a mobile that is being charged wirelessly. In comparison with a wall outlet, a laptop's power output cannot be compared because a laptop's voltage and power output are different.
To charge your console, you must have your computer on (not in sleep mode). You should not multitask while your device is charging.
In addition, charging your Deck in your car may be slower. It depends on the car's model, its charging port's amperage capability, and how many amps it can produce. You should not use your vehicle as your primary charging source for your Deck, even though it is a good backup method.
Last but not least, are you charging your Deck with a power bank? Similarly, you may find that recharging your Deck takes longer.
Fix 6: Clean Your Deck's Charging Port.
There may be an underlying difficulty with the charging port that may be causing the device to charge slowly. Using your Deck often (especially while eating) and carrying it in your backpack may have allowed dust, dirt, and crumbs to enter the port. It may be enough to blow into a port to clean it.
Cleaning out a filthy charging port with compressed air can be done with a can of compressed air. Keep needles and toothpicks out of the port to prevent damaging the pins or worsening the situation. Any sticky substance, such as juice, soda, or another sticky substance, can be cleaned out of a port with a Q-tip soaked in water or alcohol.
Fix 7: Restart or Reset Your Steam Deck.
It is possible that restarting the computer will fix the problem, especially if the error is related to a background download or a software error.
In cases where the problem is software-related, it may be possible to fix your Deck by resetting it to factory settings. Before doing a factory reset, make sure you back up your data before doing so in case you lose some downloaded files.
From Author's Desk
So, that's how you can fix the Slow Charging Warning on Steam Deck. We hope that this guide has helped you. Meanwhile, in case you have any other recommendations or suggestions for us, comment below and let us know.