It's been exactly one year and a few months since Valve released Steam Deck. The portable gaming computer was updated monthly with new features and interface tweaks during that period. With its great game selection and impressive performance, this little PC keeps improving. But, after the recent patch update, some users started reporting that they are facing connectivity issues as the Steam Deck ethernet is not working. That's why our team decided to bring up an article to help you resolve this error. However, this article has mentioned all the needy fixes that can potentially resolve the ethernet issue. So, now without wasting more time, let's start with the guide.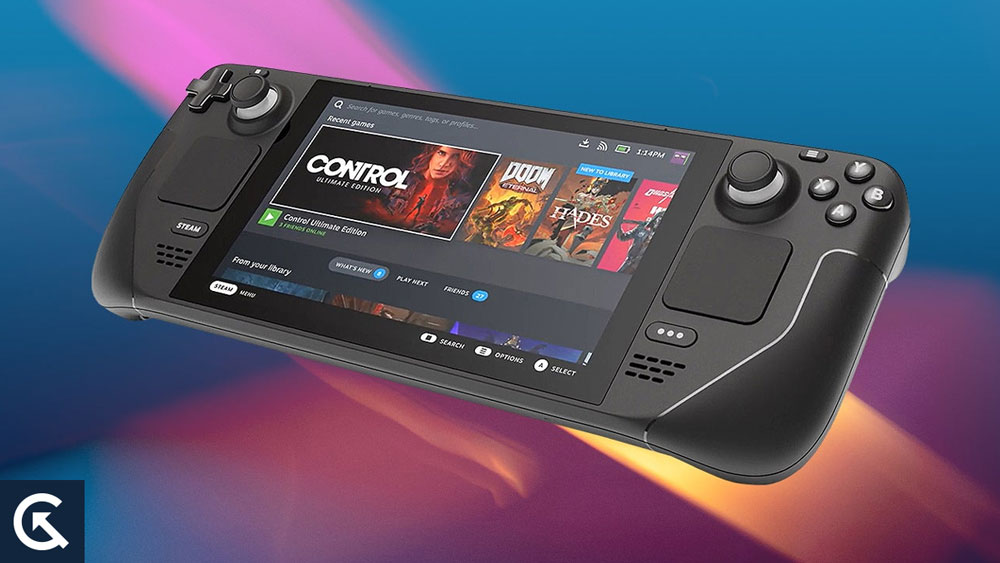 What Are The Reason Behind This Issue?
An Ethernet port allows users to connect to the Internet using an ethernet cable. Therefore, if it stops working, it might be really frustrating for the users who always use Ethernet to connect their Steam Deck to the internet. So, before we start with the fixes, it is important to know what are the reasons why Steam Deck ethernet is not working. Here are a few of them:
There might be a Driver issue.

The ethernet cable you are using might have any defect.

Wrong network configuration.

Hardware issues
How to Fix Steam Deck Ethernet Not Working
If you are facing the Steam Deck Ethernet not working issue while trying to connect it to the internet, then you are in the right place as here we have mentioned some of the best fixes that will help you resolve them the problem. So, let's get started with them:
Fix 1: Restart Your Device
If you have still not restarted your Steam Deck, then as a first method to fix the issue, we recommend you try rebooting your Steam Deck and check whether the Ethernet not working issue gets resolved or not. However, many other users have recently reported that this helped them resolve this error. Therefore, it will surely work for you as well. But, suppose it is still not working even after restarting your device, we recommend you try the other fixes mentioned below.
Fix 2: Check Your Network Connection
You should check the internet connection of your Steam Deck if it is not connected to the internet. To see if the Ethernet not working issue still appears, connect the device directly to your modem or router with an Ethernet cable. If so, there are possibilities that something may be wrong with your network configuration. However, users have been reported to have had better success connecting to Steam Decks over Ethernet instead of WiFi.
Fix 3: Change Channel on Your Router
Users experiencing Steam Deck Ethernet not working have tested and recommended changing the channel on their router. It is possible to improve your router performance by following this process in areas where your router's frequencies are low.
Here are the steps you need to follow to change your router's channel:
Initially, go to a browser and log in to your router's admin page.

After that, change the wireless band to either 3GHz or 5GHz.

Then, select the Wireless Settings.

Afterwards, a drop-down menu will appear. From there, click on the Saver to create a new channel.

Now, close it and reboot your router. Then, again try connecting your Steam Deck using an Ethernet cable to verify whether the issue gets resolved.
Fix 4: Check the Ethernet Cable And Port
Your Ethernet connection to your Steam Deck or router may be loose if you see the No Internet access message. Ensure that the Steam Deck's cable is disconnected from the router's port and the Steam Deck. Once the cable is firmly connected, reconnect it and listen for a click sound.
It is possible to connect multiple devices to your router. You connect your router to your modem using the Internet port. It is important to ensure the cable you are using is connected to the Ethernet port, not the Internet port.
If you are having trouble connecting, try using a different Ethernet cable. By doing this, you can determine if your cable has a problem or if it is something else. To get the most out of your wired connection, check out our guide to choosing an Ethernet cable. You may also need to switch your router's Ethernet port. It may be that your port is faulty, so it needs to be fixed.
Fix 5: Rollback to Previous Firmware
Steam Deck users experience many issues after the latest update, so if the methods above do not work, roll back to the previous firmware. Moreover, reinstalling the latest update can sometimes fix these bugs in the Steam Deck because the system files can get corrupted.
You can download the Steam deck recovery image from the Steam support page and use the USB port to back up the deck.

Once the Steam Deck is restarted, open the boot menu and roll back to the previous update.

Then restart the device until it returns to the home screen (it may take a while).
Fix 6: Try WiFi
If you cannot use the ethernet connection on your Steam Deck, we recommend you try connecting to the wireless network or change the network. Therefore, if you want to fix this error, try it out and let us know if it helps.
Fix 7: Contact Steam Deck
Steam Deck users who still experience Ethernet not working or disconnections after performing the above fixes and forcing an update should contact them and request repairs. So, if you know someone still facing this problem, contact the Steam Deck officials and let them know what you are facing by explaining it to them. They will further surely help you resolve this problem.
So, that's all we have for you on how to fix the Steam Deck ethernet not working issue. We hope that this guide has helped you. Now, in case you need more info regarding this particular issue, comment below and let us know.