For many, Steam Deck has quickly become one of the most promising handheld gaming devices. With its unique ability to play highly graphic-intensive games, many users are enjoying games that they could enjoy before. And on the top, Steam does support heavy games that were first intended to be played on PC. But Steam Deck comes with a slow download problem, restricting users from downloading games at a very slow speed.
Some of the games may take up to several hours to download and install. So it becomes crucial to fix the Steam Deck slow download speed that most users are currently facing. Thankfully there are a couple of troubleshooting methods that can help you boost the download speed on your Steam Deck by a whopping 200%. Read the complete article to know more.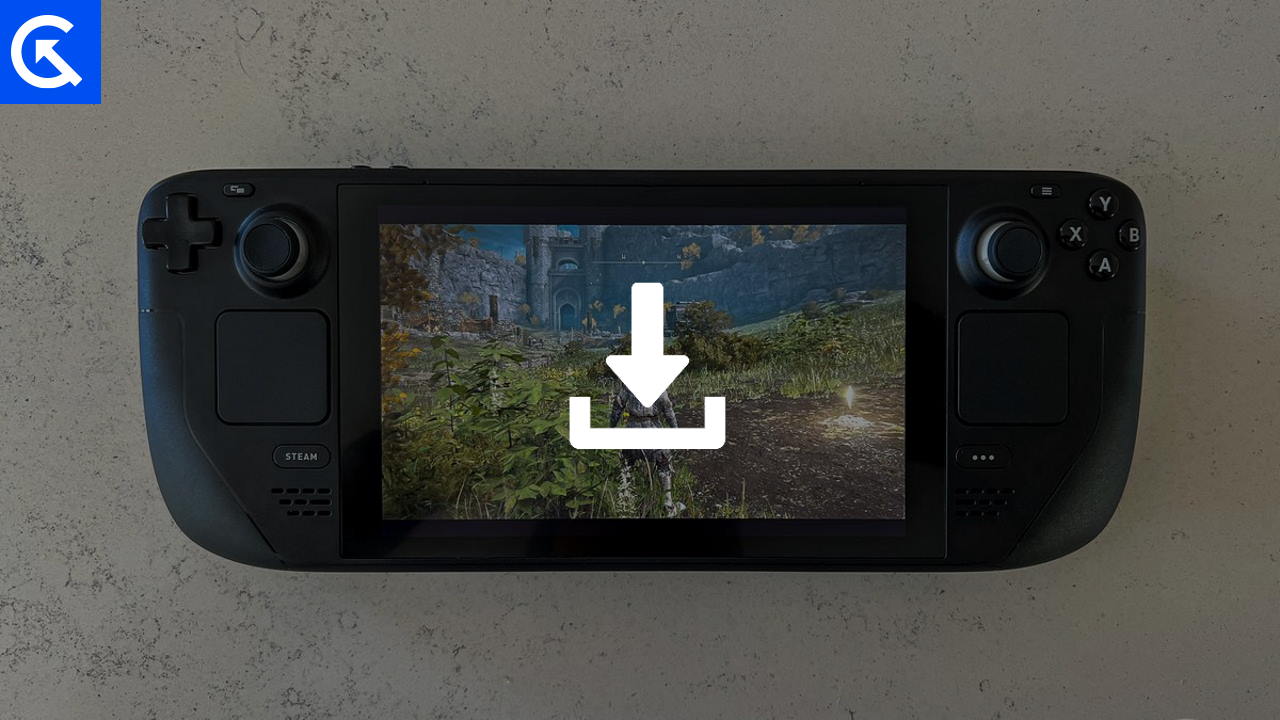 How to Fix Steam Deck Slow Download
As the Steam Deck is getting popular, more and more players are eager to try out new games on the device. But the download speeds are slower on the device even if you are connected with a 5G-enabled Wifi router. Many users suspect that the downloading server is slow, but that isn't true. Below are some troubleshooting steps to increase the download speed of games and other files on your Stem Deck.
Method 1: Restart Steam Deck
In most cases, the download speed on your Steam Deck is slow because you are downloading multiple games simultaneously, clogging up the RAM and other CPU resources. Sometimes downloading the games can create unnecessary big cache files, which can in turn, make the downloads to slow down a lot. So restart your Steam Deck and see if this helps.
Method 2: Check Internet Plan
Most users have run their devices on a basic internet plan which is suitable for basic web browsing and video streaming. In most cases, your wifi plan or internet plan does not support a high-speed download facility. Please connect with your Internet Service Provider (ISP) and upgrade the internet plan if needed.
Method 3: Pause Multiple Downloads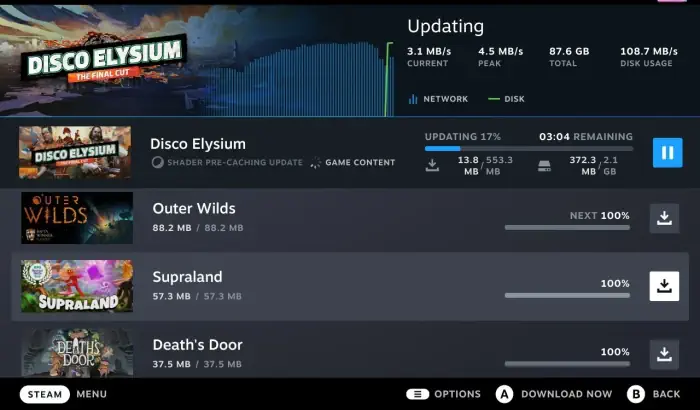 Steam Deck some with gazillions of options for games to choose from, and that can be overwhelming at times. Because of this, many players try to download multiple games at the same time, which drastically reduces the download speed.
If you want to download multiple games, then make sure you have paused other game downloads until one is completely finished. In this way, you will be able to enjoy superfast download speeds on your Steam Deck.
Method 4: Switch to 5GHz Wifi Router
Steam Deck was designed to operate on a super speed, low latency network, and 5G-enabled Wifi is the best for this purpose. The good news is that most routers do support 5GHz Wifi bands which offer superior download speed and low latency.
Please connect with your Internet Service Provider to configure your Wifi router to work on the 5GHz band instead of the traditional 2.4GHz band. Once you upgrade, you definitely will see an increase in internet speed.
Method 5: Configure Steam Deck Bandwidth
Steam Deck has a big community that constantly keeps experimenting on the device to unlock its potential. One such trick has been posted by a Reddit user – Gawdamn69, which increases the download speed from just 20 megabits per second to 650. Here are the steps to do so:
Open the Settings app and navigate to the Downloads Section.
Here first select your Download region. Make sure to choose the closest to your current location.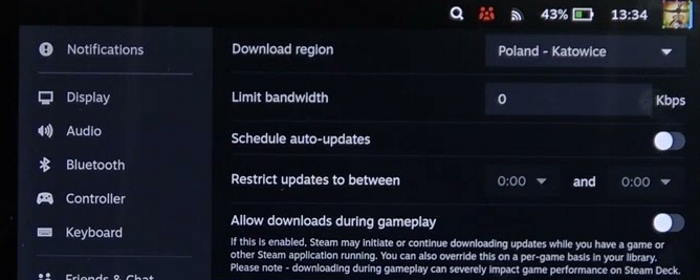 Then, on the limit bandwidth section, increase it from 0 to 100000 Kbps.
Save the settings and restart your Steam Deck.
Method 6: Disable Wi-Fi Power Saving Mode
Just like all smart devices, Steam Deck comes with Wifi power saving mode which is enabled by default. This is to extend the battery life while you play your favorite games, but it also limits the download speed for all the games and other files. Follow the steps below to disable the Wifi power-saving mode on Steam Deck:
Open the Settings app and navigate to Developer mode.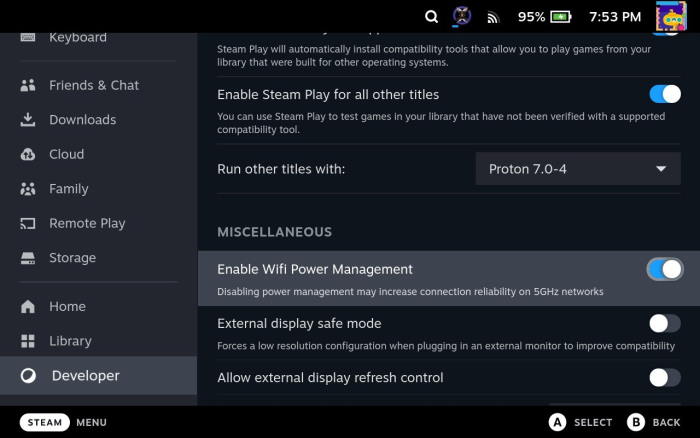 Here scroll down and disable the "Enable Wifi Power Management" mode.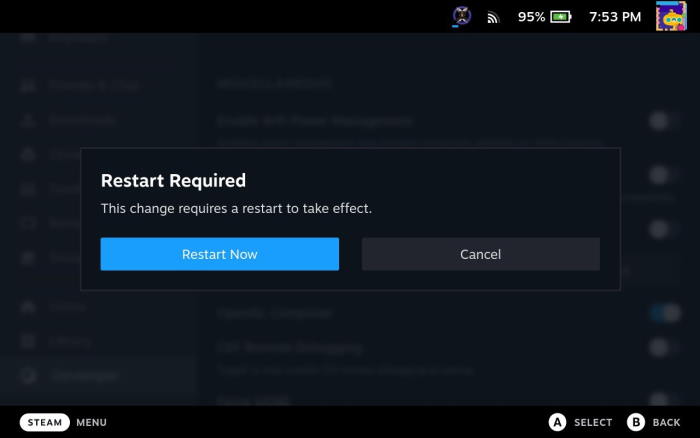 Now restart your Steam Deck to see if the download speeds are increased.
Method 7: Try Mobile Hotspot
Are the above methods not helping much with Steam Deck slow download speeds? Don't worry, as you can always try to change the network to your Mobile hotspot and see how it works.
In most cases, cellular networks tend to be fast for over-the-air downloads. Make sure you use the mobile hotspot just to check the internet speeds, as mobile hotspots can be extremely costly when used continuously.
Method 8: Manage Deck Storage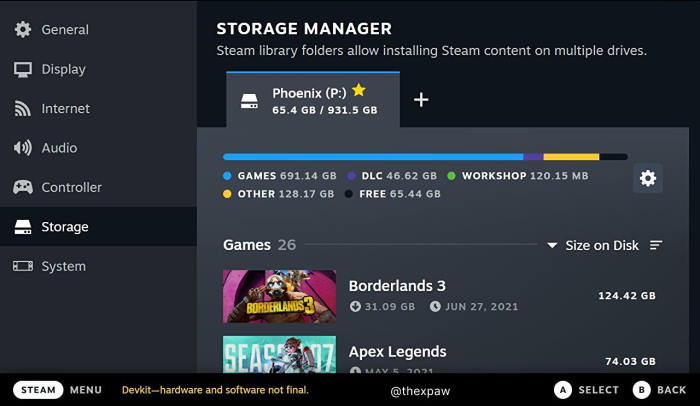 Many users don't realize this, but having less free space on your Steam Deck will ultimately slow down and downloads that you currently have. This is because the system does need some free space to carry out its normal functions. So make sure you visit the storage settings and delete some of the games and other fields, and free up some space.
Method 9: Upgrade SD Card
Many people don't realize that if they are using an old or cheap SD card, the download speed will always be slow. This is because such cheap and after-market SD cards are class 3 or class 4 SD cards and offer very slow writing and reading speeds.
If none of the above methods helps you to fix the download speed on your Steam Deck, the SD card itself may be the problem. So please upgrade your SD card to a class 10 SD card and then check for download speeds.
Method 10: Contact Steam Deck Customer Support
If none of the above methods help you out, then there are chances that the hardware itself has flaws. Since Wifi is majorly dependent on the Wifi chip that is installed inside your Steam deck. It is possible that the chip is malfunctioned or faulty in nature. If this is the case, please connect with customer support to fix the same.
Conclusion
This brings us to the end of this guide for fixing Steam Deck Slow Download speeds for games and other files. Please note that the download speed majorly depends on the internet plan that you currently have purchased from your ISP. Before following any of the troubleshooting methods above, make sure you have access to high speed internet.