With Steam, online PC gaming has become easier as it enables easy chatting between friends and groups. So, you can take the conversation to the next level with videos, tweets, gifs, and more with the Steam app. Therefore, you will always know who is playing, so you will not miss any opportunities. However, in a recent update, users get Steam's new library.
Moreover, exploring, sorting, hiding, and featuring games are quick and easy. So, now organize your library on the fly by dragging and dropping games into collections. But the new update also comes with a few glitches. That's right! Steam users have reported receiving a black screen whenever they try to access the Steam Library.
It doesn't seem to be an issue since the developer said they are working on it, and a patch update will soon be released. Is there anything you can do until then? You need to follow the fixes below to fix the Steam Library black screen issue.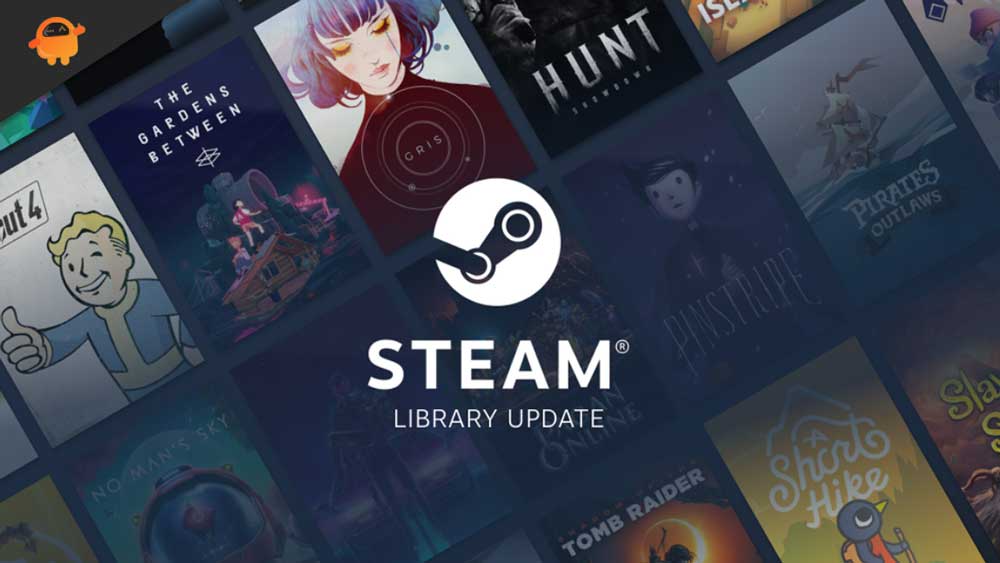 How to Fix Steam Library Black Screen Issue
We have already stated that developers have already started working on this error; therefore, there is nothing to worry about now. But still, you can follow these methods to resolve the issue temporarily:
Fix 1: Reboot Your Device
A restart may resolve background processes slowing down your computer, shut down browsers that are taking up too much memory, and reconnect your device to Wi-Fi networks that are being distorted. In addition, restarting your computer if you have been experiencing performance issues to keep it running efficiently is often helpful.
Keeping your PC running at maximum capacity means clearing up temporary files and processes, flushing the RAM, and flushing the disk. Therefore, if you are experiencing the black screen of Death error in Steam Library, your device may need rebooted to resolve the problem. If this works, let us know.
Fix 2: Run The Steam As Administrator
When apps are run as administrators in Windows, they have additional privileges. Therefore, by granting your Steam access to the registry, they can modify system files and access other usually restricted folders.
However, occasionally, certain programs require you to run them in administrator mode each time you run them. So, these steps can be used from the desktop to start an application with elevated privileges:
You can

right-click

your Steam icon on your desktop to open the context menu when you've found the file.

Then, click on

Properties

and select

Compatibility

.

Make sure that the

Run this program as an administrator

option is selected.

Once you have clicked,

Apply

and

OK buttons

, you can apply this setting to your device.
Fix 3: Disable The Antivirus
You're right; it will. While you run a full scan, it is possible that it will slow the computer down quite a bit. The scan will slow each file's access by a small amount if it's just on-access. However, most of the time, it won't matter.
But, the problem might be discernible on a slower computer or at a time when a program needs to access a lot of small files very quickly. So, if you have enabled real-time protection, then make sure to disable it. Otherwise, it runs in the background and scans every file that you try to access.
The first step is to type in "

Windows Security

" in the Start menu to find this app.

When the search results appear, select

Windows Security

.

Navigate to the

Virus & Threat Protection

tab.

Next, click

Manage settings

under Virus & Threat Protection.

Make sure

Real-time protection

is turned off.
Fix 4: Check If Steam Has Any Pending Updates
Bug fixes are the main reason why Steam needs to be updated so frequently. Despite the frustration of waiting for the games and website to update, it will be well worth it in the end to have a working system.
When you launch Steam, you actually launch the Updating Steam window, which can check for and install updates, verify Steam's installation, and then launch the game. But, in case you want to make sure that your Steam is running on the latest version, make sure to follow these steps:
Initially, open the Steam client and hover to the

File

option.

Then, hit the

Check For Steam Client Update

. This will help you to check if you have the most recent Steam build.
Fix 5: Delete The Steam Files
If you are still getting the same error with your Steam Library, then try clearing the cache file of your Steam client app, as this has the potential to resolve this kind of issue. Meanwhile, in case you don't know how to do it, simply follow these steps:
Start Steam.

Now, select "

Settings

" under the "

Steam

" menu.

Then, click "

Downloads

" in the left-hand sidebar.

Clear your download cache by clicking the "

Clear Download Cache

" button.
You're done. Steam will log you out during this process, so you'll have to log in again if you wish to play games. There is no guarantee that clearing the download cache will fix every problem, but it is usually a good place to start.
Fix 6: Update Your OS
Having an updated OS allows your machine to run the most modern and innovative applications. We do not mean to imply that you should adopt the new operating system before anybody else does, but keeping your OS up-to-date will also ensure that you can open files that other people send you. So, it is better to regularly check for system OS updates by using these steps:
Initially, select Settings by

right-clicking

on the Start button.

Check the left-hand list in the

Settings

menu.

The last option would be

Windows Update

. Click that.

That's it. Now, simply hit the

Check for updates

on the right pane to manually run Windows updates.
Fix 7: Check The Servers
Chances are there that your Steam servers may not be working or is under maintenance, due to which you are receiving a black screen issue whenever you try to access the Steam Library.
Therefore, we suggest you to hover to the DownDetector and check if there are other peoples who have reported the same issue or you are the only one. Also, make sure to follow the Steam officials on Twitter as they keep their users updated about the ongoing issues, events, etc., using their official Twitter handle.
Fix 8: Close The Background Processes
In fact, some applications just run in the background and consume much of the PC's power and resources. This can be convenient because it can help you quickly access these apps, but it can also bring down the system's performance. It will also affect your system performance, preventing the main application from functioning correctly. So, it would be best if you closed the background processes on your Windows PC using these steps:
Initially, right-click the

Taskbar

and click on

Task Manager

.

Then, hover over to the

Processes

tab.

After that, select the programs you think might be why you are getting this error.

Then, hit the

End Task

button.
Fix 9: Update GPU Driver
For the same reasons that you update your windows, you should also update your graphics card drivers. It is always advisable to update GPU drivers if you wish to get the best performance out of these applications when it comes to PC games. It is not insignificant that these optimizations can sometimes provide double-digit percentage improvements. Also, an older GPU driver may be the reason why you are getting the Steam Library black screen issue. Therefore, it is very crucial to keep your GPU driver updated using these steps:
By pressing the

Win+R

keyboard shortcut, you will open the Run box.

Type in "

devmgmt

" and search for it.

You can view your graphics card's properties by right-clicking it under "

Display adapters

." Then, hit the "

Update Driver

."

Finally, follow the on-instructions on the screen to install the latest GPU driver.
Fix 10: Reinstall The Steam
If nothing helps you fix the Steam Library black screen issue, then chances are there that your Steam installation files may be corrupted, due to which you are getting this issue. Therefore, it is better to reinstall the Steam client on your Windows PC using these steps:
Visit the

Steam website

.

Download Steam for Windows 11/10.

After that, run the installer file by double-clicking on it.

A wizard will help you install the Steam Client on your computer. Then, follow the instructions to install Steam on your computer.
Fix 11: Contact To Steam Officials
Unfortunately, if none of the above-mentioned methods has helped you, then contacting the official support team will be the right option. However, to do so, you can simply write up an email and send it to support@steampowered.com.
We've covered everything you need to know about resolving the Steam Library black screen issue on Windows PC. We hope that this guide has helped you. But, in case you need more help regarding this topic, comment below and let us know.