If you're one of the biggest fans of online battle royale games that offers realistic gameplay and fun to explore then the PUBG competition has just arrived called 'Super People'. WONDER PEOPLE has recently released a next-gen battle royale shooter game that will revolutionize the genre with super-soldiers and unique skills. However, multiple reports are coming that the Super People game FPS Drops Badly and they're eager to know How to Boost Performance.
As the title is new in the market for Microsoft Windows and currently running in the early access mode, there is no proper review or rating available yet on Steam. But it seems that plenty of affected players have started reporting to the online forums that the game has a significant amount of frame rate drops. It can eventually trigger game running issues and lags whatsoever. Now, if you're also facing the same issue then make sure to follow this guide to fix it.
Super People FPS Drops Badly, How to Boost Performance?
Currently, the game is free-to-play and all the interested players can simply join into the early access platform via Steam. So, we can expect that the developers will come out with more fixes and improvements to the title in the near future. Meanwhile, the chances are high enough that the Super People players can encounter multiple issues with the game running due to the FPS drop and low performance depending on the PC configuration.
It may even be possible that you have a low-end PC that is really facing hard times to deliver the optimal performance in this game with higher graphics settings and some other in-game tweaks. So, it's recommended to check for the steps below and try increasing the performance for sure.
1. Adjust Graphics Settings
You should adjust the in-game graphics settings by following the steps below to check whether reducing the graphics options help you or not. Keep in mind that the graphics adjustments and the performance improvement will fully depend on what PC configuration you're using. If you're using a low-end PC then set graphics options to low or turn off. If you're having a powerful rig, try adjusting graphics options to medium or high accordingly.
Launch the Super People game via Steam.
Go to the Settings menu (cogwheel icon at the top right corner).
Click on Graphics > Here you'll have to adjust the options as mentioned below to try out the performance.

Display mode – Full Screen
Maximum Frame Rate Limit – 60 FPS
Vertical Sync – Disable
Smooth Frame Rate – Disable
NVIDIA Reflex Low Latency – Enable both
FPP Mode FOV – 80 to 90
Overall Graphics Quality – Very Low
Textures – Medium or High
Shadows – Very Low
View Distance – Medium
Foliage – Low
Effects – Very Low
Shader – Low
Anti-aliasing – Medium
Post Processing – Very Low
Depth of Field – Disable
AMD FidelityFX SR – Set according to your choice
NVIDIA DLSS – Balanced
2. Update Graphics Drivers
It's always required to update graphics drivers on your Windows system to run all the programs smoothly. To do this:
Right-click on the Start Menu to open up the Quick Access Menu.
Click on Device Manager from the list.
Now, double-click on the Display adapters category to expand the list.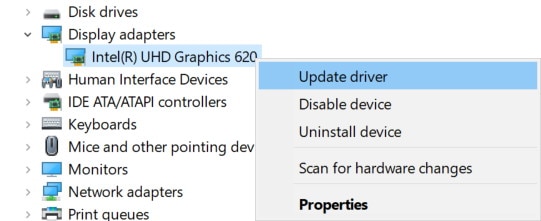 Then right-click on the dedicated graphics card name.
Select Update driver > Choose Search automatically for drivers.
If there is an update available, it'll automatically download and install the latest version.
Once done, make sure to reboot your computer to change effects.
Meanwhile, you can also manually download and install the latest graphics driver on the PC depending on the GPU model. Nvidia graphics card users can update the GeForce Experience app via the Nvidia official site and AMD graphics card users can visit the AMD website to do the same.
3. Update Super People
If you haven't updated your SUPER PEOPLE game for a while then the chances are high that there is a new update available and you're still running the older or buggy build. It'll eventually conflict with the system performance and create lags, stutters, frame drops, etc. Make sure to update the Super People game on the Steam client to check for the issue. To do this:
Open the Steam client > Go to Library > Click on SUPER PEOPLE from the left pane.
It'll automatically search for the available update. If there is an update available, make sure to click on Update.
It may take some time to install the update > Once done, make sure to close the Steam client.
Finally, reboot your PC to apply changes, and then try launching the game again.
4. Adjust Nvidia Control Panel Settings
Make sure to adjust the graphics filtering and FPS count in the Nvidia Control Panel program on the PC to improve the in-game performance. Obviously, if you're using an Nvidia graphics card then this method will be applicable. For AMD graphics card users, skip to the next method.
Open Nvidia Control Panel > Head over to 3D Settings.
Click on Manage 3D settings > Select Program Settings.
Now, click on the Add button > Select SUPER PEOPLE.
Click on Add Selected Program > Set Power management mode to 'Prefer maximum performance'.
Next, make sure to set Texture filtering – Quality to 'High Performance'.
Once done, click on Apply to save changes > Then launch the game and press Esc.
Go to the in-game Settings menu > Click on Graphics.
Set Display Mode to 'Full Screen' > Keep in mind that you have set Maximum Frame Rate Limit to 60 FPS.
Now, set NVIDIA Reflex Low Latency to 'Enable both'.
Finally, click on Apply and restart the Super People game to check for the issue.
5. Adjust AMD Radeon Settings
If in case, you're using the AMD graphics card then make sure to follow the steps below to check for the issue. To do so:
Exit the Super People game (if it's already running). Press the Ctrl+Shift+Esc keys to open Task Manager.

Now, click on the Processes tab > Click on the Super People or Steam task from the list.
Then click on End Task to close the process completely.

Now, open AMD Radeon Software by right-clicking on the desktop screen and selecting it.
Click on the Gaming tab > Select Super People.
Make sure to turn on Radeon Anti-Lag > Disable Radeon Chill.
You can also disable Enhanced Sync > Set the Wait for Vertical Refresh option to Always off.
Click on the Advanced option > Set the Texture Filtering Quality to 'Performance'.
Once all is done, close the AMD Radeon window > Reboot the game to check for the FPS Drops issue.
6. Close Background Running Tasks
Unnecessary background running tasks or programs can eat up a lot of system resources like CPU or Memory usage that literally reduces system performance. Hence, the startup crashing, lagging, not loading issues appear quite often. Simply, close all the unnecessary background running tasks completely. To do this:
Press Ctrl + Shift + Esc keys to open up the Task Manager.
Now, click on the Processes tab > Click to select tasks that are unnecessarily running in the background and consuming enough system resources.
Click on End Task to close it one by one.
Once done, restart your system.
This is how you can easily play Super People and boost the performance or FPS even on your low-end PC.
That's it, guys. We hope this guide was helpful to you. For further queries, you can comment below.