Online Ticket booking services have seen a boom in recent times as they enable us to easily book tickets from our homes. These services also support many payment options that allow us flexibility in payments. Ticketmaster is one of those ticket booking services based in the USA. They have many users as they deal in ticket bookings for concerts, sports, theatre and more. As more people use the services daily, these services also run out sometimes. Just like that, an error in Ticketmaster is faced by the customers as Ticketmaster Error Code 0002 says, "Sorry, we could not process your request, please try again later" when they are looking to buy tickets.
As we can not live without these online services, we have to look for some ways to fix the problems until the brand finally looks into them. In this article, we will discuss how to fix Ticketmaster Error Code 0002 that we are facing. But before we jump into the solutions, let's have a look at which problems can cause the issue for the users.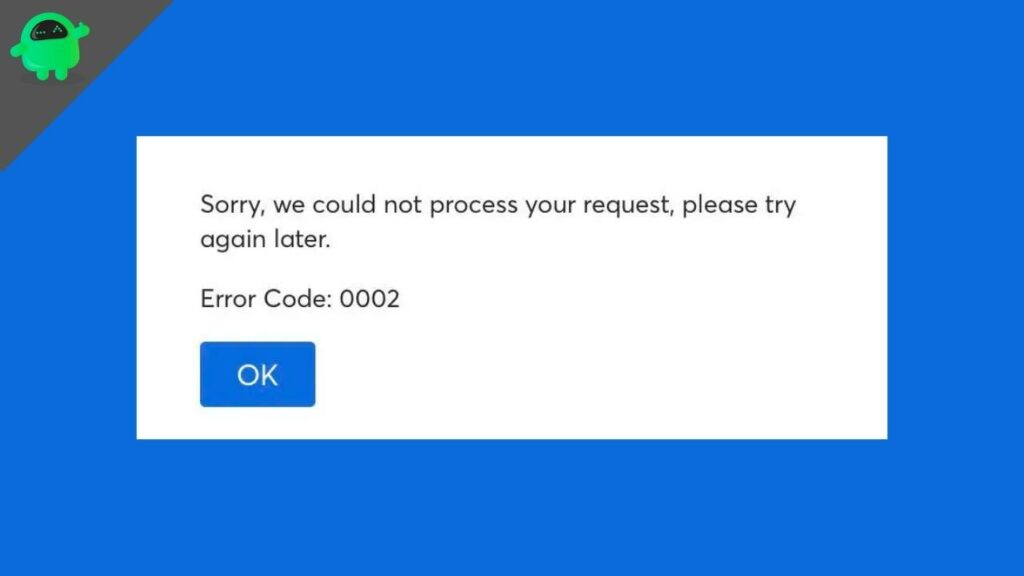 Why Are Users Facing Ticketmaster Error Code 0002?
Ticketmaster is a huge company that runs via its different applications, but mostly through its website; there can be many possible reasons that can cause the Ticketmaster Error Code 0002 to happen. Apart from the downtimes of its services, there might be some bugs in your browser or your network that might cause the issue. Here we have listed some possible issues that might cause the issue with Ticketmaster:
Restricted network connection.
Unused buggy cookies or caches in the browser.
Network connected via VPN services.
The Ticketmaster server is facing downtime.
These are some possible reasons that can cause the issue with Ticketmaster. But, you need not worry as these are mostly basic problems and can easily be fixed.
Possible Solutions For Ticketmaster Error Code 0002
As we have discussed the possible problems that are causing the problem, here are some possible solutions that can be followed to fix the issue:
Change your network connection.
Clear your browsing history or use a different browser.
Disable any kind of proxy or VPN connection.
Check if Ticketmaster is facing any downtime or not.
As we have discussed the possible solutions for the problems, let's now talk about the detailed solutions to these issues and some other issues to fix the issue with ease.
How to Fix Ticketmaster Error Code 0002?
In this section, we will be discussing the step-by-step procedure for the solutions mentioned above. Try to follow the steps to avoid any errors.
Fix 1: Change your WiFi or wired connection.
Many organizations like schools, offices, clubs, etc., use a firewall on their network that disables the users' access to some unwanted websites by the organization. This is similar to parental control that we use on our home networks. As a result, websites like Ticketmaster can be blocked by the organization, disabling your access to the same. In these cases, the best way to access the Ticketmaster website is to use some other network, preferably your personal hotspot connection, as public networks are easy to hack into your system.
If changing the network connection does not fix the issue, you can follow the next procedure.
As we all know that caches and cookies are used to store our information in the browser, they are quite helpful in many cases. However, there might be chances where some websites' cache might contain bugs, which can cause the whole system to face other problems too. The best way to overcome this issue is to clear your browsing history. Here are the procedures to clear browsing history in different browsers:
Clear Chrome Browing History
Click on the vertical three-dot icon on the top right.
Now click on Settings. A new page should open.
Now click on Privacy and Security on the left pane.
Now click on Clear browsing data. A popup should appear.
In the popup, select the time range and click on clear data.
Clear Firefox Browing History
Click on the hamburger icon on the top right.
Now click on Settings.
Now click on Privacy and Security on the left pane.
Now find Cookies and Site Data and click the button that says Clear Data.
A popup will appear. Click on Clear.
After it is done, find History and click on Clear History.
Finally, select the time range and click Ok.
Clear Safari Browing History
Click on the text Safari in the Menu bar.
You will see an option as Clear history. Click on that.
Now select the time range and click Clear History.
Fix 3: Disable any VPN connection
Many of us tend to use VPN software to access some websites that are not accessible in our region. Although most websites support the use of VPN and open without any problems, a few can have some issues with them. There can also be a possibility that using a VPN can prevent your access to Ticketmaster. In this case, try to disconnect your VPN connection and try to open the website, and check if the issue persists or not.
Fix 4: Re-login to your Ticketmaster account
Although clearing your browsing history will log you out of any websites and even can fix the issue, if it does not with your browser, you should try to log out and log in to your account. As these websites use tokens for authorization, an incomplete token can sometimes cause issues like the Ticketmaster Error Code 0002. The best way to overcome this issue is to log out of your account as this will clear all the tokens and re-login to your account to start over with the authorization.
Fix 5: Check if Ticketmaster Server is down
If any of the fixes did not work for you, there might be a possibility that the Ticketmaster server is down. If you have tried all of the fixes and still the issue persists for you, try visiting Downdetector and check for any possibilities of server failure with Ticketmaster.
Fix 6: Try using Ticketmaster mobile apps.
Apart from its website, Ticketmaster also has Android and iOS apps that might save you when you cannot use its website. Simply download Ticketmaster from Android Play Store or Apple App Store and try to book tickets using the apps.
Download Ticketmaster for Android
Final Thoughts
We have discussed both the possibilities and solutions for the Ticketmaster Error Code 0002 says that the users are facing right now. As these companies face downtime sometimes, it has been seen that their services get stopped, and many people face a lot of difficulties. We expect that the solutions will surely work for you. Still, if you face any problems, do let us know in the comments below. Also, if you have fixed the issue with other tricks, mention that and help others.