In our new generation, we don't keep a separate DSLR just to memorize the special moments in our life. We all have smartphones which have great cameras to capture the beauty of our memorable moments. Nowadays, many people rely on their smartphone to capture all the memorable moments of their life.
All smartphones come with a native camera application which is called a stock camera. This stock camera app has limited features. However, the stock camera app doesn't always help you to capture the perfect moment in your life. Luckily, we have a plethora of camera apps in the Google Play store. Today, we will look at the top camera applications which you must use to capture the best shots in your life.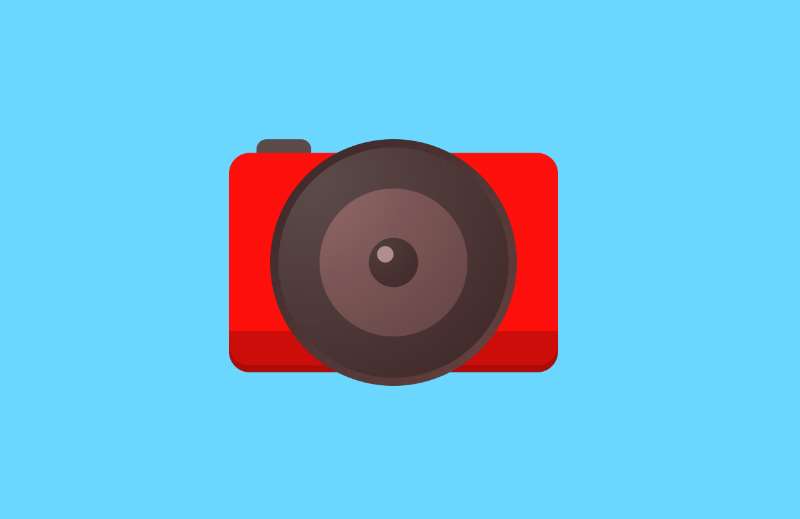 Top 10 Camera app for Android device
Using a custom camera application gives you the power to capture the moments according to your liking. There are many features which coms handy including filters, mirrors, fare burns, perspectives etc. There are a lot of camera applications which can help you to get the ultimate photographs. So without wasting any time, let's get to see the Top 10 camera apps for Android smartphones.
Camera MX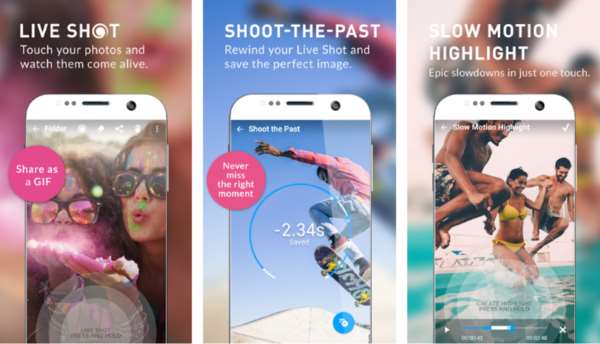 Camera MX is one of the oldest and most popular camera apps of all time. There are many features inbuilt along with many photo enhancing features. There's even a GIF mode so that you can share your pictures or videos as GIF. It is a fully featured camera app of 2019 with modern effects, filters, and stickers.
Also read: Facebook release simplified Messenger app
The best part about Camera MX is its customizability and easy to use interface. It even comes with a built-in photo editor bundle for all your photo editing needs. The user has complete control over resolution, focus, ISO settings etc. There is also a PRO model for pro users. So far, this is the best stock camera replacement app with all the features.
[googleplay url="https://play.google.com/store/apps/details?id=com.magix.camera_mx"]
ProCam 5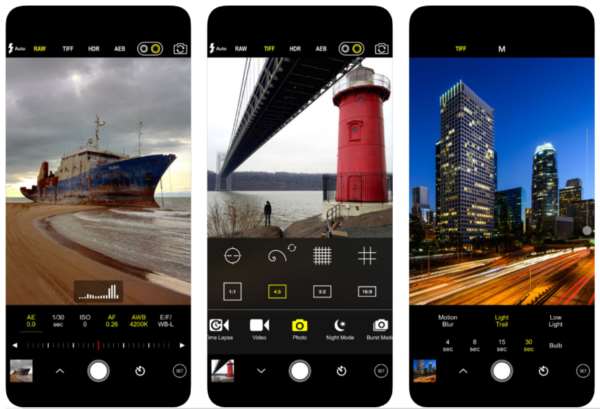 ProCam 5 is an allrounder camera ap for photographers. If you own an iPhone then this is the best app you can get for photography. There are a plethora of shooting options ranging from burst mode, portrait mode, 3D photos etc. You also get an option for night mode photography for shooting the best moments in low light solutions.
For people who like to shoot time-lapse and slo-mo videos should also check this app out. This app will cost you only $5 on the official App store. There are many pro shutter options including self-timer, anti-shake, interval shots and much more.
VSCO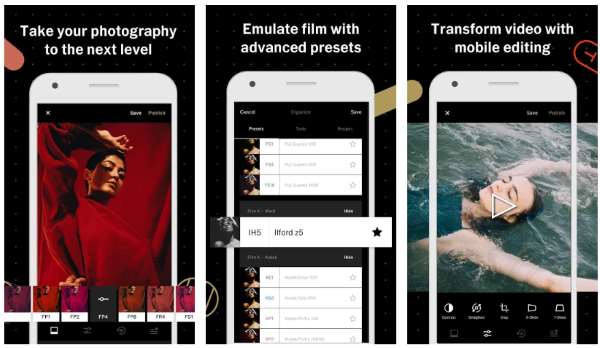 VSCO is a simple to use photo shooting application with plenty of interesting filters. If you like to use multiple filters for all your photos then you should definitely check this app out. There are plenty of filters and stickers for you to try. You can also randomize the filters on your wish.
Also read: WhatsApp is going to add sticker integration to Gboard
Another great thing about VSCO is that you can upload your pictures directly to your social media accounts. You can also save the pictures in high resolution as well. Apart from photos, you can also shoot quality videos and edit them inside the app. VSCO is a one-stop solution for all your photography needs.
[googleplay url="https://play.google.com/store/apps/details?id=com.vsco.cam"]
Halide- RAW Manual Camera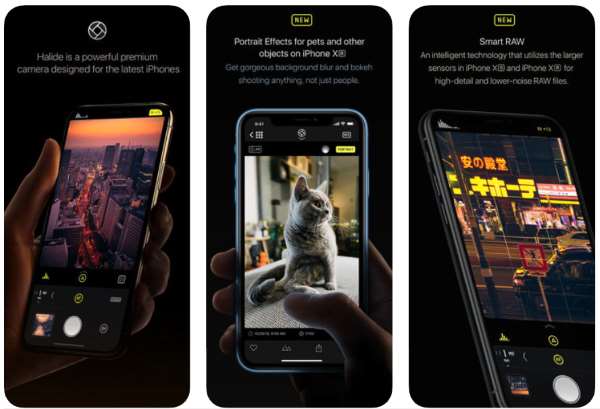 With all the features, third-party camera apps often lack a good user interface. This is where Halide – Raw Manual Camera comes into the picture. Halide comes with all the features along with a minimal app. It with all the modern features like RAW footage, Portrait mode, focus locking etc.
Halide is currently available only on App store for only $6. With the minimalistic design and tons of features, this is a great app for people who want to shoot amazing pictures.
Camera FV-5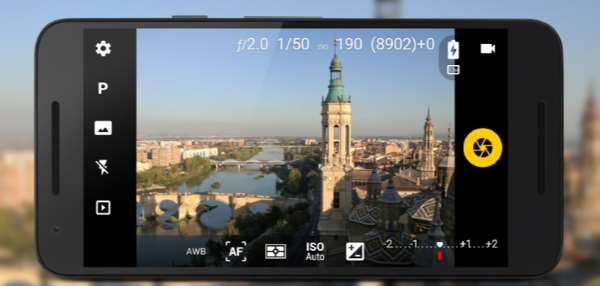 Camera FV-5 is a unique camera app for Android phones with plenty of modern features. You will get multiple pro-level features such as light trace mode manual focusing, shutter speed etc. Camera FV-5 is available both as a free and a paid version. Where free version has some limitations on pro features.
Also read: Facebook undercover meme hub project
If you like photography and are looking for a free app with plenty of features then you must check out Camera FV-5. It packs various settings and tool to step up your photography game. The free version itself has many manual controls for ISO, White balance, center tracking modes, manual focusing etc.
[googleplay url="https://play.google.com/store/apps/details?id=com.flavionet.android.camera.pro"]
Manual- Raw Custom Exposure Camera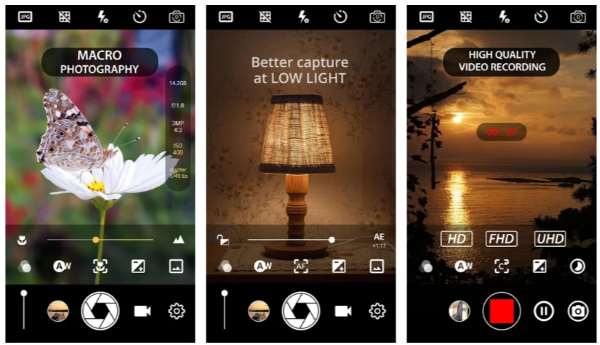 Manual camera is an advanced camera app for professionalists. You will get plenty of features which you can finetune to get the best picture ever. Manual Camera takes advantages of the direct camera controls from Camera2 API in the Android library. You will also get tons of customizing features such as manual exposure, shutter speeds, focus etc.
Manual Camera is just like a mini DSLR camera for your android device. The user interface for this app is quite simple and beginner friendly. However, to take the perfect shot, you need to manually adjust the settings. There is also a paid version for the app with better controls and more features.
[googleplay url="https://play.google.com/store/apps/details?id=com.lensesdev.manual.camera.professional"]
Camera Zoom FX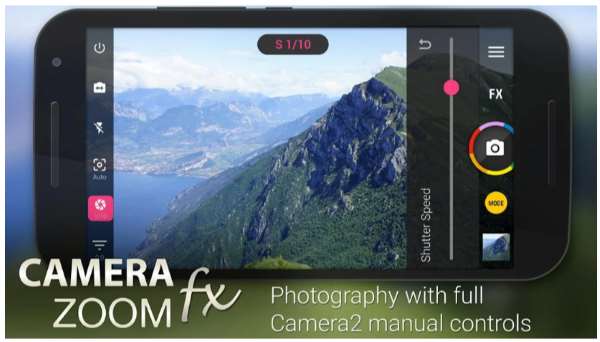 Camera Zoom FX is one of the best camera apps available for Android. It comes as a free as well as paid version. The free version has most of the features which you will require to take the perfect picture. There are different shot modes including burst, coordinated, voice-activated, unfaltering etc.
Camera Zoom FX also gives you manual controls such as ISO, HDR, immersion, overlays etc. You can also change shaders, undo tilt moves etc. The premium version of Camera Zoom FX comes with more advanced features such as combined shooting modes and RAW footage support.
[googleplay url="https://play.google.com/store/apps/details?id=slide.camZoomFree"]
Camera Plus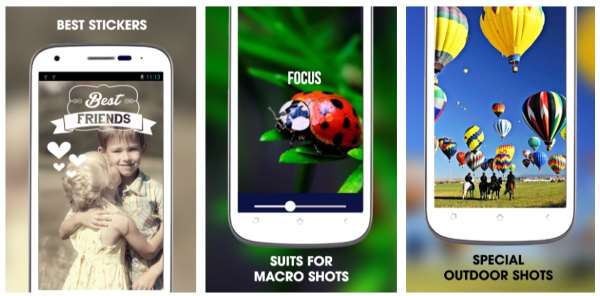 Camera Plus is a simple to use the app with plenty of filters and options. You will get three focus modes namely macro, normal and far. You can manually set the focus or use the inbuilt ambient lumpy slider to match the white balance according to your shot.
One great thing about Camera Plus is that it automatically suggests the shooting modes and enhances pictures accordingly. With one click tap, you can analyze subjects for color correction, lightening, mid tones, and high tones. Camera Plus is also equipped with inbuilt editing tools which makes it easier to doodle and edit your photos.
[googleplay url="https://play.google.com/store/apps/details?id=com.wisesharksoftware.Waterlogue"]
This is the end of our list of Top 10 Camera app for Android. So which one of these apps you use the most for your photography? Tell us in the comments down below.