Gaming Peripherals are the heart of hardcore gamers. Nowadays PC gaming industries are working hard to feed the PC gamers with their latest innovations and technology. There are many gaming experiences available in the market like Xbox, PlayStation but the craze for PC gaming is never dropped. There are many gamers who love to play the games on the PC. The gaming experience is made more fun and exciting by gaming peripherals. There are several gaming peripheral industries which try to give new and better technology to create gaming peripherals. There are so many brands which manufacture the gaming peripherals. Most of the manufacturers are from China. To get the better gaming experience one has to get the best peripheral.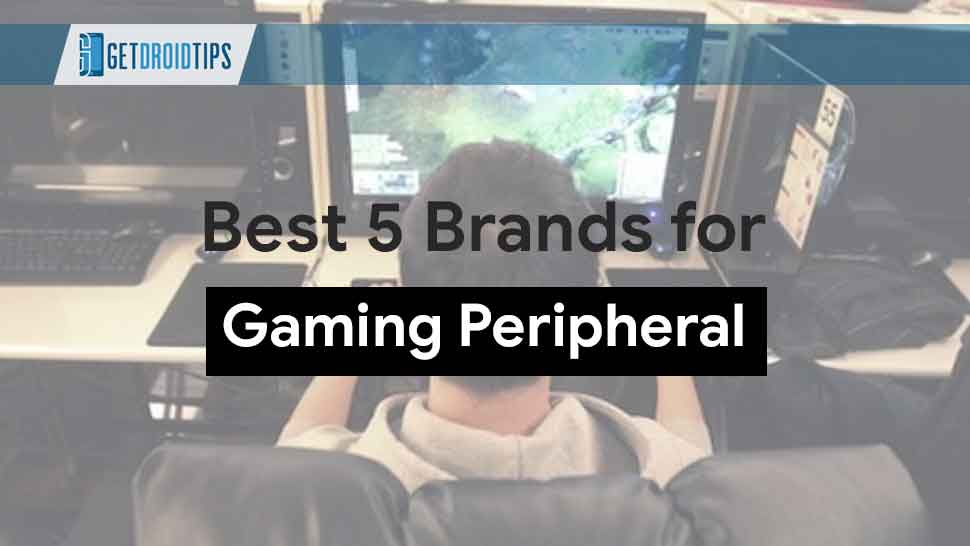 Top 5 Best Brands for Gaming Peripheral
Let's see the top 5 best brand for gaming peripherals.
Logitech
Logitech designs products that have an everyday place in people's lives. It designs personal peripherals to help people enjoy a better experience with the digital world. Logitech is best for the peripherals because of its support and cost-effective. Nowadays many companies lack in manufacturing the mechanical keyboards but Logitech is not one of those. They manufacture the best mechanical keyboard on the market. They always keep their product at reasonable price. In CES 2018 Logitech has launched 5 products. The gaming peripheral is Logitech G POWERPLAY Wireless Charging System and Logitech CRAFT Advanced Keyboard with Creative Input Dial are launched in CES 2018 by Logitech. Take a look at Logitech product at CES 2018.
Corsair
Corsair has grown from pioneering the high-performance DRAM market to one of the best computer peripherals maker. Corsair designs the best computer cases. I personally like Corsair cases because of its attractive design and built quality. They also design the best keyboards in the market. In addition, they design and sells a range of products for computers, including high-speed DRAM modules, ATX Power supplies, USB flash drives, memory and case cooling solutions. Now, Corsair has expanded their product line to include many types of high-end gaming peripherals, high-performance air and water cooling solutions for computer cases.
Razer
Razer is the world leader in high-performance gaming hardware, software, and systems. Their motto is for gamers by gamers. Razer is one of the world's most recognizable and best-performance gaming brands. Their products are generally targeted at gamers, including gaming laptop, gaming tablets, and PC peripherals such as a mouse, audio devices, keyboard, and gamepads. Most Razer products are named after venomous or predatory animals. The Razer Blade series is a series of gaming laptops which is most popular in gaming laptops category. They have launched the gaming phone called Razer phone which has the refresh rate of 120hz. This phone made a news on every corner of the world. At CES 2018 they have developed a laptop based on Razer phone.
SteelSeries
SteelSeries is a leading manufacturer of gaming peripherals and accessories, including headsets, keyboards, and mouse. SteelSeries supports a number of electronic sports teams and individuals through sponsorship and community support. They are a world leader in gaming headphones. Now they have developed a new wireless headphone called Arctic Pro Wireless which is extremely great and got so wired magazine awards which are famous for headphone award category
Cooler Master
Cooler Master is a computer hardware manufacturer which produces a component for a personal computer such as computer chassis, PSU, cooler, cooling pads, and other accessories. Cooler Master is also cooling solution OEM vendors for different brand names of computer industry including NVIDIA (VGA Coolers), AMD (CPU Coolers), and EVGA (Motherboard heatsinks). In recent years the company expanded its operation and brand exposure into gaming communities. Cooler Master Chassis are beautifully designed to attract anyone. Many gamers like the chassis design of Cooler Master which has so many options i.e., heatsink fans, water tubes, cooling cables, and led lights which make the Cooler Master chassis even more attractive.