Without a doubt, the very inception of the internet rendered libraries of books useless in the span of a mere few years. Over the course of decades, searches have increased, with demanding optimization and a variety of topics to browse through. Mankind's next best invention was the introduction of smartphones – the internet wherever you go. All smartphones have some kind of a service or other that allows the user to browse through the interweb; this is what we famously call a browser. But now, in 2021, with so many options to choose from, which one would be the most reliable without any significant burden on your phone's storage and memory?
For Android, as we speak, the choices truly are endless. Ranging from classics like Google Chrome to the feature-rich ones like Firefox, there are clearly more than enough browsers to fit one's liking. In this article, we will favor the audience who really are running low on storage and RAM and could very well use a lightweight browser but still functional. Without any further a due, let's kick our list off with something familiar!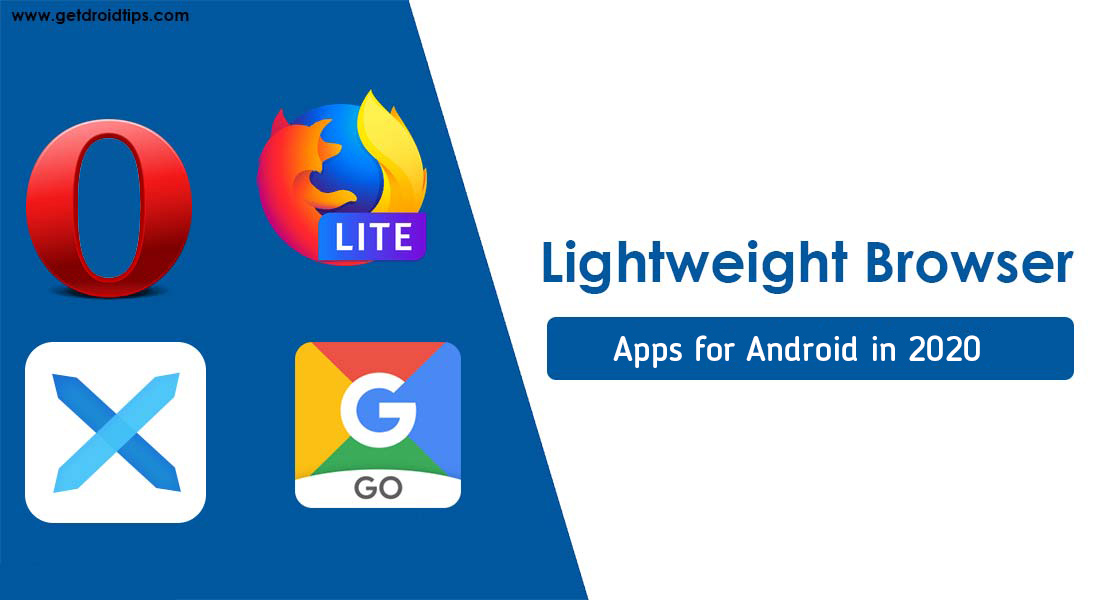 Top 8 Lightweight Browser Apps for Android in 2021
To make sense of our ratings, we have picked browsers available on the Google Play Store which have appealing features and have arranged them in descending order of the file size and how much storage each of them takes up after it's done installing on your device.
FOSS Browser – 3MB/8MB
Kicking the list off, we have one of the most lightweight browsers for Android devices out there. FOSS Browser aims at bringing you the most simple and accessible browsing experience. Not only is it extremely small in size, which is great for people who have been running low on storage, but it also has a ton of interesting features that will enrich your browsing experience. For starters, FOSS Browser's entire interface has been designed to be friendly for one-handed use. You will find all the important elements such as the search bar, tools, and bookmarks at the bottom of the screen instead of the top. There is also a special menu dubbed the "overflow menu," which gives you further access to more options and tools. You can dig around in the overflow menu options and enable or disable the nitty-gritty of your web browsing experience that is controlled by cookies, javascript, and other elements. Overall, FOSS Browser is everything you could ask from an open-source browser in a tiny package. You may install it on your Android device using the link below :
Opera Mini – 8MB/29MB
Next on the list is a popular browser, and for all the good reasons. Don't let the latter adjective in the name of Opera Mini fool you – it's got you covered with a host of options and features that you would otherwise not expect from a lightweight browser. Opera works with its advanced proxy server to compress all the webpages, which results in a load time of 3 to 4 times faster than it normally is. This is the only big feature separating the Mini from the regular Opera Browser. If you dive into the Settings, you can change the theme to make it your own and even have a detailed look at your data consumption and how much you've saved by using Opera Mini. This browser is in many ways a direct competitor to UC Browser, which is yet another service that works on similar principles, however thanks to the popularity and ease of use, Opera takes the win.
With a mere size of 8MB prior to installation and with only 30MB to spare in reserve, Opera Mini is a worthy browser for your device. You may install it on your Android device using the link below :
Google Go – 5MB/18MB
The next on our list is brought to you by Google itself, which means you can expect great stability and fluidity whilst your time with the browser. Google Go is nowhere as feature-packed as Google Chrome is, but it doesn't slack off in the design department, following Google's Material V2 code all over. All the elements are vibrant and beautifully placed, easy to access. Google claims with reducing the amount of bloat, all searches consume over 40% less of your mobile data and load over twice as fast. This is not to say that the browser lacks a few important options, though. You may choose to block any explicit content from the Settings if you so wish to, and even select a background if you think the plain white is too boring for your taste. There's a lite mode that further reduces data consumption, albeit at the design and fluidity cost.
Overall, with only 5MB to spare, you should really consider Google Go as your browser of choice. You may install it on your Android device using the link below :
Firefox Lite 3MB/11MB
Being one of the biggest competitors to Google Chrome for PCs, Firefox also has quite the influence in the Android realm. Known well for its intuitive design and vibrant UI colors, Firefox Lite also follows the same footsteps but with an emphasis on data saving and memory management. Firefox Lite has a turbo mode, which, when enabled, blocks all the images in searches and disables all ads to provide the fastest searches on any browser we've tested. It comes baked in with a Private Mode, which instantly deletes all the cache and data after you've done browsing a webpage. If you want a good mix of design and performance, we could recommend Firefox Lite to you without any second thoughts.
Thanks to its beautiful design and a laughable 3MB consumption space, Firefox Lite is more than a worthy choice in finding a lightweight browser. You may install it on your Android device using the link below :
XBrowser 1MB/3MB
Coming next to the first place, we have a popular browser. With over 1 Million downloads, it isn't surprising why XBrowser is a promising alternative to a normal chunky browser. It packs in a number of features, all with a very consistent and minimal design. The animations are smooth, and the elements are big and easy to understand. XBrowser has a variety of features up its sleeve, namely a built-in ad-blocker, incognito mode, a toggle to switch Java Script on or off, and ever has a functional night mode. Unlike many other browsers on this list, users can also change the directory to which the download files are saved. This may prove useful, especially to those people who want to sideload all their downloads to an SD card instead of the internal storage.
With only a megabyte in download size and a mere 3 MB post-installation, XBrowser is one of my favorite on this list, thanks to the many features it boasts to offer. You may install it on your Android device using the link below :
Via Browser 500KB/2MB
The next app on our list we have Via Browser at number one. It boasts an astonishing 500KB download size, which makes it the smallest in our list, and possible on the whole of the Play Store. But don't let its storage size fool you – Via Browser has all the features that one would consider essential. These include an incognito mode, a night mode, a fully functional built-in translator, and even a QR Code scanner. All of this comes in a package that has a beautiful and to-the-point interface. Via Browser also allows the user to customize the homepage to suit his/her needs the best. Lastly, the browser comes equipped without any push notifications, which means zero to no RAM consumption while the app is in the background.
With only over 500KB to spare, it would be foolish not to consider this pick if you're really low on storage. Via Browser takes the crown for being the best lightweight browser available for Android at the number one spot. You may install it on your Android device using the link below :
Monument Browser
If you have been looking for a clean, minimal, lightweight, yet feature-packed browser, then this one is your best bet. Monument Browser is a lightweight browsing app for Android that is geared towards privacy, security, and speed. Right outside the box, you get a browser that has a built-in ad blocker to help you against those malicious websites with annoying pop-up ads all the time. One of Monument Browser's best features is the incredible speeds at which you can download your files. This is done by allowing up to 32 different connections at the same time, which maximizes your download speed. When it comes to the user interface, this browsing app again leaves you well impressed. It has a minimal design and options which are easily available, thus making this browser very user-friendly for all age groups.
Another great feature of this app is the fact that you can download videos without the need for a separate app. You can download videos of various formats, including mp4, MPEG, and many more. Even while downloading big files, you can pause or resume your files at any time. This means you no longer have to be cautious of connection drops that cause failed downloads, so you would have to download the entire file again. This app brings many more features such as a night mode, reading mode, fullscreen mode, and more than altogether complement the user experience of using this browser. The app is a laughable 1.6 MB in size to download, so even if you are running low on storage space, you can surely squeeze this one in. You can grab the latest version of Monument Browser for your Android device by following the link to the Google Play Store page down below :
UC Mini
The last one on our list of some of the best lightweight browser apps for Android is UC Mini. This one is a crowd favorite, and you might have already heard about its bigger brother, UC Browser. Well, if you are running very low on storage space or just wanted a faster browsing experience, UC Mini provides for all your needs. It has an absolute abysmal number of features, starting from a boosted video downloader that does exactly what it says. If you reside in India, you can use the smart suggestions that UC Mini provides for a personalized experience too. The home page is filled with trending music videos, movie trailers, songs, and much more. However, if you dislike all the promoted content such as this, we recommend you stray away from this browser at once. There is also a face changer extension, which is basically like a Snapchat filter built into your browser.
While all these things might seem gimmicky, you might appreciate this if you are also looking for a fun-to-use browser app. However, let us come back to the lightweight part of this browser. You also get an emphasis on privacy and security, with a faster searching experience thanks to the boosted connection speeds that the browser allows. There is also an incognito mode if you ever decide to leave your trails unnoticed. Even though UC Mini might seem like a browser with bloated features and has a greater download size of 45 MB, the faster search experience and the ability to download videos natively make it a good choice for some; you can grab the latest version of UC Mini for your Android device by following the link to the Google Play Store page down below :
That just about covers our list for the Top 5 Lightweight Browser Apps for Android in 2021. Which one was your favorite and why? Do let us know in the discussion box below. If you have any queries regarding any of the aforementioned apps, leave a comment below, we would be glad to clarify your doubts.