Traveling for many has been the best way to take a break from the daily routine, to break free and enjoy the wind sometimes. If you do happen to be a person who loves to travel, then you must also have known the risks involved, and the heavy expenses that follow. Traveling is truly quite a peaceful thing to do, but it requires a mindset that needs to be aware of multiple aspects like the location, the expenses, the stay, the food, and the people. Without any of these, your trip might as well fail big time.
Thankfully, over the years we've had things like tourist guides and local officials helping us out, but in the day and age of technology in 2019, it's quite a shameful thing to ask a human being for directions when everything can be done on our smartphones. Don't believe me? Look back 20 years ago and see how much services like Google Maps have improved and helped us to navigate around. Think just how useful apps like Facebook and Instagram have been to connect to our loved ones instead of writing long emails or letters. This is why we insist you plan your trips ahead by sideloading a few of the best applications available.
It is without a doubt that the Google Play Store is home to several million apps, from thousands of publishers and we agree that sometimes finding the best apps to travel with a day or two before your journey may be a cumbersome task, and this is why we have a curated list for the top 5 Travel Apps for Android that you can plan your trips ahead with. Without any further delay, let's have a look at some of our favorites in this genre!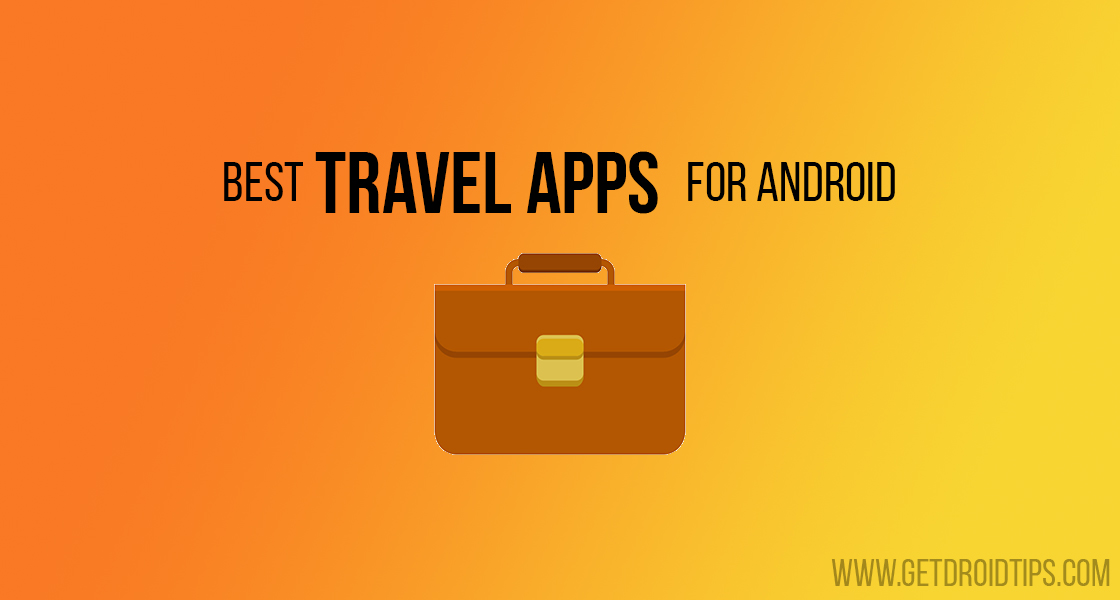 Top 7 Travel Apps for Android to plan your new trip
All of the apps mentioned in this list have been tried and tested by yours truly and are available on the Google Play Store with trusted reviews. Apart from listing out the best ones, we've also talked in brief about why we think all the apps deserve to be on this list. With that being said, let's move on to the list itself!
1. TripAdvisor
The first and the most popular one on this list is TripAdvisor. Chances are you've already heard about this app thanks to the huge marketing campaign that the company does, and rightly so. The app has been trusted by millions, not only on Android devices but also by the Apple users on the App Store. Not only is this app your one-stop shop to book your plane, bus, or train tickets, but it is a great discovery app too, where you can browse locations and see the reviews that other tourists have left in place. Even whilst traveling, you can use this app to view and book hotel rooms at the cheapest rates affordable, book cabs, and so much more. You can also view the best monuments, parks, or architectural wonders of the city you're in using TripAdvisor. If you have friends who travel a lot and also happen to use TripAdvisor, then you can follow them on the app itself, and get recommendations to make your next trip the best one ever!
You can download the latest version of this app from the Google Play Store by following the link below :
Download here
2. Trivago
Up next on our list is all specifically to book hotel rooms before and while traveling. While you can use TripAdvisor to book hotel rooms too, we recommend you use a dedicated app like Trivago to do so since there are many benefits of using a standalone service like this. Trivago is trusted and used by millions of people every hour of the day, and this is all thanks to its advanced hotel booking service. Not only can you find the best hotel rooms, but you can compare them side by side and find the best value for your money as well. As you keep on using the app to book new rooms, Trivago offers special coupon codes that bring down the cost of your stay as well. Booking rooms hasn't ever been this fast and simple, at the press of a button. You can find rooms near a tourist attraction like a monument or something and even set a maximum price to filter out the rooms for you.
Overall, if you have been looking for a travel app to book hotel rooms with specifically, then we couldn't recommend Trivago any more than we already do. You can grab the updated version of Trivago by following the Google Play Store link below :
Download here
3. Google Trips
This one on the list is by Google itself, so you know there are no compromises in terms of design and stability at all. Google Trips is going to be your go-to travel app of choice if you like staying organized, or travel a lot. The smart organizer in Google Trips automatically searches through your Gmail for upcoming trips and keeps your booking details, hotel stay, and things to do all in one place for you to check off before leaving. Google Trips is also a great place to discover new places and sort them by popularity, budget, and tourist attractions too. What makes Google Trips so great is that it doesn't even require an internet connection to browse through the local attractions, and since internet connectivity is such a big issue for people who travel, this feature surely does come in handy.
If you are indeed looking for an application that follows a great UI trend, with useful smart features like the details organizer, then Google Trips should be your only pick! You can download this app from the Google Play Store by following the link below :
Download here
4. TravelTriangle
This application has been renowned by many people, and yet is surprisingly not quite well known. With over 4 million users who have rated this app a good review, we think TravelTriangle is the best one of the bunch if you want to make your entire travel stay better by hundreds of times. The application uses a concept known as agents, and when you choose a location you want to travel to, the app connects you to 3-4 agents working in that locality, and they, in turn, work their hardest to find you the best rooms, best tourist attractions, the best cuisine, all based on your budget. Since this app uses the opinions of real people instead of AI, we think you would really enjoy this personalized travel experience that TravelTriangle brings forth. You can choose multiple packages like international travel, domestic travel, or honeymoon packages, and the agents will cater to your needs the best.
You can try this app out if you truly want the best experience while traveling on your Android device using the link below :
Download here
5. Foursquare City Guide
The next one on our list is Foursquare City Guide, and this application is the best for people who want to look up local attractions at a glance, or even in-depth. While this app lacks many features that you might want from a travel app, it fills in the place as being the best guide around a new city for you. All you need to do is enable your GPS, and lookup for places that you want to go to during your travel. For instance, you can search for a Museum or Wine Bar, and the app will display a list of the nearby attractions, with a rating window right next to it. From here, you can either choose to see the directions or read the in-depth reviews that other users have left about the place. If you've been wanting an app that can judge places for you, then Foursquare City Guide is indeed a worthy pick for your next travel stay!
You can download the latest version of Foursquare City Guide from the Google Play Store by following the link below :
Download here
6. Airbnb
Next up on our list of some of the best travel apps for Android is Airbnb. If you a resident of the US or UK, you must already have heard quite a lot about this service. It brings to the board a very intuitive and professional way for you to plan your trips, book hotels, check out nearby restaurants, lounges, or bars, and overall act like a really powerful and helpful companion while you are on a trip. It has growing support in over 200 different countries, covering more than 4 million different hotels, restaurants, and bars. You can also choose from the 6 million home rentals if you plan to go on a vacation with your family or friends too. The user interface is highly intuitive and well thought out, and first-time users will feel right at home while using this app to plan their next trip.
Airbnb also has good support when it comes to communication between the host and the traveler. So in case you need any assistance or directions to a specific hotel, you can simply use Airbnb to get in touch with your host. The app also has a very neatly laid out explore tab which can assist you in picking your next holiday spot. You can view several different pictures, check out the restaurants or other tourist attractions at that place, or even plan according to the reviews by actual people. Overall, if you plan to get a one-stop-shop app for all your traveling needs, we highly recommend you grab Airbnb. You can download the latest version of Airbnb from the Google Play Store for your Android device by following the link below :
Download here
7. Skyscanner
The next app on our list to help plan your next vacation better is Skyscanner. While it is an app that is geared towards finding flights and booking them, it still serves great as a hotel booking client, or just generally a good app that guides travelers around new places. However, if you have been stuck on the lookout for a good app to manage and book all your flights, you might have just found your best bet. Not only is the app popular among Android users on the Google Play Store, but it is also an Editor's Choice, which is quite a prestigious title for an app. What this means is the user satisfaction with this app is quite high, and the interface is easy to work with, even for first-time travelers.
Coming to the features, as stated previously, Skyscanner is a flight managing app first. You can explore the cheapest flight tickets from a list to your destination, and this includes both domestic and international flights. You do not have to jump through hurdles on any third-party websites to book your fights, since the app also allows you to do that directly. Once you secure yourself a flight ticker to your vacation, you can proceed to book a hotel and get a car rental too. Just like the other travel apps for Android, this one also sports an explore tab which brings forth the best tourist attractions and restaurants for you to pick from. Overall, as a flight planner and a good way to book your hotel and car, we find first-time travelers need not look for anything more than this app. You can download the latest version of Skyscanner from the Google Play Store for your Android device by following the link below :
Download here
8. Booking.com
Yet another app on our list that will be a great travel buddy to you is Booking.com. It is home to over a million hotels, motels, rooms, and other accommodations. You can search for the one that suits you the best. It also has an explore tab where you can discover new and nearby attractions while on your trip with friends or family. You can view ratings for rooms and hotels by other users and choose the one that best fits your needs.
The app has a simple and easy-to-use user interface that is great news for any first-time travelers trying to make their first online travel possible. The transitions you make using the app are also all fully paperless so that's one thing less that you need to worry about. You can view all of the receipts for your hotel stays in the purchase history. Lastly, another useful feature that we found was the ability to sort out hotels or other accommodations based on whether they provide WiFi or not. You can download the latest version of Booking.com from the Google Play Store for your Android device by following the link below :
Download here
9. GasBuddy
The next app on our list is GasBuddy which happens to be the biggest community for everyone's gas-based needs. With over 60 million downloads worldwide, there is almost no corner where this app cannot show you nearby gas stations or petrol pumps. The app has a minimal and simple-to-use interface that new users can get accustomed to quite quickly.
The best part about this app is the fact that it is crowd-sourced which means any other users of this app (including you) can add or report any new gas pumps that you find. You can also verify if the prices shown on the app match those at the gas station. You can sort out gas stations either based on distance or by price. You will also earn periodic rewards and free gas coupons the more you use this app. You can download the latest version of GasBuddy from the Google Play Store for your Android device by following the link below :
Download here
10. TripIt
Ending our list of some of the best travel apps for Android, we have TripIt, which is an excellent tool to have for all travel fanatics. It claims to be the one and only master itinerary that you will ever need. TripIt basically acts as a hub where you can store all of your upcoming and previous trip details. It also has an easy way to go about it. Simply sending an email of your trip schedule to TripIt will automatically create a plan in your itinerary.
Apart from being able to store your trip details, TripIt also helps you discover places of attractions around you. Users can quickly track down essentials such as an ATM or a restaurant on the interactive map. The "safety scores" for neighborhoods that range from 1 to 100 are a great indicator to plan out your trips and avoid getting into any trouble.
TripIt also has a convenient Android Wear version that is great for people who don't like carrying their phones around everywhere while on a trip. You can add reservations to your hotel rooms along with the confirmation emails and access them anytime, even when there's no internet. The pro version of the app unlocks more features such as real-time flight status alerts and an interactive map displaying all the terminals in the airport. You can download the latest version of TripIt from the Google Play Store for your Android device by following the link below :
Download here
That wraps up our list of some of the best Travel Apps for Android to plan your new trip with! Have any favorites from our list? Let us know which one and why down in the comments below! Also, if you have any queries regarding any of the apps mentioned, then hit us down below, we'd be happy to assist you!