Have you been on the lookout for some good video sharing and watching applications for your Android device? If that's the case, you would love our article with some of the handpicked Top 5 YouTube Alternatives You Must Try. Read on to learn more about such apps!
In the modern-day and age, the most popular media format available is video. Over the years, we've seen people share videos of various topics, be it funny or educational around with their loved ones. This gave a spark to the need for a video-sharing platform where everyone could log onto, consume their favorite videos, and even upload their own for others to enjoy. Over the past 2 decades, we've seen the rise and fall of various such video sharing platforms such as Dailymotion, Vimeo, and plenty others. However, the one true platform that has stuck around at the number one spot is our one and only YouTube.
YouTube was founded several years ago and had soon become the top video-sharing platform all over the globe. The reason was simple, it was free and it opened its gates to anyone and everyone who wished to participate in sharing their content and consuming others. YouTube is also a substantial income source for hundreds and thousands of people over the world and has proved that conventional jobs aren't the only way people can make a living. YouTube is owned by Google and has its ups and downs once in a while. It's available on every platform imaginable, and it continuing to expand and improve with every day that passes.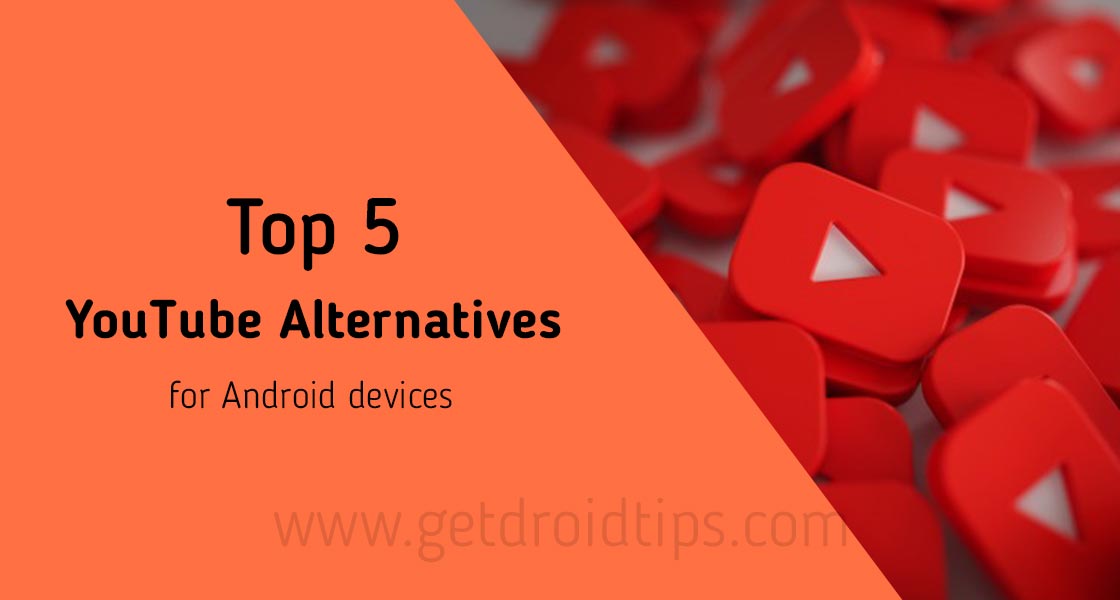 However, it is safe to assume that YouTube might collapse like any other video-sharing platform out there. This is why it is always a good thing to have alternatives for even your most favorite apps. While it is impossible to find a perfect replacement for YouTube since it is so huge and optimized for everyone, we can still look at a few other alternatives that maybe offer something different in return. We have dug around quite a bit, and have compiled a list of some of the best YouTube Alternatives you must try! So sit back, relax, and discover some great video-sharing platforms such as YouTube.
Top 5 YouTube Alternatives you Must Try
All of the apps mentioned below have been tried and tested by yours truly, and I recommend only those apps that provide a fulfilling user experience. As far as availability goes, most of the apps we've mentioned below are free, to begin with, but run on a freemium basis which means users can opt into buying the premium versions which unlocks a whole lot of other cool features. Overall, if you don't plan on spending any money on YouTube Alternatives, you can still enjoy most of the listings here too! With that being said, let's take a look at our top picks!
#1 – Vimeo
Vimeo was founded by creative professionals and is a platform where quality matters more than quantity. Unlike YouTube, you usually do not find pet videos on Vimeo, instead, the video streaming service is filled with creative work such as short films, experimental music videos, and so on. While many might think the lack of content wouldn't suffice their entertainment needs, you usually get used to the great catalog of genres that are available to watch on Vimeo. Signing up for the website is free and users can upload up to 500 Megabytes per week, which can be later upgraded to 2 Gigabytes by purchase for the premium subscription. Vimeo also is home to a lot of young creative minds, who are always looking for inspiration from others who create similar content. The website for Vimeo is really well spaced out and doesn't throw a million options to your face as YouTube might.
Try out Vimeo
#2 – Dailymotion
If you're looking more for an apple's to apple's comparison to YouTube, Dailymotion comes the closest to it. It was founded back in 2005 and is similar to YouTube in a lot of ways. This includes a similar user interface, video recommendations, the video player, and the comments section. It grew popular quickly in places such as the likes of Europe and Asia where YouTube still isn't the dominant platform. While as a creator, Dailymotion might not seem really exhilarating thanks to its measly 150 Megabyte upload limit for basic users, it still hosts quite a lot of entertaining channels. While Dailymotion doesn't have a video catalog as wide as YouTube (truly nobody else does), it still excels in providing content that most of its users may find entertaining. Not to mention, the website layout is really professional and minimal as well. It is an ever-growing platform, and you should definitely consider giving it a shot if you're looking for a close competitor to YouTube.
Try out Dailymotion
#3 – Metacafe
Up next is a unique video streaming platform that might intrigue most of your readers. Metacafe prioritizes short and to-the-point videos, instead of full-length narratives or movie re-uploads. The website contains videos with an average length of just over 90 seconds, and most of them are very niche and appeal to all kinds of audiences thanks to their originality in style and delivery in less time. The website itself has a great user interface and is divided into proper categories which new users will find accustomed to. Most of the top and trending videos uploaded to the platform are entertainment-based and give off a Vine sort of a feel to the platform. Even if Metacafe won't be successful in maybe replacing YouTube for your needs, we highly recommend you give this platform a shot thanks to the sheer amount of entertainment and difference in approach that it offers.
Download
#4 – Veoh
Coming up next we have Veoh, which is a video streaming service that offers great tools to those who love uploading in full quality and longer lengths. Unlike Metacafe or Vimeo, there is no specific file or length threshold limit on Veoh, which means users can easily find full-length videos, short films, and even movies on this platform. Our only biggest pet peeve with this streaming platform is the outdated user interface and lack of a well explore tab to lure new users in. However, the catalog of videos it offers is still quite big compared to other smaller platforms out there. Apart from being a platform that creators might find alluring, Veoh also has a great media player which you can embed into any website just like YouTube allows. You can try out Veoh by following the link below.
Download
#5 – Facebook
Ending this list of some of the best YouTube alternatives that you must try, we have Facebook. Now, some of you might be confused as to what a social media platform is doing on this list. However, if you've paid attention to just how much Facebook's monopoly in video sharing has increased in the past few years, you'd be surprised to see just how much potential it has for creators as well as consumers. Facebook already has a platform with billions of users, so sharing of videos can be done really rapidly. Facebook also allows for some of the most powerful tools to make sure your videos reach the targeted audience, such as advertisements, tags, groups, and more. You can also upload high-resolution videos without any sort of downscaling required. The type of content you find on Facebook is really similar to that of YouTube as well. As a community, Facebook might already be bigger than YouTube, and it is only a matter of time when it might dethrone YouTube from its number one spot as a video streaming service too. It is completely free to set up, and always free to use. Try out Facebook for consuming or uploading your own videos if you haven't already!
Download
That's all folks! We hope you enjoyed our roundup of some of the Best YouTube Alternatives that you must try! Which one among the list is your favorite, and how many of these video-sharing apps have you already known or have been using? Know other good YouTube Alternatives that you feel people might find interesting? Do let us know in the comments section below, we'd be delighted to hear from you guys!