Not able to make or receive calls seems to be the most common and irritating issue bugging an Android phone user. Unfortunately, there could be a plethora of reasons as to why it happened in the first place. But the good news is that you could fix them with the minimum of efforts. In this guide, we will list out some of the most common ways as to why this issue might happen in the first place.
Furthermore, we will also check out how to rectify all these issues so that your device could be up and running all over again. As evident from the topic, we will be addressing both the incoming and outgoing calls. So without further ado, follow these tips to troubleshoot an Android phone not making or receiving any calls.
Troubleshoot Android Phone Not Mak­ing or Receiv­ing Any Calls
There are a total of ten different types of fixes that we will have a look at. There isn't any universal fix for the same. It is recommended to try out each of these fixes until you achieve success. Most of them hardly require an effort or two and could be completed within seconds. With that said, here are the different workarounds to troubleshoot and hence fix the issue with your Android phone not making or receiving any calls. Follow along.
Fix 1: Check your Network Signal

As obvious as it may sound, but sometimes the issue could simply be related to your network carrier signal. If you are driving, or in a metro, then as soon as your each an underground station or an isolated spot, there is bound to be a drop in network signal. So have a look at the carrier strength and if it is indeed low, then you might have to play the waiting game. Fortunately, it should only be a couple of minutes at max, and you should then be able to make or receive calls from your Android phone as before.
Fix 2: Re-Insert SIM Card
Sometimes, removing and then re-inserting the sim card could also spell out success for some people. Use the sim ejector tool, pop out the sim card and then reinsert it. When that is done, try making calls and see whether or not you could succeed.
Fix 3: Restart your Device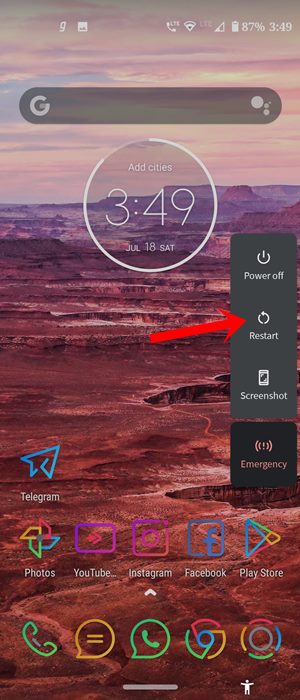 Surprisingly, this tweak is enough to fix most of the everyday Android issues and could work out in this case as well. So go ahead and press the Power button and then select the Restart option from the Power Menu. When your device reboots, see if the issue related to receiving and making calls via your Android phone is rectified or not.
Fix 4: Airplane Mode
Sometimes, a single unintentional tap is all it takes to disable all the network, Bluetooth, and WiFi on your device. We are talking about the Airplane Mode functionality. While it is obvious that you wouldn't enable it on purpose, but since it lies at a very prominent position in the notification panel, you might tap on it while trying to use any other feature. So if that is the case, consider disabling it right away.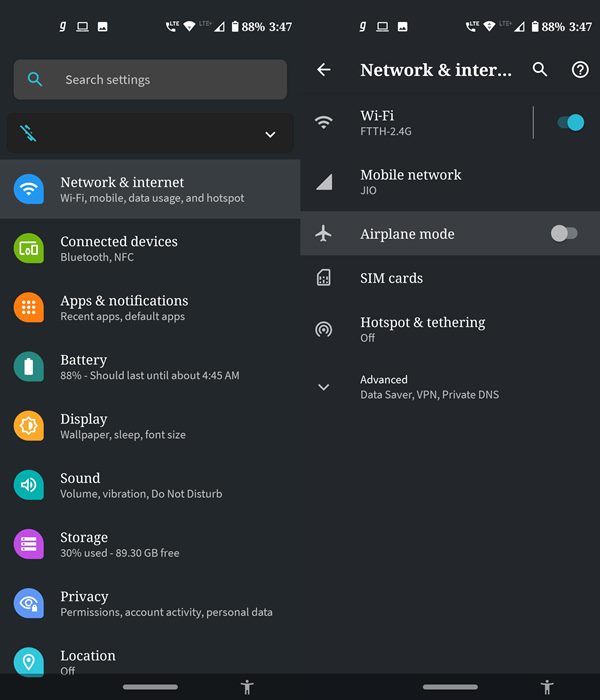 To do so, just drag the notification panel from the tap and disable the said feature. However, if it isn't there, then you could head over to Settings > Network and Internet > Airplane Mode. If this feature was indeed enabled, then after disabling it you could easily make or receive calls on your Android phone. However, if the feature stands disabled, then head over to the next fix given below.
Fix 5: Check your Block List
If you are facing issues with a particular caller, then it might be the case of you blocking his number or adding it to the reject list and then forgot to remove him from that list. Or it could also be the other way around! If it is the former case, then we could easily deal with it. To remove someone from the block list, follow the below steps (the instructions are carried out on an Android One device, but the steps should be similar for other devices as well).
Go to the Contacts app on your device.
Tap on the overflow icon situated at the top-right and Settings. Some might also mention this menu as "More".
Head over to the Blocked Numbers section and remove the one as per your requirement.
You should now be able to make and receive calls from your Android phone to that number, granted that you have blocked him/her and not the other way around!
Fix 6: Default Call App
Make sure you have selected the Default system app for making calls, and not any other third-party apps like Truecaller, Viber, Skype, etc. Sometimes, there might be an issue or two with these apps, and hence you wouldn't be able to place any calls. To check for or change the default app, follow the below steps: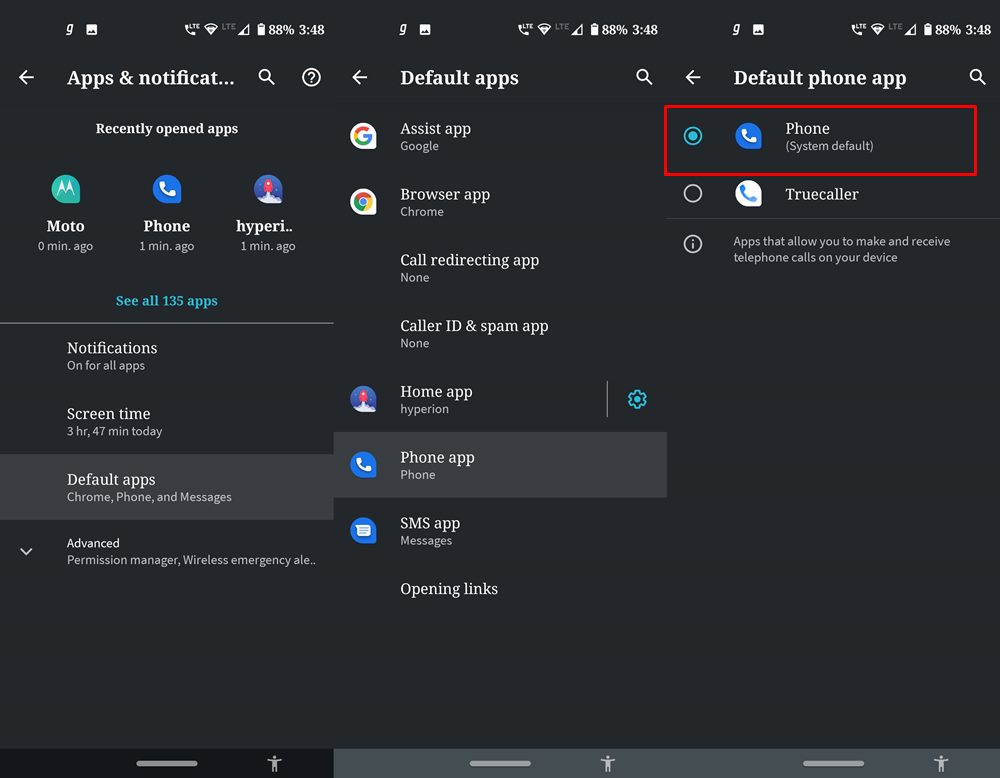 Head over to Settings on your Android device.
Go to Apps and Notifications and tap on Default Apps
Then under Default Apps, head over to the Phone app and select the system default.
Check whether or not you could now make or receive calls on your Android phone.
Fix 7: WiFi Calling
WiFi calling automatically routes your call through the WiFi network rather than your carrier network. And in most cases, if it finds the WiFi signal to be weak, it will switch over to the carrier. But in rare cases, that might fail to happen and it will try to still route the calls via WiFi and in case of poor wireless network, your Android device will fail to make or receive calls. In this case, the best bet is to disable the WiFi calling, if you have enabled it. Here is how this could be done: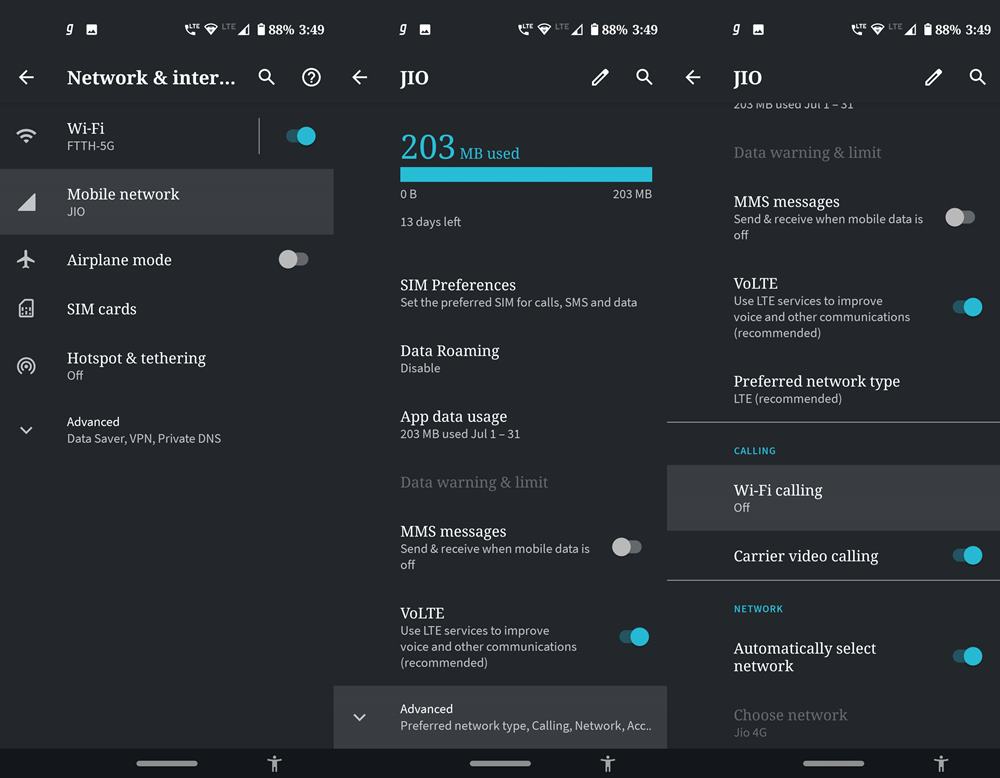 Go to Settings on your Android device.
Head over to Mobile Network and tap on Advanced.
Scroll to WiFi calling and disable the said toggle. See if you get any success or not.
Fix 8: Boot to Safe Mode
It might also be the case that any third-party app might be conflicting with the normal calling functionality of your device. The best way to check it out is to boot your device to Safe Mode and try making the calls. In safe mode, all the user-installed apps are disabled until the next boot. So if you can make and receive calls in Safe Mode on your Android device, then check out all the recent apps that you have installed. Try uninstalling them one by one until you achieve success.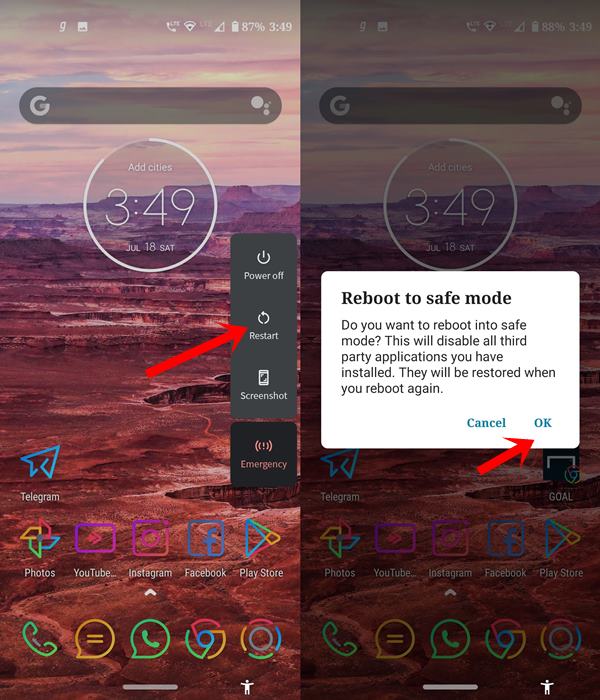 To access this safe mode, hit the Power button to bring about the Power menu. Long tap on the Restart option for a few seconds and you should be greeted with the Safe Mode popup box. Tap on OK and when your Android device boots to the Safe Mode, try making phone calls and see the results.
Fix 9: Reset Settings
If the above methods didn't manage to spell out success in your case, then ultimately you might have to take the reset route. But rather than directly going for device reset, we would recommend you to try out the Network Reset. But before that, head over to Settings > System > Backup > Backup Now. When the backup is complete, you could proceed with the reset steps as mentioned below: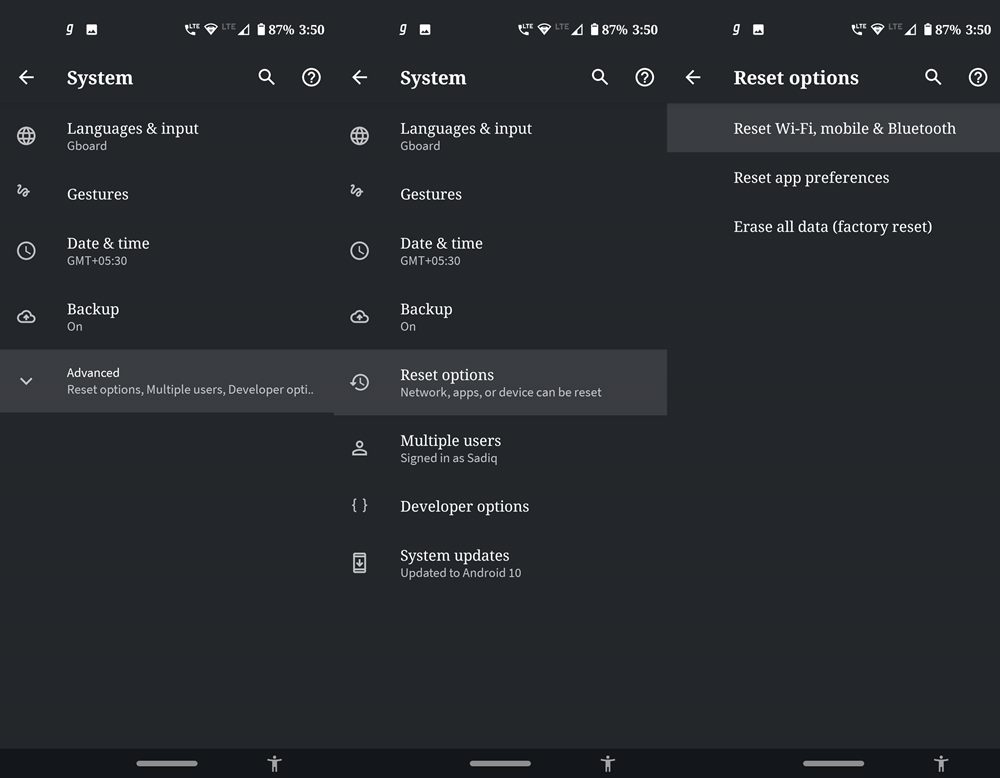 Head over to Settings on your Android device.
Tap on System followed by Advanced.
Go to the Reset options and tap on Reset Wi-Fi, mobile, and Bluetooth.
Hit the Reset Settings button situated at the bottom.
Check if you can send or receive phone calls on your Android device. If your reply is negative, then you will have to go for the entire device reset. Make sure that you have created a device backup beforehand.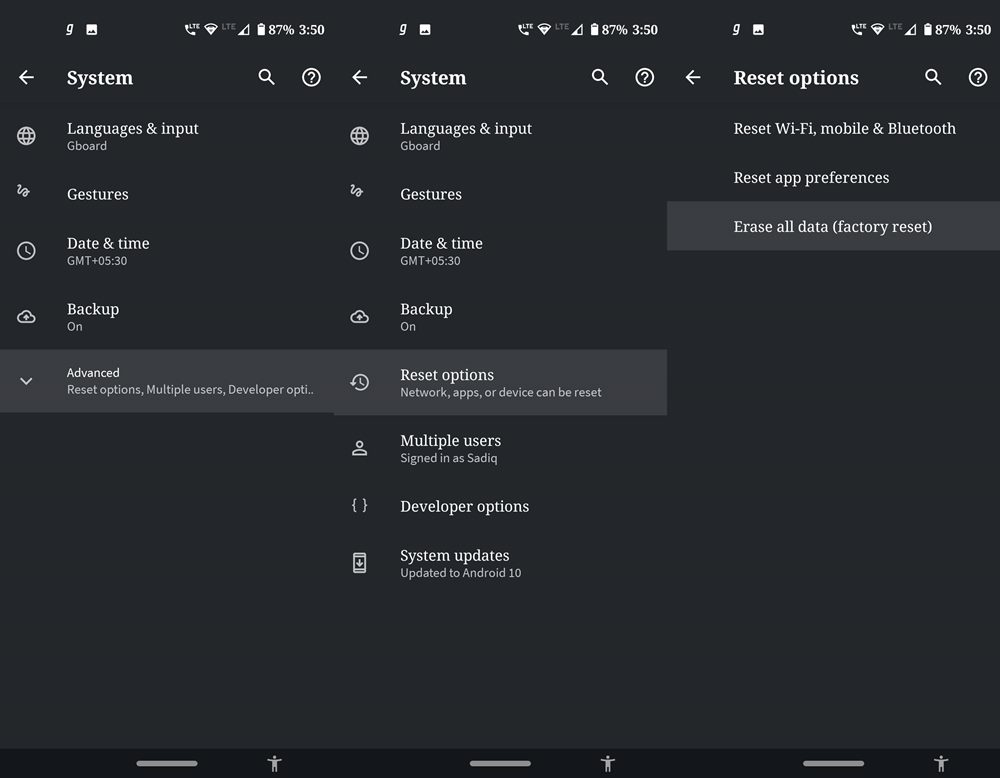 Now go to Settings > System.
Tap on Advanced > Reset and this time select Erase All Data (Factory Reset).
Finally, tap on Erase all data. Wait for the process to finish. When that is done, set up your device using your Google ID and see whether the issue has been rectified or not.
Fix 10: Contact Support Team
If you are still not able to send or receive phone calls on your Android device even after trying out the above tweaks, then you should consider calling the customer care. Google the number corresponding to your network and call them right away. However, if you don't have a spare device or SIM card at hand, sending them an email is the only escape route. Make sure to explain the entire issue in depth along with the required information. They should get back to you with a solution shortly.
So these were the various ways on how to troubleshoot Android phones not mak­ing or receiv­ing any calls. We have mentioned ten different types of fixes in this regard, any one of which should work out in your case. Do let us know in the comments which one managed to work for you. Rounding off, here are some iPhone Tips and Tricks, PC tips and tricks, and Android Tips and Trick that you should check out as well.