If you have been on the lookout for how to Install TWRP Recovery on Realme 3i and also root it using either Magisk or SuperSU, then look no further! You can learn all about the above query with the necessary prerequisites, downloads and a detailed procedure down below.
The Realme 3i is the company's offering in the low-end market segment for countries like India and China where the sales of budget devices far exceed that of the mid-rangers or the high-end premium phones. The Realme 3i was released on July 15th and is available for a mere price tag of 8,000 INR in the Indian market. People interested in the phone can avail further offers to cut down the price even more by checking online on Amazon or Flipkart for the best deals.
The Realme 3i is the younger brother of the Realme 3 and Realme 3 Pro. We have already covered an extensive list of guides, tips and tricks and more fun posts for the above two devices and are now covering the Realme 3i for those interested. We will be talking more about the Realme 3i and what it has to offer a little later in the guide, but if you have already unlocked its bootloader by following our guide, and have been wanting to install TWRP recovery on it then we have a detailed procedure waiting for you down below. Make sure you read all the precautions and follow every step in great caution.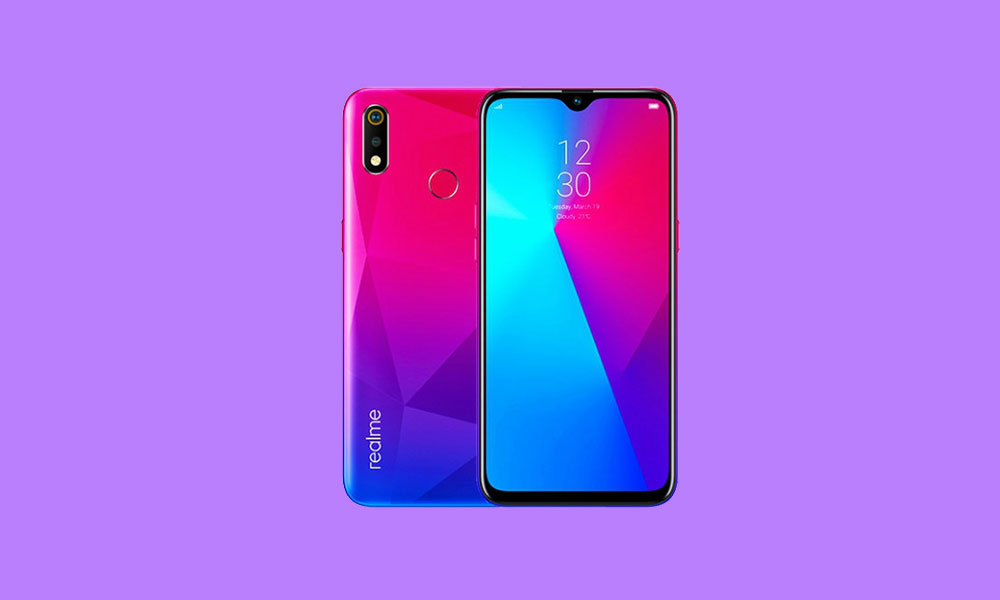 Realme 3i: Overview and Specs
The Realme 3i, like stated previously is basically a nerfed down version of the Realme 3 and Realme 3 Pro. It still maintains the beautiful full display look but comprises a bit on the internals and the build materials to cut down the price significantly. While both the Realme 3 and Realme 3 Pro are available at a price tag of 11,000 and 16,000 (for the highest-end variant) respectively, the Realme 3i enters the even lower budget end of the market with an asking price of just 8,000 INR. So, for under 10K, what are all the things you get out of the Realme 3i? The build itself is made out of hardened plastic with a matte finish and a great looking diamond pattern to its back. The buttons are very tactile too. The phone also comes with two nano-SIM slots and an additional MicroSD slot for future expansion. Let's dive a bit deeper into the internals now, shall we?
Firstly, coming to its specifications, the Realme 3i packs in the MediaTek Helio P60 processor which while isn't very powerful, is still highly efficient and can perform day to day tasks like media management, app switching, and casual gaming very easily. The display gets a downgrade too, being a 6.20 inch IPS panel with a resolution of 720 x 1520 pixels. While it isn't AMOLED or fully 1080p, the display is still vibrant and is almost edge to edge with a waterdrop notch to spare in the top middle. The phone also packs in a dual-camera setup on the back with a 13 MP primary shooter and an additional 2 MP sensor for depth sensing. The front camera comes with a generous megapixel count of 13. Lastly, the phone runs atop Android Pie and is backed by 4 gigabytes of RAM and a massive 4230 mAh battery, lasting for hours on a single charge.
What is TWRP and what are its advantages?
TWRP is an abbreviation for TeamWin Recovery Project, and it has been around in the Android development world for ages. It replaced CWM or ClockWork Mod soon after its initial release and now is the number one preferred custom recovery by all enthusiasts everywhere, including me. TWRP has a great touch-enabled graphical interface, which many other custom recoveries simply don't have to offer. It is also highly capable of modifying any system partitions at will. Easily our most favorite feature of TWRP is the powerful backup and restore feature which allows users to take a complete carbon copy backup of the entire phone, including media, internal storage, system and the data partitions as well. You can use this backup as a source if you ever want to restore anytime in the future with just the tap of a single button.
Having TWRP recovery on your device unlocks a lot of features, like being able to install custom ROMs, root your phone, flash other ZIP files and more. With TWRP in hand, you can even fix your broken system partitions and diagnose exactly what's wrong with your phone if it has troubles booting up. You can also easily enable ADB to sideload with the press of a single button and pass fastboot commands using your computer. All in all, if you want to install any custom recovery on your smartphone after you have unlocked its bootloader, we highly recommend TWRP due to its outstanding developer support and a list of never-ending features.
How To Install TWRP Recovery On Realme 3i
Before beginning with the TWRP installation, you need to have some tools with you which are necessary for this process. We have put that up in the section below.
Prerequisites :
Warning
We, at GetDroidTips are not responsible for any unforeseen bootloops or crashes that may occur on your devices by following the given procedure. All of our guides are thoroughly researched and provide only the correct means to follow the procedure. Proceed with caution and follow each step very carefully
Download Required Files
Here is the download link for the TWRP for Realme 3i :
Install TWRP Recovery on Realme 3i
Now if you have downloaded all the files and crosschecked all the pre-requisites, then we can follow along with the installation steps. You will need to download some additional files to use this method.
Full Guide to install TWRP Recovery Using ADB command
Watch The Video: Install TWRP Recovery using ADB Fastboot
What is Rooting and What are its Advantages
Rooting is getting access to the root directory of the device. it is basically getting the superuser permits to perform customization and modifications on the device. People normally associate rooting with hacking, but that is entirely a different concept. With root access in hand, users can gain a lot of control over its system partition. Even though modifying the system partitions on your device is possible without root access, one would still require a computer with ADB installed to pass commands manually. To counter this, people usually root their phones for ease of access and ease of use.
Rooting has multi-fold advantages. you can increase the efficiency of your device by removing bloatware, overclocking the device, increase battery life, block ads system-wide. Moreover, you can flash custom ROMs of your choice. You can always choose to unroot your phone in the future if you are concerned about privacy and security as well.
How to Root Realme 3i
We have put up both methods to root our device which is either by SuperSU or Magisk. Check it out below.
Method 1: Rooting via SuperSU
Full Guide to install SuperSU on your phone
Method 2: Rooting via Magisk
Full Guide to install Magisk and Magisk Manager
So, that's it, guys. Now you know how to Install TWRP Recovery On Realme 3i and Root it. So, try it out if you like to experiment with customization on your phone. We hope that this guide was useful to you. If you have any queries, you can reach out to us using the comments section below, we would be happy to help you out!