Rooting a smartphone is always fun and there is possibly nothing wrong to say that with rooting, it is possible for you to add more to the power of your smartphone and at the same time many restrictions can be eliminated. However, many times, a need to unroot the rooted device is also felt and many people look here and there to keep up the pace. You might have no idea but you can again unroot your device after rooting it. When it comes to Samsung Galaxy S8 or S8 plus, it is easy to keep up the pace. In this post, we have provided some of the valuable information related to unrooting these devices. Follow this guide to Unroot your Samsung Galaxy S8 and S8 plus.
Actually, the thing is rooted devices can unlock a lot of restrictions but there are several cons too that are associated with them. For example, you are not able to get any OTA updates with the rooted device. Many users really don't mind this while others can manually sideload the same. Still, due to any reason such as staying up to date with the OS and security if you felt the need to unroot your Galaxy S8 or S8 plus, you can begin with this guide.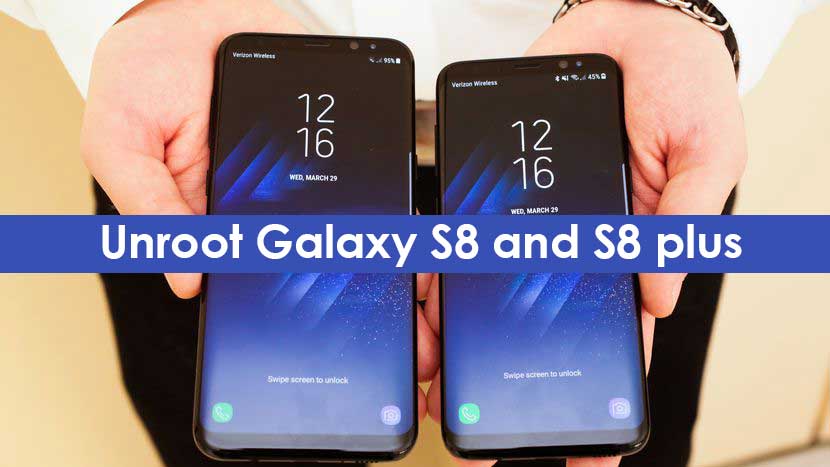 Tutorial to Unroot your Samsung Galaxy S8 and S8 plus
You can follow this guide simply if you have a custom recovery or a root access installed to your Samsung Galaxy S8 or S8 plus. There is nothing to worry actually if you if in the past you rooted your device and want to unroot the same now. This guide is simple and wouldn't consume a lot of time. Thus you can go with it.
Before you proceed, keep it in mind that all the data in your Galaxy S8 or S8 plus will be gone. Therefore take the backup of the entire data which is important to you.
Check Related Post:
Pre-requisite:
Instructions to Unroot your Samsung Galaxy S8 and S8 plus
First of all, you need to install the Smart Switch to your device to esnure working of USB drivers.
Keep your PC ready and download v3.12.3 of Odin. It would be a zip file to extract the content.
Next is to download the S8 firmware and S8 Plus Firmware which is relevant to your model and extract the files to your PC.
After this, simply boot your device into download mode.
With the help of a USB cable, connect your device to PC and ensure a connection has been established.
Next thing you need to do is opening the odin.exe file on your computer and click the AP button.
Look for the Ap_*.TAR.MD5 file and select it. Odin takes some time to load the file into the memory. Thus, show some patience here.
Once done, terminate the connection between your device and PC
Finally, you can set up Android when the boot is over.
You are done.
Because you have already booted your device earlier, understanding the tasks is not a big deal as you are familiar with most of the terms. In case it doesn't work for you, check out the USB and PC connection as most of the time it's nothing but a connection issue that would let you unroot your device.