To collect information or conduct a survey online forms are very useful. In this guide, I have explained how to use the free Microsoft Forms to collect data from people. Along with surveys you can also carry out online quizzes. Also, you can create review forms and get feedback from your customers. It is a great way to collect varied information and analyze them. This is a common good practice carried out by almost all businesses around the globe to analyze the behavior of their existing and potential customer.
I have explained how to create a Microsoft form, how to embed it and share it. Also, I have put up how to check for responses to your forms and analyze them. There are also sufficient options for theming to customize your Microsoft forms and make them look appealing. If a form will look boring then people may not really use them. Anyway, let get into the guide and check out more about Microsoft Forms.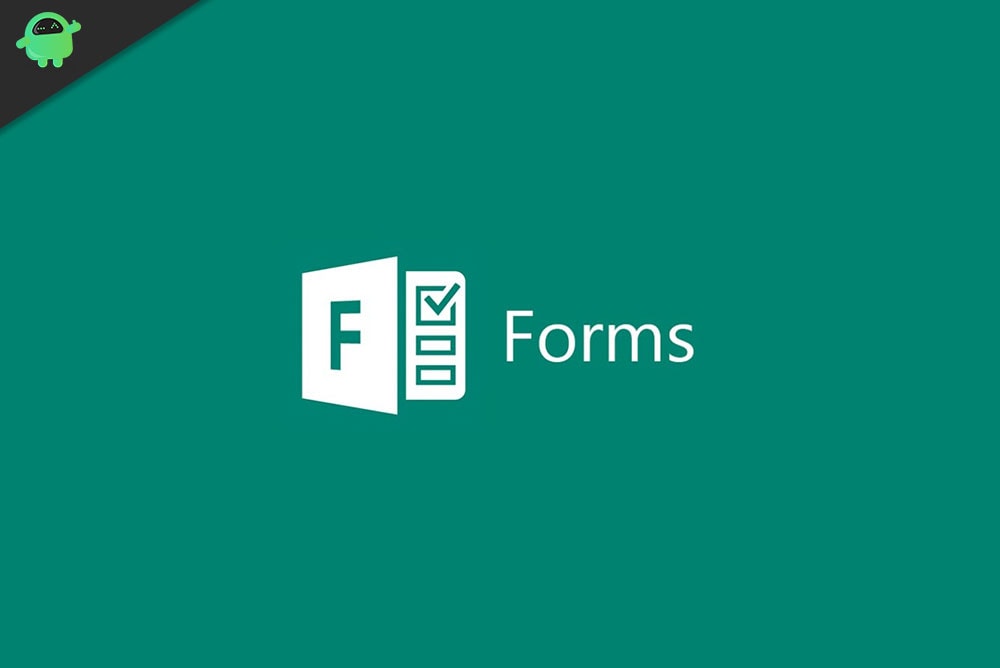 How to Create and Use Microsoft Forms
First, let us create a Microsoft Form.
First, go to forms.office.com
Login to your Microsoft account
Then click on New Form

Start creating questions for your survey or quiz.

Click on Add New

You have various options that will decide what kind of form you wish to create
Set text, multiple choices, dates, rating, etc as per your form requirement
Sharing the Form
Now, after you complete your Microsoft form you have to send it to your desired recipients. Click on the Send button in the top-right corner.

You have various options to share your form
You can simply copy the link of the form and share it directly with anyone via email, text, web content, YouTube descriptions, etc.

Again, you can create a QR code and download it, and share it with your intended recipients or customers.

There is even an option to embed the form as an HTML code fragment in your web content. Then directly the user can access the form right from your web page.

Question Branched Within A Question
When someone responds to a question in the form, then you can also have a subsidiary question to let the user state a reason for his answer. This is a feature called branching in Microsoft Forms.
Click on any question to highlight it
Then click on the three-dot button at the right corner of the question
Now select Add Branching

You can add whichever auxiliary question you wish the user to answer
This whole action you can repeat for all the questions you have on your form.
Understanding Group Forms
This feature is mostly for enterprise use. If you are working with a team, then your teammates can collaborate with you. It is available only for those who are subscribed to the Office 365 service. Both you and your team members can edit and view the form.
How to Select Theme of Microsoft Forms
As I mentioned earlier, you can also make your forms look creative with various theming options.
Once done with creating questions for your Microsoft Forms click on Theme

Select any theme of your choice and the background for the form will change into that theme
Checking and Analyzing the Responses on Microsoft Forms
To check and go through the response, click on the Responses section. You can actually see how many responses you have received on your form.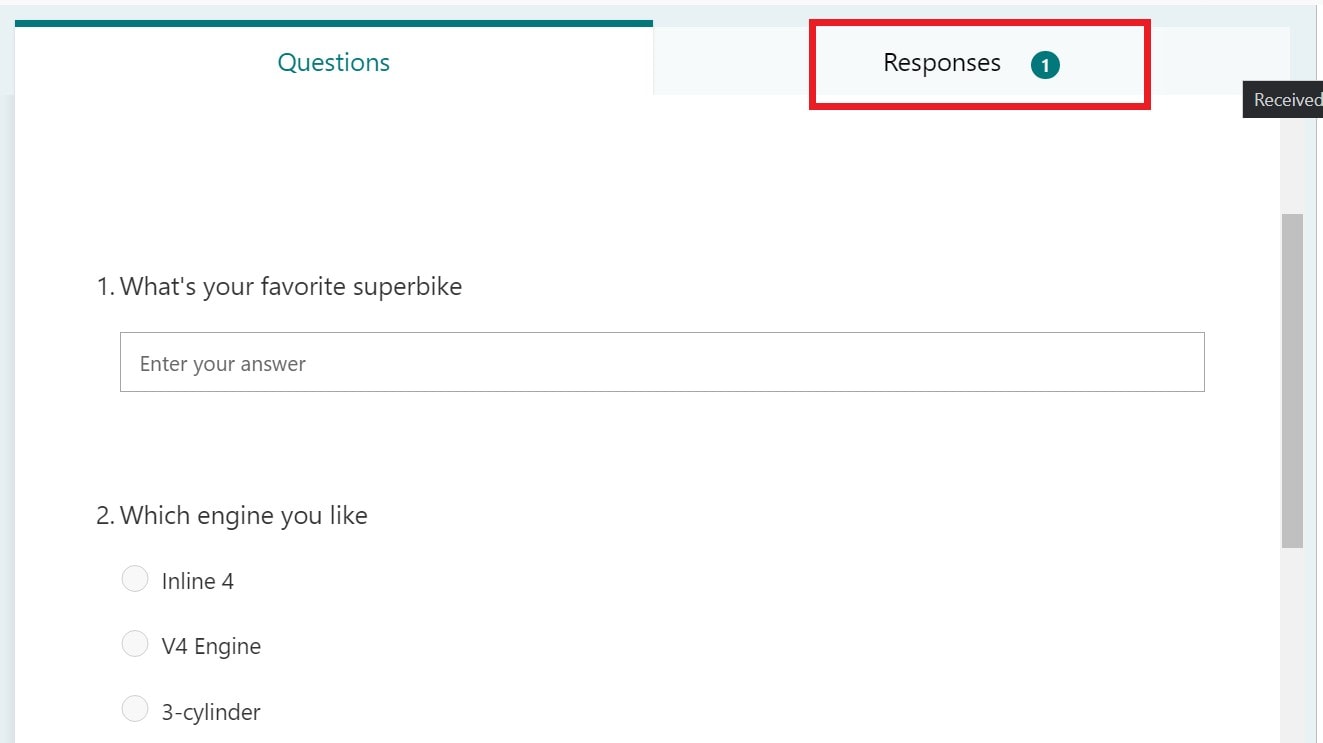 You can see the total number of responses. Also, if there is a multiple-choice question the answer can be seen in a graphical pie chart format. You can see the screenshot below to understand how it looks.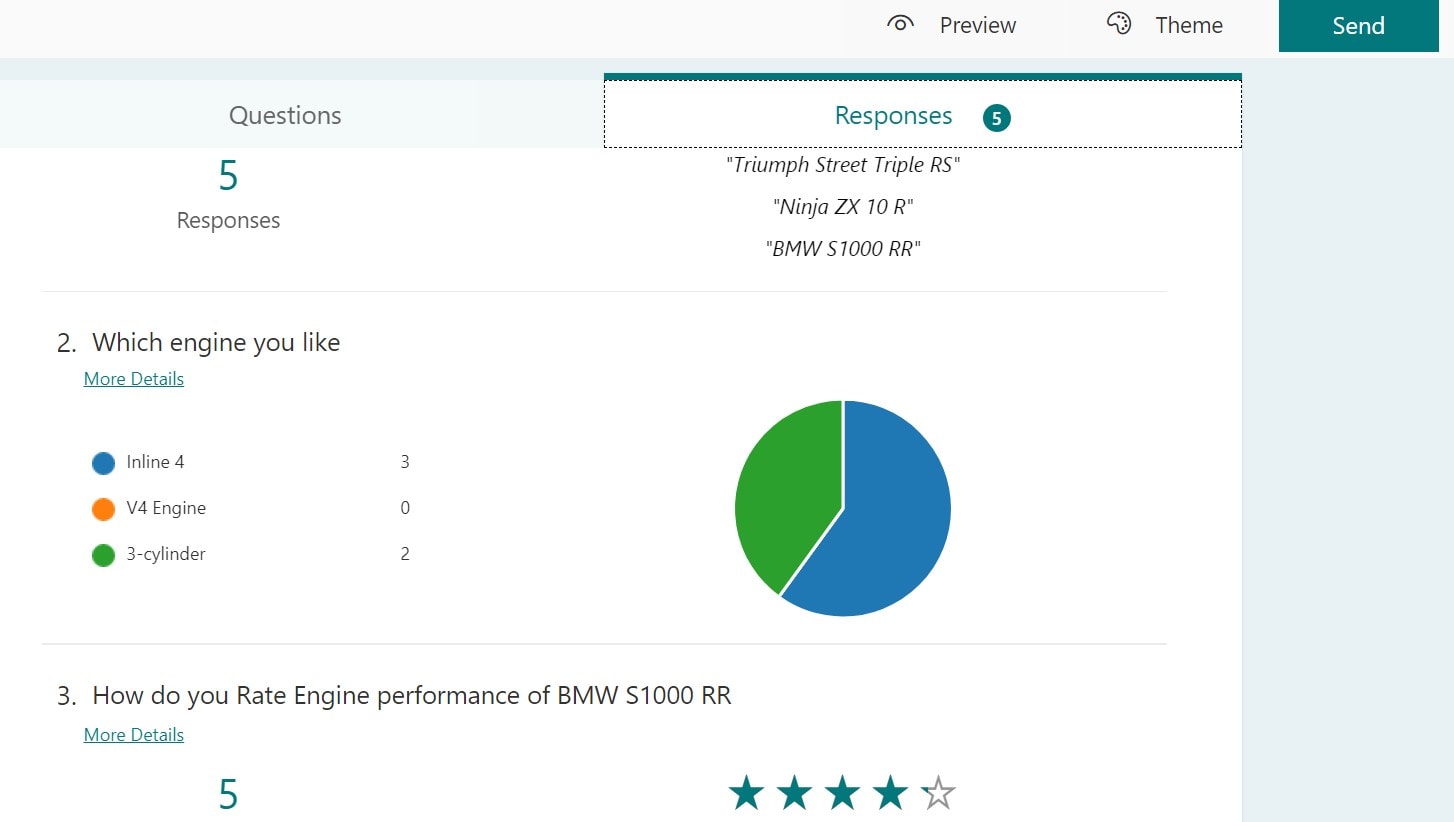 This visual data will help you analyze the opinion of an average consumer or user and decide your business moves. The example above was just a small one. You can do this with a large form with various types of questions for your survey for a huge userbase.
So, that's all the basic information you must know about Microsoft Forms to create and use your own firm for individual and business use.