Valorant has an in-game currency known as Radianite, which is not to be confused with Radiant. Radianite points serve as a form of currency that can be used in the game for upgrades in gear or cosmetics, whereas Radiant is completely different and has to do with the various agents within the game.
Today our guide will help the players of Valorant to collect and get Radianite Points. If you are one of those players who was also confused while receiving them, then look no further.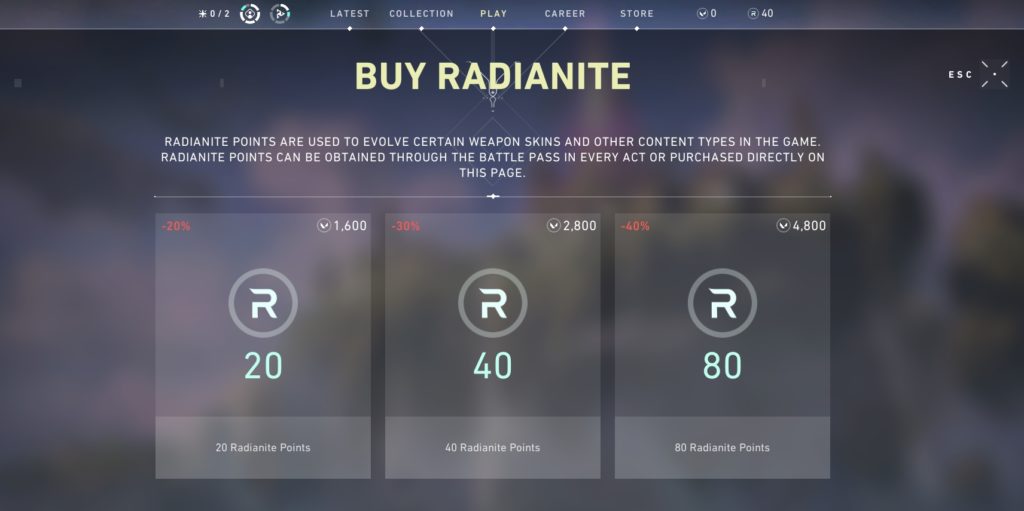 How to Get Radianite Points in Valorant
Players can get their hands on Radianite points through multiple methods. The most straightforward and optimal way is by successfully completing contracts in the game's competitive battle mode for the player's agent. Players will receive their Radianite points directly into their account, which can be accessed at any time for cosmetic upgrades.
The battle pass will take a decent amount of time and effort for players to move up in the levels. But the rewards are also equally high depending on player progression. If that doesn't seem to motivate players, they can always purchase more Radianite points.
Players can also purchase directly through the in-game store using real money.
What Can you Buy with Radianite Points?
Radianite points can be used to get cosmetic upgrades for players. The cosmetic upgrades include weapon skins that can be upgraded with additional points. The updates for the weapon skins can take the form of visual effects or animations. The primary purpose of these upgrades is for players to stand out amongst Radiant agents.
The cosmetic upgrades do not spill into any part of the game as they are purely for character customization only.
Players are given Level -1 unlocked skin once their account is setup. After that, with Radianite points, players can upgrade the skin up to a maximum Level -4. With each level upgrade, players will notice considerable changes in their weapons animations and higher quality design.
If players had directly purchased Radianite points, when Valorant was in its beta stage will notice that it has been completely updated. The upgrades and cosmetics purchased during bet stage will, unfortunately, return to zero. However, if players have purchased them using the in-game currency, then they will get them back.
That's all you need to know about getting Radianite Points in Valorant. We hope this guide helped you. If you liked this, we have more guides on the iPhone and iPad, PC Troubleshooting, and Android. Go check them out. We want you to participate in the $150 giveaway by subscribing to our YouTube Channel. If you have any feedback or queries, comment down below with your name and e-mail ID.