Vivo is known for new innovating smartphones. And this year they have shooked the smartphone market by introducing Vivo Nex – a smartphone with a motorized camera. This new technology has opened doors for full-screen bezel displays in modern smartphone However moving parts does has its own concerns like waterproofing and dust-proofing. So customers want to know whether Vivo Nex is waterproof or not. Today you will find out in our Vivo Nex Waterproof test.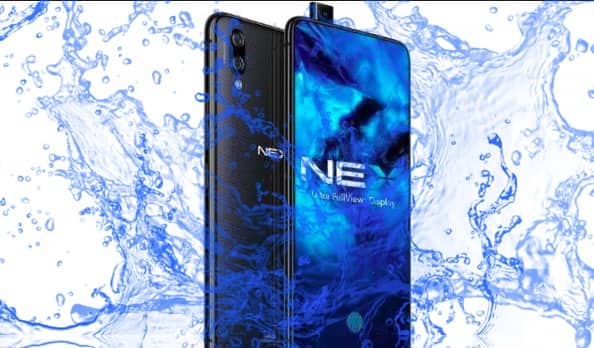 Before proceeding with our Vivo Nex waterproof test, let's have a quick look at its specifications. Thi device was launched in July 2018 and it comes with a 6.59 inches beautiful display. The display is of 1080 by 2316 pixels. It is powered by a 2.2Ghz octa-core processor coupled with 8GB of RAM. Talking about the camera department, it is rocking a 12 MP primary camera and 8 MP selfie camera which pops up whenever you need to take a selfie.
Vivo Nex Splash Proof Test
In Splash proof test, we will test the device to withstand an accidental water splash to see whether the device survives in such condition. SinceVivo Nex does not have any kind of proper IP68 waterproof ratings, it might or might not survive this test.
When we subject Vivo Nex to our splash-proof test with the help of artificial water splash, we do not see any kind of damage in the smartphone. However, with repeated tests, the motorized camera started making weird Sounds. Ultimately the camera stopped working. This shows that the device is indeed not splashproof at all.
| | |
| --- | --- |
| Touchscreen | Works, no problem |
| Camera | Damaged |
| Splashproof | No |
Vivo Nex Rainwater test
In this test, we are going to suspend the device in artificial rain environment. This also mimics the showering conditions as well. Later on, we will see if the device withstands these conditions or not.
Also read: vivo NEX specs leaked
After testing Vivo Nex in artificial rain condition, we observed that the device is not rainproof at all. The water immediately goes inside the camera notch and there is no water resistance coating whatsoever. We recommend Vivo Nex users not to use this device in rainy conditions.
| | |
| --- | --- |
| Can you use the device in rainy conditions | No |
| Can you use the device while taking a shower | No |
| Any damage due to rain or water droplets | Possible camera damage |
Vivo Nex Washing Test
In this test, we are going to wash Vivo Nex with running tap water for 1 minute and check whether it survives or not.
Also read: Vivo is getting ready to bring the Vivo Nex to India
| | |
| --- | --- |
| Water damage with hardware | Camera slider stopped working |
| Camera | Fog lens |
| Speaker | Works |
I/O Ports Water Test
In this test, we try to check whether the water will go inside Vivo Nex or not
Also read: Is Oppo Find X Waterproof smartphone?
| | |
| --- | --- |
| Charging Point | Works |
| Power & volume rocker buttons | Works |
| Touchscreen | Works |
| Speaker | Works |
| Earpiece & Mic | Works |
| Any other I/O port damage | Camera slider stopped working |
Vivo Nex Water Immersion Test
When the device is immersed in water, water goes inside the device. The screen quickly becomes hazy and touchscreen stops responding. After a few minutes, the phone dies completely. This shows us severe water damage.
| | |
| --- | --- |
| Official IP ratings (waterproof ratings) | None found |
| Splashproof test | Yes, to some extent |
| Rainwater test | Failed |
| Water immersion test | Failed |