Modern smartphones, especially flagship smartphones, must have the best features to secure customers in the market. One of those features is water resistance. It's one of the staple attributes of any modern flagship. Some brands often skip water resistance to accommodate other features due to cost-related issues. Today let's check if Vivo X80 and X80 Pro are waterproof smartphones or not.
Vivo is a brand that is providing cutting-edge technology in their new smartphones. Water-resistance is one of the important features that many users seek when investing in a flagship smartphone. Nobody would want to compromise on features if they are paying a hefty amount for their premium phone. Vivo, as a premium brand, has two categories for its flagship phones. The standard model (which lacks certain features) and the true flagship (which has all the latest and relevant features). Let's dive deeper into it.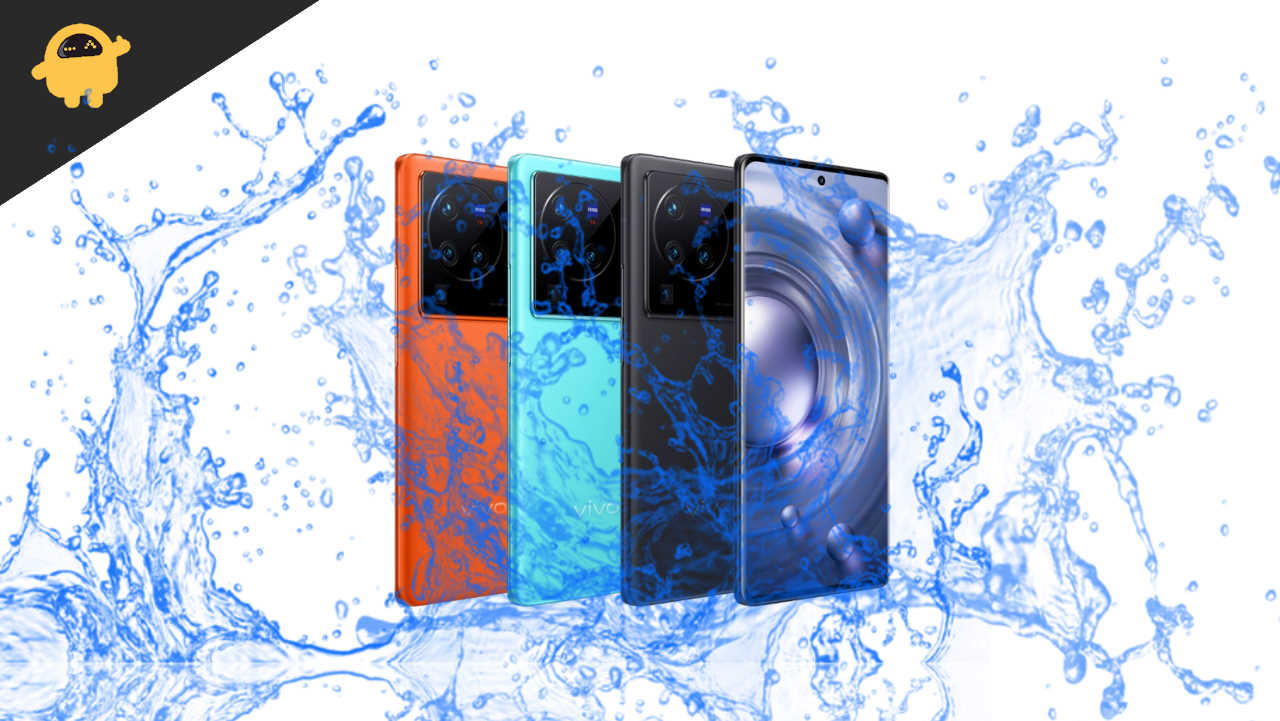 Is Vivo X80 and X80 Pro Waterproof Smartphone?
Waterproof means the phone is completely impermeable to any form of water damage, while, on the other hand, water resistance means the phone is resistant to some degree of water damage but is prone to damage after prolonged exposure.
Modern flagships are not only water resistant, but dust resistant as well. This resistance on a phone is defined according to the IP ratings. Ingress protection or IP rating is the score given to any device regarding its resistance against water and dust damage.
The highest IP rating for a smartphone is IP68. The rating is written as IPXX where the first X denotes the resistance to dust and other solid particles. This rating ranges from 0 to 6. The second X denotes the resistance to water. This rating ranges from 0 to 8.
Vivo X80 Waterproof Smartphone
Vivo's latest standard flagship, Vivo X80 is priced at around $650. According to Vivo's official statement, it does not have any form of IP rating, i.e, it is not water-resistant. It seems that Vivo ditched this feature in order to focus on other important features such as a good processor and the Zeiss camera lens.
Even though this phone lacks water resistance, it is a good phone. This has the latest Dimensity 9000 processor from Mediatek. It packs a Full HD display with a 4500 mAh battery. It packs the 50 MP Zeiss optics and runs on Android 12.
Vivo X80 Pro Waterproof Smartphone
Vivo X80 Pro is the latest fully-fledged flagship from Vivo's X series. This phone is priced at around $1000 and has got all the bases covered. Vivo hasn't compromised on any of its features. That means, the Vivo X80 Pro has an IP rating, i.e, it's water-resistant. According to Vivo's official statement, this phone has an IP68 rating.
This means, that this phone has complete protection against dust and other small particles and as per Vivo's website, this phone can stay under 1.5 meters of water for 30 minutes. Although this phone has an IP rating, it is recommended to not submerge the phone under saline water. Saline water deteriorates the water-resistant gasket and can damage the phone. Do note that this phone is water-resistant, not waterproof.
Apart from the water resistance, this phone has other great features. It has the Snapdragon 8 Gen 1 SoC, which is Qualcomm's latest flagship processor. This phone has a 2K LTPO3 AMOLED display with 1 billion colors. It packs a 4700 mAh battery with a 50 MP Zeiss camera lens. This flagship runs on Android 12.
Conclusion
Both phones have great value for money, but if waterproofing or protection against water is important for you, then consider buying the Vivo X80 Pro as it's water-resistant.