Recruiting NPCs is one of the very important things you can do in Watch Dogs: Legion. Although it is a tedious task, you must recruit NPCs to make your future endeavors in the game move smoothly and as expected. Now, if you're wondering what a Deep Profiler is in Watch Dogs: Legion, a quick hint I can give you is that it has something to do with recruiting NPCs in the game.
Although recruiting NPCs is not much of a job, it certainly will become boring once progress deeper into the game. However, to make things easier, we have the cool function of the Deep Profiler. Players can use this to get an insight into the NPCs in the game. In contrast, the Deep Profiler is much more than that and we'll cover everything about it in our guide on What is the Watch Dogs: Legion Deep Profiler?
What is the Watch Dogs: Legion Deep Profiler?
The process of recruiting NPCs is a very important and really engaging aspect of Watch Dogs: Legion. Recruiting NPCs isn't an easy process, especially as they're cautious about the hacker group. Recruiting NPCs will require you to do some work. Hence, you're gonna have to grind hard to convince most of the NPCs in the game.
NPCs with neutral or positive opinions or feelings towards Dedsec can be easily recruited. You can just easily speak to them, after which they'll present you with a few quick tasks. Completing them will successfully recruit the NPC. Other NPCs, the ones that disapprove of Dedsec, can be a pain for you. You can't just outright speak to them. This is where the Deep Profiler comes into play.
What it essentially does is help you take a look into the NPCs schedule. The hostile NPCs that disapprove of Dedsec won't be willing to talk to you at first glance. No matter how hard you're gonna try, you won't easily get a chance with such NPCs. However, using the Deep Profiler, you can tap in a see how their schedule works. With that done, simply find yourself opportunities that favor you to lend them a hand and help them out with something. If you're wondering how hard it can be, the sort of help you can offer at opportunities will vary from hacking their rival coworker's email to pulling off an extremely complex heist.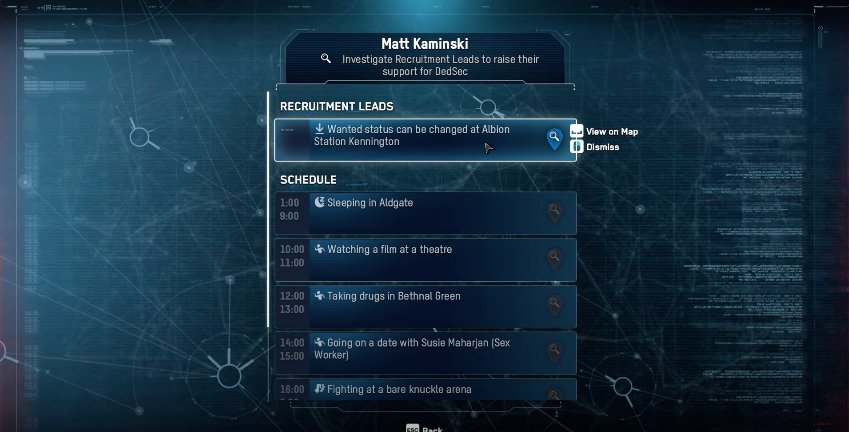 Summing up our guide, that's everything you need to know regarding the Deep Profiler feature in Watch Dogs: Legion. While this might be useless against NPCs with neutral or positive feelings for Dedsec, the Deep Profiler will certainly be of help on your mission to recruiting the hostile NPCs that disapprove of Dedsec. That said, we hope reading the guide above has brought some valuable information and help to you. Please let us know by commenting down below if you have any further queries regarding the same.
Also, check out our iPhone Tips and Tricks, PC tips and tricks, and Android Tips and Tricks if you've got queries for it or want help. Thank you!